Atayal residents worried over Taoyuan's upgrade
LOSS OF AUTONOMY: Residents are concerned that the change would downgrade their township into a district and eliminate mayoral and councilor elections
Following the Ministry of the Interior's approval last week for Taoyuan County to be upgraded to a special municipality, several Aboriginal rights advocacy groups yesterday voiced their concern about its negative impact and urged the legislature to amend the Local Government Act (地方制度法) to ensure autonomy in Aboriginal areas.
While many people — including Taoyuan County Commissioner John Wu (吳志揚) — may be happy over the upgrade, which would entail an increase in budget and power, Atayal Aborigines are worried that the change could be a step backward in their struggle for autonomy, and questioned the legality of the decision.
"At the moment, Fusing Township (復興) in Taoyuan County is designated an Aboriginal township with a mayor and a council elected by all residents, and based on the law, the post of mayor can only be filled by an Aborigine," Yabu Eyo, a representative from a Fusing-based Atayal Aborigines self-help organization, told a news conference at the Legislative Yuan yesterday morning.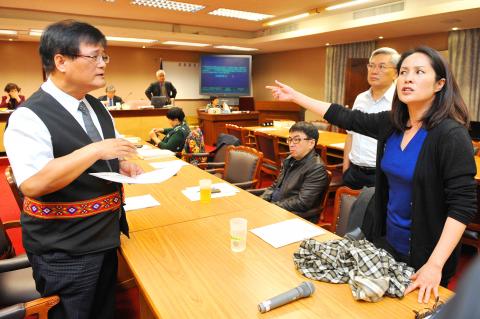 Non-Partisan Solidarity Union Aboriginal Legislator May Chin, right, scolds Council of Indigenous Peoples Minister Sun Ta-chuan, left, in the legislature in Taipei yesterday, saying that Taoyuan County's upgrade to a special municipality would be bad for Aboriginal autonomy.
Photo: Chien Jung-fong, Taipei Times
"When Taoyuan County becomes a special municipality, Fusing Township would become merely a district, with the head of the district being appointed by the mayor — and we would lose our council as well," he said. "We are worried that the appointed district chief may not understand Atayal culture, customs and traditions."
He questioned the legality of the decision, because, based on the Aboriginal Basic Act (原住民族基本法), Aboriginal residents must be consulted and must express their consent when a major change is to be made to a traditional Aboriginal domain.
Omi Wilang, president of the Taoyuan County Association for Sustainable Development of Atayal Communities, said that while Aboriginal residents are not satisfied with Fusing's current status as a township in a county, "at least we have a minimal degree of autonomy."
He also questioned the necessity of having six special municipalities in a country as small as Taiwan.
"Look, how many special municipalities are there in China? How many in Japan? Given limited budgets and resources, administrative upgrades have no major positive impact on the people, rather, it hurts our rights," Omi said.
"We will continue to protest, along with former Aboriginal townships that have been turned into municipal districts in the last wave of administrative upgrades," he said.
In 2010, the former Aboriginal townships of Namasiya (那瑪夏), Maolin (茂林) and Taoyuan (桃源) became municipal districts when Kaohsiung County was merged with Kaohsiung City and became the special municipality of Greater Kaohsiung. Similar changes also occurred in the current Heping District (和平) in Greater Taichung and Wulai District (烏來) in New Taipei City (新北市).
Pasang Hsiao (蕭世暉), a member of the Association for Taiwan Indigenous Peoples' Policy, urged the legislature to amend the Local Government Act to either exclude Aboriginal townships from administrative upgrades, or grant special municipalities the power to create special administrative regions for former Aboriginal townships.
"With the administrative upgrade, the level of autonomy of Aboriginal townships should have been upgraded, not eliminated," Hsiao said.
Chinese Nationalist Party (KMT) Legislator Kung Wen-chi (孔文吉), a Sediq Aborigine, voiced his full support for the activists.
He said by telephone that had proposed amendments granting special status to Aboriginal townships, but they were not passed.
Deputy Minister of the Interior Chien Tai-lang (簡太郎) said the ministry understood the wishes of the Aborigines, but it could not make an exception that is not included in law.
"Changing Aboriginal townships to municipal districts is temporary only — until the law on Aboriginal autonomy is passed. When it's passed, all Aboriginal areas will be granted autonomy," Chien said.
Comments will be moderated. Keep comments relevant to the article. Remarks containing abusive and obscene language, personal attacks of any kind or promotion will be removed and the user banned. Final decision will be at the discretion of the Taipei Times.