Workers protest station measure
DEFENDING RIGHTS: The foreign workers marched into the station, protesting the station's measure to prevent people from gathering in the lobby area
Accompanied by labor activists, dozens of migrant workers from Indonesia and the Philippines yesterday rallied at Taipei Main Station to protest the station's move to block much of the lobby area in an attempt to "protect passengers' right to pass," calling it a policy based on discrimination.
Holding up signs written in Chinese, English and Indonesian that read "No to racial discrimination," "We need a place to stay" and "What's wrong with holiday celebrations? Racial segregation reappears at Taipei Railroad Station," dozens of migrant workers gathered outside the train station, protesting its latest measure to prevent people from gathering in its lobby area.
"We just need a place to spend time with our friends on our days off. If we're prohibited from going into the train station, please tell us where else we can go," Fitri, an Indonesian worker, told reporters. "We don't want to cause trouble to anybody."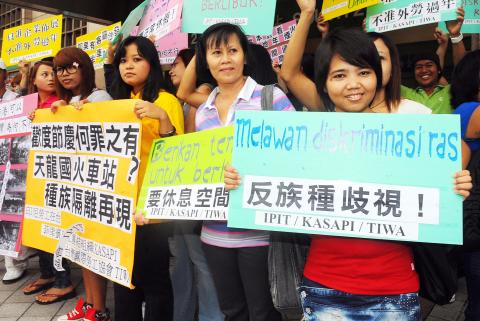 Foreign workers at Taipei Main Station yesterday hold up signs with anti-racist slogans calling on the Taiwan Railway Administration to remove restrictions on public gatherings in the station.
Photo: Wang Min-wei, Taipei Times
Oria Gayaden, from the Philippines, agreed with Fitri.
"We are here to show support to our Indonesian friends," she said. "If they are prohibited from spending time in the train station, then where can they go?"
Gayaden went on to say that migrant workers should not be discriminated against and should enjoy equal rights.
The dispute happened after the station management decided earlier this month to block most of the station's lobby area with retractable belts on Fridays through Sundays, which coincide with days that most migrant workers would gather at the station.
The station made the move because passengers complained that foreign workers were "occupying" the station when they gathered in large numbers for the celebration of Eid al-Fitr, the most important Muslim holiday that marks the end of the Ramadan month, which this year fell on Aug. 19.
Thousands of Indonesian workers gathered outside the station in celebration on the day. However, they moved inside the station during a thunderstorm.
"The Indonesian workers were celebrating their holiday, I don't see a problem in public places being crowded on special holidays — don't many public places get crowded on New Year's Eve or on Lunar New Year?" Taiwan International Workers' Association secretary-general Chen Hsiu-lian (陳秀蓮) said. "How come the government is not doing anything to prohibit the crowd from gathering at public places?"
The protesters then marched into the train station and sat in the middle of the lobby to show their determination to defend their rights.
The station master, Ku Shih-yen (古時彥), who showed up and spoke briefly with Chen, rebutted accusations that the station's move is targeted at foreign workers.
"Our job is to make sure that all passengers can walk through the station, it's not targeted at foreign workers. We would ask Taiwanese who gather in the lobby of the station to leave as well," Ku said. "We understand their petition, but we would not stop the measure."
He went on to say that, the station would turn the lobby area into a space for performances or exhibitions next year.
"We would maybe have a fashion show here, or display art work, wouldn't it look much better than having a bunch of people sitting around in the lobby?" he said.
As foreign workers protested, a man surnamed Ho (何) who happened to pass by shouted in disagreement.
"If foreign workers want to spend their leisure time, go to a park or a hotel. This is a train station, not a playground," he said. "I don't think these foreign workers would dare be so arrogant and violate the law in their own countries — they are doing so here because some groups are backing them."
Comments will be moderated. Keep comments relevant to the article. Remarks containing abusive and obscene language, personal attacks of any kind or promotion will be removed and the user banned. Final decision will be at the discretion of the Taipei Times.