Lychee research creates new rose-scented fruit
SWEET TASTE OF SUCCESS: A new variety of lychee, which has taken over two decades to develop, provides two harvests and can also be refrigerated for longer
Researchers in Taiwan recently unveiled a rose-scented lychee which is seen as having huge economic potential.
The new crop, the fruit of 21 years of botanical work, was cultivated by the Council of Agriculture's Taiwan Agricultural Research Institute
The fragrant fruits can be stored in a refrigerator for longer than the regular variety.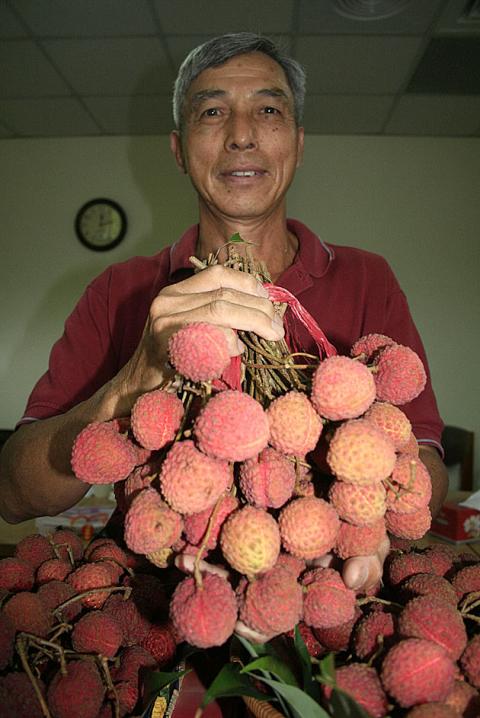 Retired military instructor Yang Yao-huang, one of the first people to plant a rose-scented hybrid lychee variety, holds a bunch of the fruit at the Taiwan -Agricultural Research Institute's Chiayi County branch on Friday.
Photo: CNA
Development of the new crop began in 1986 when Chang Jer-way (張哲瑋), head of the horticulture department at the institute's Chiayi branch, cross--fertilized two other types of lychees.
The principal attraction of the rose-flavored lychee is that the flesh is delicate and chewy, while the shell is a glamorous red color, Chang said.
The larger size of the lychee (weighing on average between 25g and 40g per fruit) combined with its smaller seeds, sweetness and easy-to-peel skin all contribute to the fruit's unique qualities, Chang added.
The economic benefits of the fruit are high because, unlike other lychees, which grow from about May to mid-July, the rose-scented lychee can also be grown and harvested from mid-July into August.
As a result of these qualities, fruit farmers would be able to increase their income because theirs will be the only lychees on the -market -during that period, Chang said.
By comparison with other lychees such as the "hak ip" (black leaf) — which accounts for up 70 percent of the lychees on the market — and the "no mai tsz," "guiwei" and longan, the rose-scented lychee's extended storage period adds to its economic strength, Chiayi branch director Yang Hong-ren (楊宏仁) said.
While a normal lychee can only be stored for seven to 14 days, and the guiwei lychee can sit in refrigeration for up to 20 days, the rose-scented lychee can be held in a chilled atmosphere for as long as 30 days.
With its longevity the rose-scented lychee will be available not only during Ghost Festival, but also for the Mid-Autumn Festival said Director-General Hwang Jing-san (黃金山) from the Jhuci Township (竹崎) Government in Chiayi County.
Comments will be moderated. Keep comments relevant to the article. Remarks containing abusive and obscene language, personal attacks of any kind or promotion will be removed and the user banned. Final decision will be at the discretion of the Taipei Times.