'Mosquito Man' hopes hobby infects others
The best way to give back to society is to share your lifelong passion with young people, said an 85-year-old who recently made an unusual donation to his alma mater — a collection of mosquito specimens.
Lien Jih-ching (連日清), a specialist known for his dedication to the study of mosquitoes and malaria around the world, donated about 2,000 mosquitoes to his high school to help students learn about the insect and to ensure that his treasured collection will be well looked after.
"When I leave this world, I want to know that these mosquitoes are in good hands," Lien said.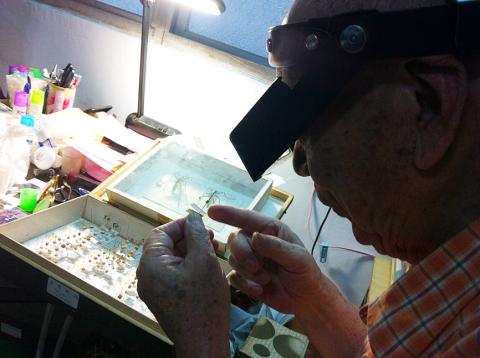 Octogenarian Lien Jih-ching, known to his friends as Doctor Mosquito, prepares a mosquito sample by lamplight on June 3.
Photo: CNA
Dubbed the "Mosquito Man" or "Doctor Mosquito," Lien developed an interest in mosquitoes while working as a typing assistant to a Japanese professor of tropical medicine at Taipei Imperial University (now National Taiwan University) during the Japanese colonial period. Although he was only 16 and had dropped out of school to support his family, Lien was drawn to the scholarly conversations between the professor and visitors and would eavesdrop whenever possible.
"It was like learning without textbooks," he said.
In the 1940s, malaria was a great concern for Japan because of its plan to conquer Southeast Asia. Health officials were desperate to learn about ways to block its transmission by mosquitoes in tropical countries, Lien said.
"There were more soldiers who died from malaria than war wounds," he said, recalling how the disease became Japan's worst nightmare during World War II.
Lien's strong interest and photographic memory soon caught the attention of his boss, who later promoted him to catching mosquitoes for laboratory studies.
"This is where my lifelong fascination with mosquitoes began," said Lien, who, despite old age, still categorizes mosquito specimen in a make-shift laboratory at his home in Taipei every day.
In his nearly 70 years of mosquito research, Lien worked for several health institutes and his achievements were recognized by former president Chiang Kai-shek (蔣介石), as well as the international community, which has named about 20 mosquitoes after him.
"Like human beings, mosquitoes come in all kinds of shapes and sizes and are interesting to observe," he said.
At his laboratory, Lien wore magnifying glasses and worked under dim light as he carefully pulled out 15 boxes of treasured mosquitoes, dragonflies and beetle specimens that would be sent to Cheng Yuan High School in Taipei for display this month.
"My sincere wish is that there would be someone to take after me," he said.
However, he said with a sad smile that people are less interested in mosquito studies nowadays because "it takes great effort and the work does not generate much profit."
With the specimen donation on the way, Lien said hopefully, the younger generation could learn to appreciate the beauty of mosquitoes and, like him, develop a lifelong passion for mosquitoes when they grow up.
Comments will be moderated. Keep comments relevant to the article. Remarks containing abusive and obscene language, personal attacks of any kind or promotion will be removed and the user banned. Final decision will be at the discretion of the Taipei Times.