AEC, Taipower deny nuclear waste plan
The Atomic Energy Council (AEC) and Taiwan Power Co (Taipower) yesterday denied allegations that Sioulin Township (秀林), Hualien County, had been selected as a location for nuclear waste storage.
The denial came after Democratic Progressive Party (DPP) Legislator Hsiao Bi-khim (蕭美琴) said at a press conference that Taipower had been drilling holes in the eastern township in preparation for the work.
The company began the deep-hole drilling work in October for a nuclear waste storage facility located 500m underground, Hsiao said. The crew had drilled to a depth of 200m as of the end of last month, he added, citing information provided by local residents.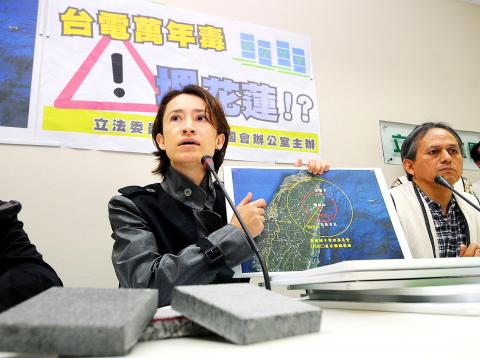 Democratic Progressive Party Legislator Hsiao Bi-khim, left, speaks during a press conference in Taipei yesterday.
Photo: Fang Pin-Chao, Taipei Times
The storage plan was part of the council's "Spent Nuclear Fuel Final Disposal Program Plan," she said.
The DPP maintains a "nuclear-free homeland" policy and condemns the inappropriate action, Hsiao said, adding that the drilling had created fear among Hualien residents and local Taroko Aborigines.
Hsiao said Taipower should move the planned facility out of the county and release all information pertaining to its nuclear waste storage operations.
Environmental group Citizen of the Earth said in a press release that the reported plan could violate the Indigenous Peoples Basic Act (原住民族基本法), which requires the government to obtain consent from Aborigines before carrying out major developments on their territory.
It is also against social justice and the principle of proportionality to store nuclear waste in low electricity consuming areas such as eastern Taiwan or the islands off its coast, the group said.
Taipower and the council denied such efforts were underway.
Taipower's plans and nuclear waste disposal operations would have to be approved by the council and made public, said Lee Ching-shan (李清山), director of Taipower's nuclear back-end management department.
The drilling was a part of a nationwide granite texture inspection program and was unrelated to the selection of a site for spent nuclear fuel disposal, he said.
Taipower will not make any unilateral decision on the site before the council submits a draft bill for the selection of the disposal site, Lee said.
Liu Wen-chung (劉文忠), an official from the council, said that no selection would be made for 20 years as the council and Taipower were scheduled to conduct technological research between 2005 and 2017.
"I guarantee that Taipower has no intention to make Hualien the disposal site of the spent nuclear fuel," Liu said.
Comments will be moderated. Keep comments relevant to the article. Remarks containing abusive and obscene language, personal attacks of any kind or promotion will be removed and the user banned. Final decision will be at the discretion of the Taipei Times.