Events scheduled to mark Japan quake anniversary
STANDING TOGETHER: A dome built of cardboard for victims of the 1995 Kobe earthquake and reassembled in Nantou County will host events to mark the disaster
A series of activities will take place throughout Taiwan to mark the one-year anniversary of Japan's March 11 earthquake and tsunami, including events to show Japan's gratitude for Taiwan's disaster relief efforts, a Japanese official stationed in Taipei said.
A reception will be held tomorrow in Taipei to thank Japan's "Taiwanese friends" and bring them up to date on reconstruction following the disaster, Interchange Association, Japan, Secretary-General Kenichi Okada said.
The association represents Japanese interests in Taiwan in the absence of official diplomatic ties between the two nations.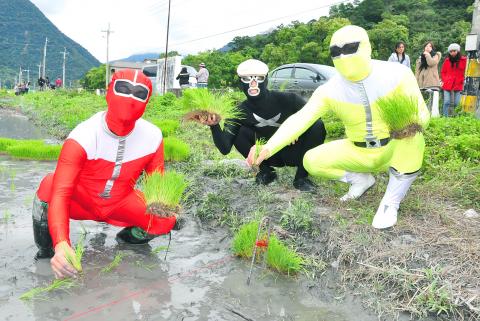 Members of a non-governmental organization from the Japanese city of Nagoya plant rice in a field in Nanao, Yilan County, yesterday to express their gratitude for the help extended to Japan by Taiwanese following last year's earthquake, tsunami and nuclear disaster in northeastern Japan.
Photo: CNA
Japanese Representative to Taiwan Tadashi Imai is also running a notice in major Taiwanese newspapers today to express Japan's gratitude for the aid and generous donations from the Taiwanese public, Okada said.
In the wake of the magnitude 9.0 earthquake and subsequent tsunami that battered northeastern Japan and led to a meltdown at the Fukushima Dai-ichi nuclear power plant, Taiwan donated about ¥20 billion (US$260 million) to the victims, 90 percent of which came from private donors.
Two television programs made to thank Taiwan for its help will also be broadcast on two channels in the coming week, Okada said, adding that a commercial thanking Taiwanese will be shown on several local stations.
Citing statistics that showed the number of Japanese visitors to Taiwan reached a record high last year, Okada said the record "just shows that Japanese really love Taiwan and feel grateful for Taiwan's help."
Okada, who assumed his post in August last year, said he was touched by the story of six Japanese swimmers who completed a 150km relay across part of the Pacific Ocean as a gesture of gratitude to Taiwanese.
In September last year, the swimmers battled rain and strong currents while a typhoon was approaching, Okada said.
Their determination to complete the swim under such difficult conditions "just proved how grateful the Japanese people are to Taiwan," Okada said.
Meanwhile, today in Nantou County a foundation will host a series of events at the site of a paper dome from Japan to commemorate the anniversary of the earthquake and tsunami.
A concert, photo exhibition and other events will take place at the Newland Community Education Center in Puli Township (埔里), where the dome is located.
The dome, built from 58 giant cardboard columns, was moved in 2008 from Japan where it had served as a temporary church following the Kobe earthquake in 1995.
According to the New Homeland Foundation, which is organizing the event, the church serves to remind victims of disaster that they can become stronger if they stand united.
A prayer meeting was held at the dome following the disaster last year.
The foundation said Japanese harpist Rikako Fujioka, who held a fundraising concert in her country after an earthquake hit Taiwan on Sept. 21, 1999, will perform with her students and friends at the dome to thank Taiwanese for the concern they showed.
Photos of the disaster areas by Japanese photographer Satoshi Ueda, who lost his mother in the tsunami, will be shown at the dome until April 8 in an exhibition called "Tears of the Earth."
Several Taiwanese artists will also take part in the commemorative activities by selling their works to raise money to help with reconstruction in the disaster-affected areas.
Comments will be moderated. Keep comments relevant to the article. Remarks containing abusive and obscene language, personal attacks of any kind or promotion will be removed and the user banned. Final decision will be at the discretion of the Taipei Times.