GIO to celebrate Fong Fei-fei
TAIWANESE STAR: A collection of Fong Fei-fei memorabilia, including hats, costumes, photographs and album covers, is set to go on display in her home town this weekend
The government will pay posthumous tribute to pop diva Fong Fei-fei (鳳飛飛) in recognition of her career achievements and her effort to preserve the traditional Taiwanese ballad, Government Information Office (GIO) Minister Philip Yang (楊永明) said on Thursday.
"The Cabinet passed the proposal to honor the late singer at its weekly meeting held earlier in the day and would ask President Ma Ying-jeou (馬英九) to issue a posthumous citation in her honor soon," Yang announced at a news conference.
The GIO would also help organize a concert in memory of Fong Fei-fei, one of Taiwan's most popular singing sensations in the 1970s and 1980s, who died from lung cancer on Jan. 3 in Hong Kong at the age of 58.
Pop diva Fong Fei-fei is shown in an undated photo.
Photo: Chang Yi-ling, Taipei Times
"The GIO has discussed the concert plan with the top major pop culture associations and has tentatively decided to hold the memorial concert in the first half of May," Yang said.
He further revealed that Dada Entertainment Co, which arranged four concerts for Fong Fei-fei between 2003 and 2010 and was known to have had an -amiable working relationship with the singer, would organize the planned concert.
As to whether Fong Fei-fei would be conferred a lifetime achievement Golden Melody Award, Yang said the government did not have the authority to select winners at the annual event.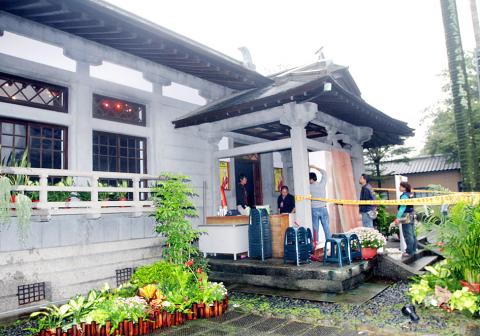 Workers prepare a building in Taoyuan County yesterday in which the local government will hold a special exhibition on the life and times of pop diva Fong Fei-fei.
Photo: CNA
"However, we will convey our view to the panel of judges," Yang said, adding that officials would encourage jurors to recognize the diva's contribution to the local pop music industry.
Moreover, Yang added that a special program to be held in honor of Fong Fei-fei would be included at this year's Golden Melody Awards presentation ceremony, scheduled for June.
The singer, born Lin Chiu-luan (林秋鸞) in Dasi (大溪) Township, Taoyuan County, released more than 80 albums and held numerous sold-out concerts both at home and abroad during an illustrious career that spanned decades. At the peak of her popularity, Fong also starred in films and hosted TV variety shows.
The Taipei City Government said earlier this week that it would help clear the way for a Fong Fei-fei memorial concert to be held at the Taipei Arena, one of the city's best live performance venues, in April or May.
Meanwhile, a unique collection of about 100 pieces of Fong Fei-fei memorabilia, including hats, costumes, photographs and album covers is scheduled to go on display at Wuteh Hall in her home town this weekend.
The Taoyuan County government has collaborated with Fong Fei-fei's family and Dada Entertainment Co in organizing the exhibition to commemorate the life of the singer who was popularly known as the "Queen of Hats," because of her habit of wearing a different hat for each performance.
Fong Fei-fei made her last public appearance in May last year to announce the cancellation of a Taipei concert that had been scheduled for the following month. She said at the time that she needed to recover from a raspy voice.
A representative from Dada Entertainment said the repertoire of songs the pop diva had planned to perform at the canceled -concert would be displayed at the exhibition. Because Wuteh Hall, a 77-year-old Japanese-style kendo studio, has a limited space of about 165m2, the county government will limit the total number of visitors allowed inside the building at any one time.
A humble and low-key person, the singer asked her lawyer not to announce her death until after the Lunar New Year to avoid saddening her fans ahead of the festival. Her ashes have been placed in a Buddhist temple in her hometown.
Comments will be moderated. Keep comments relevant to the article. Remarks containing abusive and obscene language, personal attacks of any kind or promotion will be removed and the user banned. Final decision will be at the discretion of the Taipei Times.