FEATURE: Penghu expects economic boom from wind energy
While strong winds may be a bane for tourism in Penghu during winter, they may yet prove to be an economic boon once the 45m tall wind power turbines and submarine power cables are all installed by 2016, which could generate as much as NT$13 billion (US$434 million) a year in electricity, academics estimate.
At present, giant wind turbines spin at two sites on the island — near the coasts of Baisha Township's (白沙) Jhongtun Village (中屯) and Husi Township's (湖西) Peiliao Village (北寮). Both wind power sites are operated by state-owned Taiwan Power Co (Taipower).
Penghu's power consumption is about 40,000 watts, Chien Shan Power Station deputy director Ou Chih-cheng (歐致誠) said, adding that the two power stations could already generate 10,000 watts, accounting for about one-fourth of the island's energy demand.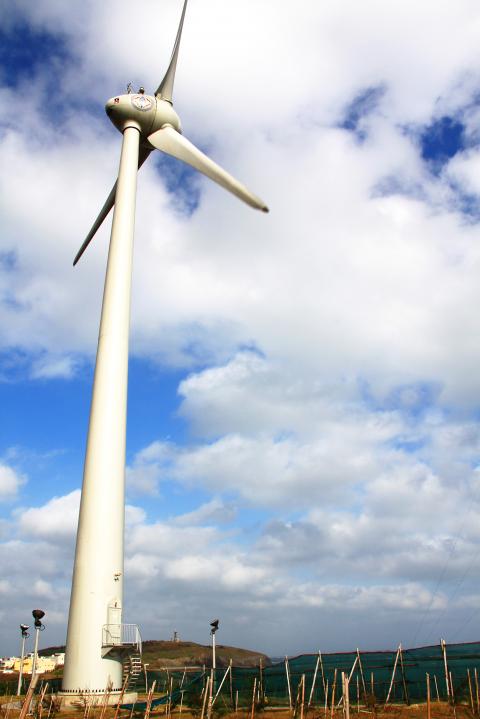 A giant wind turbine turns on the coast of Penghu County's Husi Township on Dec. 19.
Photo: Lee I-chia, Taipei Times
"During winter, wind speeds can sometimes get up to 20m/s [meters per second]. Since a wind velocity of 13m/s or 14m/s is enough for the generated power to reach full load, there are more than 150 days in a year in which the power generated by turbines reaches full load," he said, adding that the full load rate was about 43 percent.
Ou said that the electricity generated from the two stations in 2010 added up to about 11 percent of the island's total electricity supply. Not only do the turbines reduce the cost of power-generation, they also contribute to carbon reduction, which is in line with the government's aim of turning Penghu into a world-class low-carbon island.
Yeh Kuo-ching (葉國清), director-general of the county's Economic Affairs Bureau, said that once the construction of a submarine power cable between Taiwan proper and Penghu is completed in 2016, more wind turbines will be installed on the island and the surplus electricity generated will be sold back to Taiwan proper.
Aside from the spinning wind turbines operated by Taipower, state-of-the-art wind turbine technology experiments are also taking place on the island.
In 2007, National Penghu University of Science and Technology began a project commissioned and funded by the National Science Council to establish a 5,000m2 Wind Park at its campus for educational and research purposes.
The park is free for companies that want to test their wind turbines. It now hosts 47 small, experimental wind turbines installed by 20 companies worldwide. All the turbines have their own monitoring systems, which record their condition and efficacy and are transmitted by Internet for analysis and further improvement.
The university's former president, Lin Huei-jeng (林輝政), now a professor at National Taiwan University's Department of Engineering Science and Ocean Engineering and who led the program, said that based on data from 2008, "the average wind speed in Penghu was 9.75m/s and the wind gets stronger during winter months, increasing to about 16m/s, which is nearly the wind speed of a mild typhoon [17.2m/s to 32.6m/s]."
He said the strong winds on Penghu can put the companies' newest designs to the test.
"Some companies were very confident about the [quality] of their turbines when they were installing them in the park, but after a few weeks, they found their blades broken, or their monitoring systems had malfunctioned, or [the blades] could not spin at all," he said.
The school has received funding from the Ministry of Economic Affairs' Bureau of Standards, Metrology and Inspection to set up another world-standard wind park in the campus. If it acquires international certification in October, it will be the second site in Taiwan qualified to issue official test reports.
Lin said Penghu can look forward to an estimated NT$13 billion in energy output each year from its wind power stations and the submarine power cable in the future, as well as reducing its dependence on fossil fuel.
With a wind power load of between 41 percent and 49 percent, Penghu is ahead of Germany with 25 percent, Denmark's 28 percent, the UK's 29 percent and Taiwan proper's 30 to 35 percent, the National Science Council said.
Despite the optimism over the future of wind power on the island, some of its residents have expressed doubts and their opposition to the projct.
According to a local newspaper, the Penghu Times, residents have complained that the continuous spinning of the turbines creates noise pollution, while others question whether the power cable and substations might produce electromagnetic radiation, posing a threat to public health.
Comments will be moderated. Keep comments relevant to the article. Remarks containing abusive and obscene language, personal attacks of any kind or promotion will be removed and the user banned. Final decision will be at the discretion of the Taipei Times.