PRESIDENTIAL ELECTION: KMT presidential candidate Ma Ying-jeou's election platform
Economy
■ Join the Trans-Pacific Partnership within 10 years.
■ Obtain a GDP growth rate of 4.3 percent this year.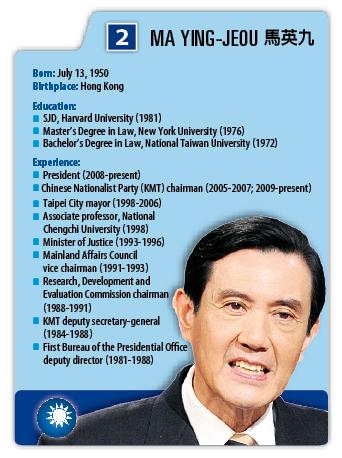 ■ Sign free-trade agreements or economic pacts with major trading partners, including Singapore and New Zealand.
■ Promote local brands in the global market, so that the total value of 20 major brands reach US$21 billion by 2020.
■ Further open local markets and relax regulations to make Taiwan a gateway to Asia-Pacific markets.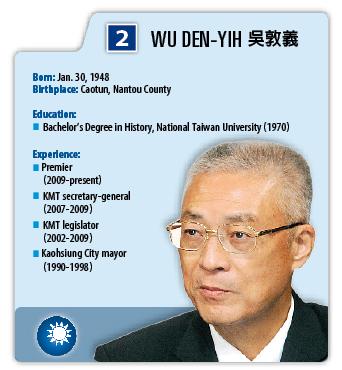 Cross-strait relations
■ Sign a peace agreement with China within the next decade with strong domestic support and supervision from the legislature, and hold a referendum to determine whether such a pact should be signed.
■ Move toward a new level of cooperation with China on global issues, such as food safety, public health, humanitarian aid, green energy and climate change.
■ Maintain the cross-strait "status quo" under the "three noes" policy — no unification, no independence and no use of force.
■ Maintain to the (so-called) "1992 consensus" in promoting cross-strait relations.
■ Consolidate the sovereignty of the Republic of China, build up Taiwan's strength and establish long-term peace and stability in the Taiwan Strait.
National security/foreign policy
■ Build up military capabilities and maintain military readiness to prevent war.
■ Continue defense and security cooperation with the US to maintain sufficient defense capabilities.
■ Create a barrier-free travel environment for international visitors.
■ Play the role of peacemaker, provider of humanitarian aid, promoter of cultural exchanges, creator of new technologies and business opportunities, and standard-bearer of Chinese culture in the international community.
■ Work to meet the standards of the Organisation for Economic Co-operation and Development.
■ Further adopt liberalization and internationalization in a variety of areas, including foreign investment, talent recruitment, the running of corporations and innovation in science and technology.
Finance/taxation
■ Introduce reasonably priced for-sale and rental housing units nationwide starting next year.
■ Gradually implement a taxation system based on the actual price of real-estate transactions.
■ Push for legislation on an energy tax and adjust the structure of the energy industry.
■ Encourage energy conservation and the reduction of carbon emissions.
■ Reduce the budget deficit to 1.6 percent of GDP in the next fiscal year.
Government reform
■ Trim the number of ministries and councils from 37 to 29 to streamline government operations.
■ Ensure that government abides by ethical guidelines and attains a high level of efficiency.
■ Improve the ranking of the nation in Transparency International's Corruption Perceptions Index, in which it is currently in joint 32nd place.
■ Continue with existing measures in the fight against corruption and achieve "four noes" — no desire to be corrupt, no need to be corrupt, no opportunity to be corrupt and no daring to be corrupt.
■ Promote a "lay judge system" to enable professional judges and non-specialized members of the public to jointly engage in the hearing of trials as part of judicial reform.
■ Establish judicial protection centers at each district prosecutors' office to handle grievances as cases proceed through the judicial system.
Nuclear energy
■ Run comprehensive trial operations and meet all safety requirements before beginning operations at the Fourth Nuclear Power Plant, which is expected to start commercial operation in 2016.
■ Refuse to extend the 40-year life span of the three existing nuclear plants after they are decommissioned by 2025.
■ Promote green energy and energy-saving measures to ensure sufficient electricity supply.
■ Gradually realize the goal of building a nuclear-free homeland.
Agriculture
■ Promote the Rural Revitalization Act (農村再生條例) and policies that help rice farmers with private land rent to long-term professional operators.
■ Revitalize the agricultural industry and encourage young people to join the industry by increasing workers' per capita production contribution to 30 percent.
■ Promote a food safety mechanism.
■ Build 4,000 new farming villages nationwide to promote agricultural industry.
■ Continue to boost the sale of agricultural products through exports and group sales.
Technology
■ Pursue innovation in science and technology.
■ Speed up implementation of a biotechnology development program through the establishment of a biotechnology venture capital firm and soliciting overseas biotechnology talent.
■ Promote green technology to create an eco-friendly environment.
Education
■ Extend compulsory education to 12 years by 2014.
■ Extend the tuition-waiver program for five-year-olds entering school to all cities and counties.
■ Offer a tuition-free service to students who enter vocational high schools if they are from households with annual income of less than NT$1.14 million (US$37,600).
■ Promote community schools so students can attend schools close to where they live.
Environment
■ Create an "eco-friendly homeland" and a "toxin-free homeland."
■ Establish an offshore wind farm in 2015 and a seaside wind farm in 2020 to develop wind-power generation.
■ Push for the installation of rooftop solar panels around the nation to encourage solar power generation.
■ Carry out a pledge to the international community that the nation's carbon emissions would return to 2005 levels by 2020, and for emissions in 2025 to return to the levels seen in 2000.
Culture
■ Set up eight cultural centers around the world to promote Taiwanese culture.
■ Upgrade the status of the Council for Cultural Affairs to ministry-level next year to further facilitate the development of cultural and creative industries.
■ Expand and upgrade the National Palace Museum, including the launch of the museum's southern branch in Chiayi in 2015.
■ Establish Taiwan as a pioneer in Chinese culture.
■ Budget about NT$10 billion for the cultural and creative industries.
■ Arrange for 14 government agencies and the private sector to cooperate on the establishment of "Taiwan Academies."
Social welfare
■ Revise the Social Assistance Act (社會救助法) to cover more welfare recipients.
■ Raise the nation's birthrate and increase the number of newborns to 180,000 per year within the next 10 years.
■ Provide lower-middle income households and the underprivileged with housing subsidies to balance supply and demand in urban areas.
■ Increase the social welfare budget to NT$407 billion next year
■ Introduce the second-generation national health insurance system next year.
Ethnicity
■ Achieve a high degree of ethnic equality and root out prejudice.
■ Establish 15 "experimental third-semester ethnic schools" within five years and extend the number of such schools to 30 in 10 years to promote Aboriginal culture.
■ Speed up the passage of an Aboriginal autonomy bill.
■ Promote Taiwan as a global leader in Hakka culture.
Gender
■ Build a society that implements gender equality in seven major areas — public policies, employment, culture and education, public safety, healthcare and the environment, and technology.
■ Increase the number of seats reserved for women in elections to promote gender equality in politics.
■ Ensure that at lease one-third of the members of committees in government agencies and state-run corporations are women.
■ Ensure all 19 of Taiwan's academic medical centers establish a special one-stop service for women seeking medical care within one year.
Youth
■ Launch a "seamless employment for youth" program to promote the immediate employment of college students upon graduation.
■ Increase the overall number of internship programs at universities from 30 percent to 50 percent to enhance cooperation between schools and industry.
■ Assist graduates who have difficulty finding a job by offering subsidies for job-training courses.
■ Encourage young people to seek employment opportunities in their hometowns and create more jobs in rural areas.
■ Raise the minimum hourly pay of part-time workers from NT$103 to NT$115 and solicit further increases over the next four years.
■ Raise housing subsidies and loans for young people over the next four years and build more social housing units.
Comments will be moderated. Keep comments relevant to the article. Remarks containing abusive and obscene language, personal attacks of any kind or promotion will be removed and the user banned. Final decision will be at the discretion of the Taipei Times.