2012 ELECTIONS: DPP gets ready for action
FINAL PUSH: Large rallies every night, motorcades along provincial highways and a public relations push will characterize the party's candidates' last campaigns
With the televised debates between presidential and vice presidential candidates concluding with the second presidential debate on Saturday, the Democratic Progressive Party (DPP) is getting ready for a burst of activity prior to the Jan. 14 elections, DPP campaign office spokesperson Hsu Chia-ching (徐佳青) said yesterday.
The DPP is scheduled to hold about 40 large rallies, with both the presidential and vice presidential candidates canvassing for votes along Provincial Highway Nos. 1, 3 and 9 by motorcade, Hsu said, adding that starting from Saturday, large rally events would be held in counties and cities every night.
The DPP will also mobilize all DPP civil servants in canvassing at important crossroads as well as traditional markets, Hsu said.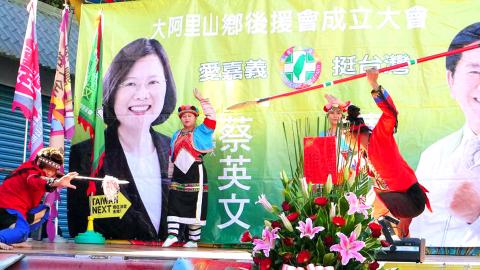 Tsou Aborigines perform at the establishment of the Alishan Township support group for Democratic Progressive Party (DPP) presidential candidate Tsai Ing-wen and legislative candidate Chen Ming-wen yesterday.
Photo: Hsieh Yin-chung, Taipei Times
Following the recall of all campaign piggy banks yesterday, Hsu said more events allowing mass public participation would be organized. He added that there would also be another wave of public relations activities aimed at explaining DPP presidential candidate Tsai Ing-wen's (蔡英文) policies to the public, using mass media and the Internet.
Hsu said the DPP and the Chinese Nationalist Party (KMT) were almost tied in the race, adding that this was the first time in 25 years that the DPP was able to go toe-to-toe with the KMT.
This shows the government has not won public support, Hsu said.
Commenting on the Yu Chang Biologics Co controversy, Hsu said it was a classic maneuver of using the state apparatus to oppress a certain presidential candidate, adding that Taiwanese have enough wisdom to judge for themselves.
History also shows that the side that uses negative campaigning methods usually loses the elections, Hsu said.
Comments will be moderated. Keep comments relevant to the article. Remarks containing abusive and obscene language, personal attacks of any kind or promotion will be removed and the user banned. Final decision will be at the discretion of the Taipei Times.