2012 ELECTIONS: Tsai highlights her elderly-care policies
VISION: The DPP presidential candidate used Lioudong community's practice of helping the elderly farm as an example for Taiwan's rural communities in the future
Taiwan needs to make an immediate effort to tackle the problem posed by its aging population by establishing a comprehensive elderly-care system with significant government commitment, Democratic Progressive Party (DPP) Chairperson Tsai Ing-wen (蔡英文) said in Miaoli City yesterday.
Tsai, the DPP presidential candidate, reiterated her platform on care for the elderly, saying that there needs to be three levels of care to form a sound system — home care, community-based care and institutional care — so that "no one would be left behind."
There was no better place to elaborate the policy than Miaoli County, which has among the most rapidly aging populations in the nation, Tsai said on the second day of her four-day visit through high-concentration Hakka constituencies.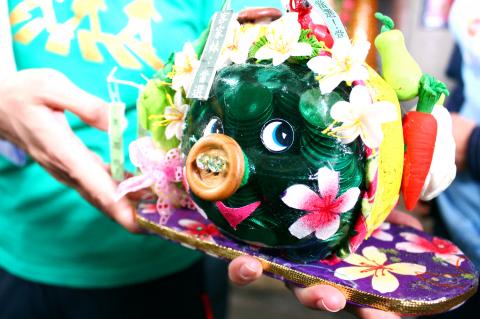 A piggy bank decorated with tung blossoms that local residents gave to Democratic Progressive Party presidential candidate Tsai Ing-wen yesterday is shown at a Hakka cultural center in Tongluo Township, Miaoli County.
Photo: Ho Tsung-han, Taipei Times
Overall, she said, senior citizens account for 10.7 percent of Taiwan's population of 23 million and the percentage is expected to increase to 16 percent by 2020.
If preschool children are taken into account, one in three Taiwanese would need social care services in the near future, Tsai said at a retirement home in a Miaoli City suburb.
President Ma Ying-jeou's (馬英九) administration has not been doing enough, nor has it been tackling the issue quickly enough, Tsai said, adding that Ma had dumped the "social safety net" program planned by the previous DPP administration.
If she were elected in January, Tsai said, her first priority would be improving medical care resources and the nation's infrastructure, particularly in Miaoli County, before the eventual establishment of a comprehensive long-term social care system in 10 years.
Since "speed" would be crucial, she said, massive government resources would be deployed in the program in the first three years of her administration.
There should be as many publicly funded and publicly operated institutions as possible, while some of them could be publicly funded private institutions, she said.
Speaking earlier in the Lioudong (流東) community, located in Toufen Township (頭份), Miaoli County, Tsai said the community served as a model for community-based elderly care.
Dedicated volunteers in the close-knit community have helped retired and semi-retired senior citizens, most of which had worked as farmers, to work and pass down their expertise and cultural heritage to the younger generations, she said.
Liudong symbolized her vision for Taiwan's rural communities in the future, which combine modern and advanced agricultural development, community-based elderly care and development of the local economy — three crucial elements in her domestic policy.
Tsai will be traveling through high-concentration Hakka areas in Taoyuan and Hsinchu counties today and tomorrow to drum up support for her presidential campaign after recent visits through the east and west coasts boosted her support, some sources said.
Comments will be moderated. Keep comments relevant to the article. Remarks containing abusive and obscene language, personal attacks of any kind or promotion will be removed and the user banned. Final decision will be at the discretion of the Taipei Times.