Taipei Pavilion set to open for public viewing
The Taipei Pavilion, one of the 55 exhibitions at the Shanghai World Expo's Urban Best Practices Area last year, is scheduled to reopen to the public today at a former Taipei International Flora Expo site as part of the Taipei City Government's efforts to reuse the flora expo sites after it ended in April.
The pavilion, which displays details of Taipei's wireless Internet access and garbage recycling policies, will be open to the public at the flora expo's former Pavilion of the Future in the Xinsheng Park area from Tuesday to Sunday at a price of NT$50.
At the launch ceremony yesterday, Hon Hai Precision Industry Co chairman Terry Gou (郭台銘) and filmmaker Hou Hsiao-hsien (侯孝賢), who respectively sponsored the pavilion and helped produce a six-minute short film for the World Expo, joined Taipei Mayor Hau Lung-bin (郝龍斌) in celebrating the relocation of the pavilion to Taipei.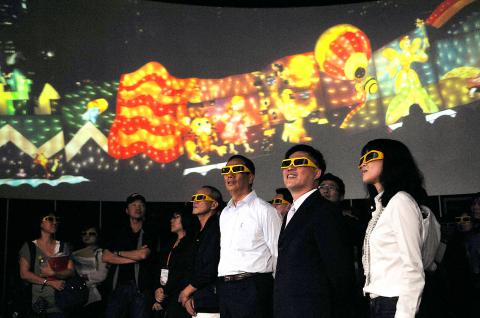 Taipei Mayor Hau Lung-bin, second right, and Hon Hai Precision Industry Co chairman Terry Gou, third right, don 3-D glasses yesterday to watch a display at the Taipei Pavilion, which reopens today on the site of the Taipei International Flora Expo.
Photo: CNA
While lauding the pavilion, Hou challenged the city government to make better use of the flora expo sites, saying the sites, which occupy an area of 91.8 hectares in Taipei's Datong District (大同), should include more "citizen space," such as outdoor theaters and movie theaters.
Hou cited the city's success in promoting local films following the creation of the Taipei Film Festival and said the city government should build movie theaters on the expo sites to further push the development of the local film industry.
"I would like the expo sites to become a place for our citizens and such an ideal can be best achieved if we can build an outdoor theater where people can enjoy a great night out at the movies or other performances," he said.
Hau thanked both Hou and Gou for their help in making the pavilion available to the public, but he did not to address the issues brought up by Hou.
Taipei City Government's Department of Economic Development said popular pavilions at the flora expo, including the Pavilion of Dreams and the Pavilion of the Future, have remained open to the public even after the end of the expo.
Other expo sites and pavilions, such as the Expo Dome, would be used as venues for cultural exhibitions or artistic performances, the department said.
Comments will be moderated. Keep comments relevant to the article. Remarks containing abusive and obscene language, personal attacks of any kind or promotion will be removed and the user banned. Final decision will be at the discretion of the Taipei Times.