Group calls for full citizen's rights
About 50 members of a Filipino-Taiwanese group yesterday urged the government to grant them full-fledged citizenship, which they do not have despite being Republic of China (ROC) passport holders.
The members of the Concern Alliance for Filipino Chinese rallied outside the legislature, carrying signs and chanting slogans, such as "50 percent national," to voice their dissatisfaction.
"Born and raised in the Philippines, these overseas Taiwanese do not carry the identification card that most ROC citizens have," said Lorna Kung, a consultant for the alliance, who added that an identification card was a prerequisite to registering for national labor and health insurance.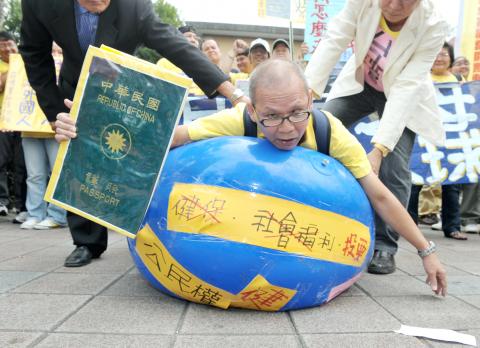 Representatives of the Concern Alliance for Filipino Chinese yesterday stage a protest in front of the Legislative Yuan, calling on the government to issue ID cards to all Filipino Taiwanese who hold a Republic of China passport.
Photo: CNA
The government has denied this group — labeled by the immigration law as "ROC nationals without citizenship" — identification cards since 1991, when it instituted tighter border controls.
The group said they are also required to apply for a visa to enter Taiwan, even though they are ROC passport holders.
"Why does an ROC national have to apply for a visa to enter the country? This is ridiculous," Kung said.
Moreover, even after moving to Taiwan, these ROC passport holders must stay for seven years before they can apply for resident certificates and then wait another year before they can obtain identification cards, the alliance said.
It added that many of its members have to leave the country once every six months to maintain their legal residence status in Taiwan.
"We are Taiwanese. We are not foreigners," some group members chanted.
They also urged lawmakers to pass amendments proposed by Chinese Nationalist Party (KMT) Legislator Cheng Li-wun (鄭麗文), who joined the rally to show her support.
The amendments would eliminate the visa requirement for Filipino Taiwanese with ROC passports and reduce the period before being able to apply for resident certificates to three years.
According to a government report issued in January, of the more than 60,000 ROC nationals without citizenship, more than 2,000 are Filipino Taiwanese.
Comments will be moderated. Keep comments relevant to the article. Remarks containing abusive and obscene language, personal attacks of any kind or promotion will be removed and the user banned. Final decision will be at the discretion of the Taipei Times.