Farmers groups accuse officials of telling lies
Farmers from several locations across the country, including -Miaoli County's Dapu (大埔), yesterday accused the government of lying and failing to fulfill promises it made last year on land expropriation.
"Article 15 of the Constitution protects people's right to survival, work and to property. However, the current Land Expropriation Act (土地徵收條例) respects none of those rights," Hsu Shih-jung (徐世榮), chair of National Chengchi University's Department of Land Economics, told a press conference at the legislature.
EXPLOITATION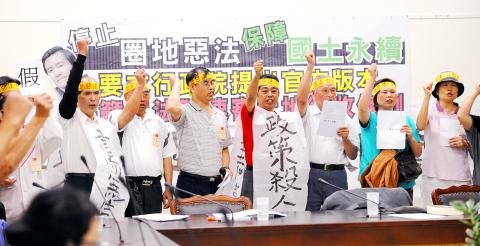 Farmers and civic groups protest the government's procrastination in delivering the promised amendments to the Land Expropriation Act during a press conference at the legislature yesterday. If the amendments are not made quickly, they said, they would not rule out another mass protest in Taipei in the near future.
Photo: Lo Pei-der, Taipei Times
"The land expropriation system in Taiwan is a system that deliberately exploits the disadvantaged, because one of its criteria in choosing land for expropriation is to find a location where there will be only 'minimum resistance,' which is why most land takeover deals happened to farmers or other disadvantaged groups," Hsu said.
Last year, President Ma Ying-jeou (馬英九), Premier Wu Den-yih (吳敦義) and Minster of the Interior Jiang Yi-huah (江宜樺) all promised representatives from farming rights advocates — including Hsu — that the government would seek to revise the Land Expropriation Act to better protect farmers' rights.
"It's been quite a while and this legislative session is about to end — and yet, still the government has failed to submit any draft amendments to the law," Hsu said.
"During a press conference to celebrate the third anniversary of his inauguration, Ma talked about human rights; it's a joke," Hsu said.
"What about the rights of these farmers? He should stop lying," he added
Moreover, the government has also broken its promises to the farmers from the farming village of Dapu.
The expropriation of Dapu farms sparked controversy last year when the Miaoli County Government sent excavators escorted by police into rice paddies belonging to landowners who were opposed to a land expropriation deal early in the morning without warning.
AGREEMENT
After a series of protests, Wu intervened and the government agreed to allow 19 households to keep their houses, while compensating landowners with new farmland that came with much needed irrigation systems.
"Both the central and local governments agreed to allow us to keep our homes. However, they changed their mind and now [four] of the houses will be pulled down," a Dapu resident and spokeswoman for the Dapu Farmers' Self-Help Association, Yeh Hsiu-tao (葉秀桃), said.
STANDING TOGETHER
Although not all houses would be torn down, they all stood together in solidarity, Yeh said.
Chang Huan-chang (張煥昌), a farmer from Wuri District (烏日), Greater Taichung, whose farmland is also scheduled to be expropriated for an urban development project, said the government should abandon its "economic development first" mentality.
"We need to think about food security," Chang said. "Taiwan is a country with limited resources, but agriculture is something in which we really should be self-sustainable. As we grow more dependent on food supplies from other countries, we're placing our future in the hands of others."
Comments will be moderated. Keep comments relevant to the article. Remarks containing abusive and obscene language, personal attacks of any kind or promotion will be removed and the user banned. Final decision will be at the discretion of the Taipei Times.