FEATURE: Taiwanese coffee takes place on world stage
Mention Taiwanese coffee and usually it brings to mind coffee produced in Gukeng Township (古坑), Yunlin County, or Dongshan (東山) in Greater Tainan, as well as the act of sipping coffee while admiring the scenery.
How the nation's coffee beans would become one of the top 50 selected by the Specialty Coffee Association of America (SCAA) and allow the local coffee industry to survive is encapsulated in the little-known story of one coffee farmer.
One day in the middle of November, a young man named Fang Cheng-lun (方政倫), the manager of Zhou Zhu Yuan Farm, a coffee bean farm 1,200m up Alishan (阿里山), Chiayi County, was trying to process his coffee beans by drying them in the sun.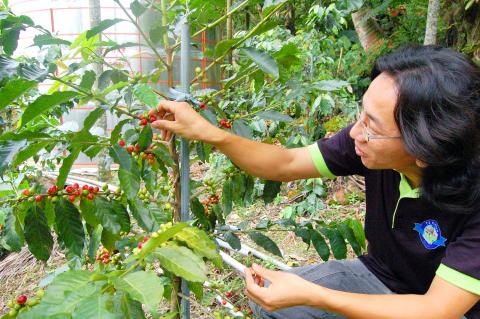 Lai Chien-liang, chairman of a local production association in Dongshan Township of Greater Tainan, examines his coffee beans yesterday, worrying that low rainfall this year would affect production once again.
Photo: Wang Han-ping, Taipei Times
When part of the last batch of sun-dried beans was ground and brewed by Simon Hsieh (謝博戎), founder of Soaring Phoenix Trading, the store was filled with the aroma of brandy, Hsieh said, adding that Fang's natural way of drying beans was the secret recipe that propeled the nation's coffee onto the international stage.
"Natural coffee" consists of beans that are dried inside the fruit, rather than after the fruit is removed, as is the case with "washed" (or wet-processed) coffee.
Fang said that like their neighbors, his parents had initially made a living by producing high mountain tea. After his discharge from the military, Fang returned home to help with the tea picking, to find that his father had planted a small patch of coffee plants as an experiment.
Fang tried to give the coffee beans different flavors through different processing methods, such as washing or sun drying.
It was mainly because of his hard work that his coffee won a special award in the Taiwan Specialty Coffee Evaluation in 2007, as well as earning a place in the top 50 in the second round of the SCAA evaluation last year.
Fang said two other Taiwanese coffee businesses also placed in the top 50 for specialty coffee beans — Kuo Chang-sheng's (郭章盛) Sung Yueh Coffee House in Yunlin and the coffee made by Lee Sung-yuan (李松源) in Pingtung.
The outstanding performance of the nation's coffee industry surprised foreign coffee farms and businesses, Fang said, adding that in recent years several foreign coffee farmers, businessmen and experts visited Alishan to tour his coffee farm.
"There are a lot of people planting coffee trees now and some are very hard working, so there's a lot of future competition and there's reason for worry," Fang said.
An introduction to Taiwanese coffee on the Chiayi Agricultural Research Center Web site shows that Tait Marketing and Distribution Co imported 100 pots of coffee seedlings from Manila to plant in Taiwan and imported more seeds the following year to plant in Sanxia (三峽), near Taipei, in 1884.
In 1901, with Taiwan under Japanese colonial rule, Yasusada Tashiro, a biologist for the Japanese governor of Taiwan, imported Java coffee plants and planted them in Pingtung.
In 1919, the center collected samples from Hengchun (恆春) and Pingtung to plant at the center for research. After evaluating all the species, they found that the Arabica species was best suited for local conditions.
Arabica coffee trees were widely planted across the nation in 1927 and by 1942 — the peak coffee-planting period — more than 1,000 hectares of coffee were planted nation-wide.
However, when the US joined World War II, agricultural concerns became food-centric, causing most of the coffee farms to change their produce to grain. By 1953, there were only 4.9 hectares of coffee trees planted nationwide.
In an interview with Chang Lai-en (張萊恩), the founder of Barden coffee and owner of the Barden Farmstead on Hepao Mountain (荷苞山), in the December 2009 issue of Reading magazine, published by the Yunlin County Government, Chang said booming coffee bean prices in 1954 and high returns for farmers prompted the government to actively promote coffee planting on Hepao and set up a modern coffee processing plant.
It also sent personnel abroad to learn how to plant and process coffee.
A 1958 evaluation by the US Department of Agriculture of the coffee beans sent by Taiwan said the quality of the coffee beans was excellent and equivalent to the higher-mid-range beans from Central America, Chang said, adding that this had opened the door to the expansion of Taiwan's coffee into the international market.
The area used for coffee farming on Hepao Mountain reached 300 hectares as a result.
However, Chang said Taiwan's coffee industry suffered an almost immediate setback because of the political situation during that period.
That year, Chinese forces began bombarding the island of Kinmen.
Revitalization of western coffee production areas began with the promotion of the leisure industry, with Dongshan (東山) and Gukeng (古坑) becoming the most famous.
After the 921 Earthquake in 1999, the Yunlin County Government became more active in promoting Gukeng coffee.
Statistics from the Council of Agriculture's Agriculture and Food Agency showed that as of 2001, total production of coffee in the Gukeng and Dongshan areas was about 4.5 tonnes, with production climbing in the following years. With coffee planted in Pingtung, Chiayi, Hualien, Taitung, Nantou, Hsinchu and other places, coffee production has grown exponentially every year. By 2005, coffee production stood at more than 170 tonnes, and 2009 yielded a total of more than 600 tonnes.
However, the Agriculture and Food Agency said that although Taiwan's climate was suited for coffee planting, high labor costs and higher overhead would make it difficult for Taiwan to compete with other coffee producers, so production should not be increased.
In addition to the rapid growth of the Taiwanese coffee market, import statistics from the -Directorate-General of Customs showed 7,991 tonnes were imported in 1997, including raw coffee, processed coffee, coffee and related products.
The appearance of chain stores such as Starbucks, Is Coffee and Barista in 1998 led to the rapid growth of imported coffee, -reaching an import rate of more than 15,000 tonnes in 2002.
The Directorate-General of Customs said annual imports of coffee exceeded 20,000 tonnes by 2003, when low-priced coffee chain stores such as e-coffee and 85?C entered the market.
Some business owners said that in comparison with the global average of 448 cups of coffee consumed per individual a year (Finns are the world's heaviest coffee drinkers, at 1,202 cups a year), the market for Taiwanese coffee still had a lot of room to grow.
With the non-stop expansion of the coffee market, Taiwan's coffee industry has also benefited by combining with leisure industries in production areas.
Yang Sung-peng (楊松鵬), the manager of Wind Trees, a store selling specialty coffees from different countries, said that although the store had sold many coffees from internationally renowned coffee plantations in the past, in recent years it had also introduced Taiwanese coffee.
The store has sold coffee from Alishan, which has a unique tea fragrance unseen in coffees from other countries, Yang said, adding that this was a characteristic that could give Taiwanese coffee a distinct advantage.
This is the direction Taiwan's coffee industry must take, Yang said.
Comments will be moderated. Keep comments relevant to the article. Remarks containing abusive and obscene language, personal attacks of any kind or promotion will be removed and the user banned. Final decision will be at the discretion of the Taipei Times.