INTERVIEW: Multiple challenges face land subsidence problem
New Public Construction Commission (PCC) Minister Lee Hong-yuan recently sat down with 'Taipei Times' staff reporter Tzou Jiing-wen to share his views on the issue of land subsidence facing Taiwan High Speed Rail in areas around Changhua, Yunlin and Chiayi. The only way to resolve the problem is to change the water intake structure, he said, adding there was a need for inter-agency dialogue
Taipei Times: The land subsidence issue in the Changhua, Yunlin and Chiayi areas is endangering Taiwan High Speed Rail. How serious is the situation?
Lee Hong-yuan (李鴻源): The land subsidence areas in Changhua, Yunlin and Chiayi occupy about 1,200km2, which is one-tenth the size of the western plains of Taiwan. Some of the severe land subsidence areas have dropped to 3m below ground level or even lower. In the past, it was the consequence of excessive groundwater pumping. Everyone blamed the fish-farming industry for it, but in actuality, all water use — including industrial use and tap water — has been provided through excessive groundwater pumping. And why is it so? Because there isn't any reliable source of surface water available.
There is a myth that says once the Hushan Reservoir (湖山水庫) in Yunlin County is constructed, the land subsidence problem will be solved, but this is not true. The water-holding capacity of Hushan Reservoir is about 50 million tonnes and can only be used four times a year at most, supplying 200 million tonnes of surface water. However, the Changhua, Yunlin and Chiayi areas extract between 500 million and 600 million tonnes of groundwater every year. It's out of proportion. The bad news now is that land subsidence is gradually moving inland, whereas in the past it only occurred in the coastal areas. Even worse is that the more severe areas happen to be where the high-speed rail passes through. Although the speed of land sinking varies every year — about 7cm on average — it seriously impacts the safety and maintenance of the high-speed rail.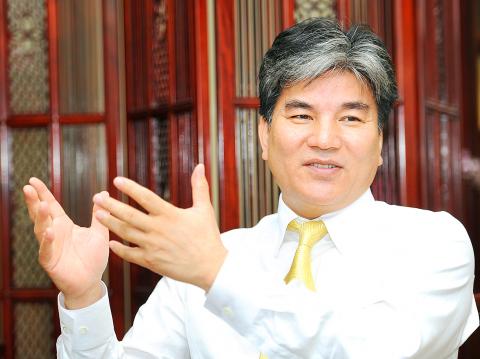 Public Construction Commission Minister Lee Hong-yuan gestures in a photo on April 15.
Photo: Fang Pin-chao, Taipei Times
The high-speed rail is constructed where the water usage structure is very unbalanced. Constructing reinforcements is only a temporary solution. If groundwater extraction continues without changing the water-use structure, the reinforcement measures will lose effect in two to four years. The problem at hand is tricky.
TT: What is the permanent solution?
Lee: As a professor at National Taiwan University four years ago, I helped the Water Resources Agency [WRA] plan a comprehensive water governance and management plan for Dongshih (東石), Budai (布袋) and Yijhu (義竹), in Chiayi County. The first thing we did was communicate to fishermen and fish farmers that they shouldn't pump groundwater. They refused at first, but after many hours of explaining, some of them took our advice, or at least were no longer opposed to it.
You need to understand their problems and solve them. They make a living by using groundwater, but how can it be balanced with water governance and management? I think it's important to bring these issues back to a professional level, telling them that if groundwater pumping continues, their houses will sink below ground level and become worthless then. Moreover, we asked them to think about how much it would cost to raise their house every four years, how much they would lose if it flooded or if a typhoon destroyed the fish farms.
Afterward, I asked them what assistance they needed from the government and in a scenario where government expropriation is impossible, would they be willing to rent their fish farm to the government, or would they be willing to cooperate with farmland and wetland readjustments to turn their fish farms into flood detention pond-constructed wetlands?
The initial flood detention pond-constructed wetland I had in mind was 50km2, nearly one-fifth the size of Taipei City, and fully planted with aquatic plants. It could solve the flooding problem and become the most beautiful place in Taiwan, as it would attract many wild birds from Southeast Asia. We could instruct the local fishermen to develop tourism, so that their housing prices wouldn't drop to nothing.
With the aquatic plants in 50km2 of flood detention pond-constructed wetland, it would be enough to treat most of the household wastewater in Changhua, Yunlin and Chiayi.
The plan was introduced three years ago and the Council for Economic Planning and Development has made efforts to push it. But why has progress been so slow? Because there are five ministries and agencies concerned with the issue and their policies may conflict with each other. For example, the Council of Agriculture [COA] continues to promote fish farming, while the Ministry of the Interior works on urban planning. The WRA is in charge of reservoirs and pumping stations, while wetlands are under the the Construction and Planning Administration's [CPA] management, all while the wetlands are also used for flood prevention. So it's hard for the agencies to negotiate a unified procedure. This tells us that the operational mode of the government should change.
The Executive Yuan has [recently] placed the responsibility for solving the high-speed rail problem on me. This is a big challenge. In the case of Chiayi, it took two years for us to finish the draft guidelines and even now we still have to communicate with the fishermen. There is even a bigger problem of who will plan the budget. Therefore, the responsibility of the PCC is to plan the budget of each agency and also execute it as a whole. How to make the contracts, how to monitor them, how to validate and accept them, are all challenging the government's existing regulations. In fact, we should break through the existing regulations, because they have tied down all our imagination. So if you ask me how to solve the high-speed rail problem, I would say: It's easy, but the hard part is to break through the problems I mentioned above.
TT: How do you plan to proceed [to tackle the issue]?
Lee: We must first sketch out a plan. Who will execute the plan? What is the time limit? If land subsidence continues to worsen, I don't think the high-speed rail can continue another two years. I must draft a plan in the shortest time possible and in the meantime, communicate with farmers, fishermen and local governments. Communication with environmental protection groups is also needed. They are passionate and reasonable, yet they are difficult to deal with if you fail to communicate clearly with them.
Therefore, I have asked my colleagues to advance the research on the local water usage structure. How much water is being used for agriculture, industries, tap water and household use? How much water resources do we have? And if part of the water provided by the Jiji Weir (集集攔河堰) is used by Formosa Petrochemical Corp's sixth naphtha cracker in Mailiao (麥寮), [Yunlin County,] and another part used by the [Chia-Nan] Irrigation Association, will the association be able to change its way of irrigation? It is currently under extensive management, but a part of the water for the plant can actually be saved for tap water at night, thus allowing it to be provided by reliable surface water instead of groundwater extraction. This is a way to save water. Now when we talk about water conservation, we mostly refer to insignificant methods such as using water-saving disks or washing machines. But how much water can we save from them? At the same time, all we do now is persuade people to save water through moral appeals, but the government should set up regulations. It may be an inconvenience to the residents in the short term, but new values, industries and job opportunities focused on water conservation will appear in the long run.
In addition, how many industrial areas and sewage treatment plants are there in Changhua, Yunlin, Chiayi and Greater Taichung? How is the sewage being handled? Where does the water go after treatment? Theoretically, the water isn't discharged after treatment, but moves on for further treatment. The amount should be enough for industrial cooling. If there is no heavy metal pollution, it should be sufficient for irrigation. Research should be done at this level to solve the high-speed rail's problem.
The next major challenge is how to solve the problem of regulation. How do we integrate the execution platform? We must assure sufficient food supply because this area is the breadbasket of Taiwan. We can't only take the scenery into consideration, or else what would the farmers eat? And what would we eat? So we must sit down and have a talk with the COA about what the reasonable size is for farmland in Taiwan, how much water can be reused after sewage treatment and how much water can be provided by the proposed future wetlands in this area.
If the problems mentioned above could all be solved, the released farmlands would need planning. If they are not well regulated, it will be filled with unapproved construction work like we see in New Taipei City (新北市) today.
So if we want to solve the problem, we have to solve it all at once. This also refers to the new appearance of the rural areas. I believe the COA has the budget to do rural regeneration and so it should recalculate the budget with the CPA and the Chia-Nan Irrigation Association, so that we can execute each of their policies and fulfill our needs without having to seek more funding. This is called optimization.
In the past, optimization has had only one goal, but now it has to satisfy multiple goals.
Comments will be moderated. Keep comments relevant to the article. Remarks containing abusive and obscene language, personal attacks of any kind or promotion will be removed and the user banned. Final decision will be at the discretion of the Taipei Times.