Weak will blocks nuclear phase-out: Tsai
NO GUTS, NO GLORY Tsai Ing-wen said criticisms of her proposal that phasing out nuclear power would cut the nation's reserve power ration showed a 'lack of willpower'
The only thing standing in the way of phasing out the nuclear industry is "a lack of willpower," Democratic Progressive Party (DPP) presidential nominee hopeful Tsai Ing-wen (蔡英文) said yesterday as she continued her weeklong critique of nuclear power.
"We have many alternative plans that I'm sure can be achieved with the right amount of hard work," Tsai said, speaking on her "2025 nuclear-free homeland" plan for a fifth day.
"The problem is that the government is too reliant on the nuclear industry. It needs to change this attitude," she said. "We would have 13 years left [before 2025] and I'm sure things can [be different by then]."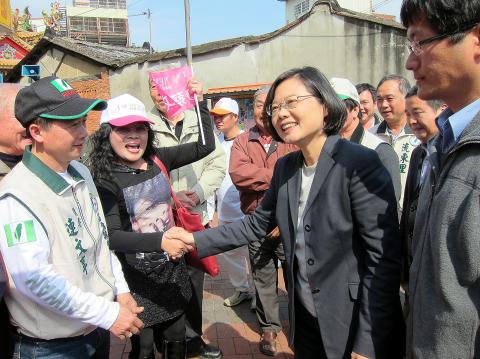 Tsai Ing-wen, foreground second right, who is running for the Democratic Progressive Party's presidential nomination, is greeted by supporters at the Yimin Temple in Toufen Township, Miaoli County, yesterday.
Photo: Ho Tsung-han, Taipei Times
Citing the dangers of nuclear power after the radiation leaks at Japan's Fukushima Dai-ichi nuclear power plant, Tsai has proposed phasing out the industry when the operating license of the Ma-anshan Nuclear Power Plant in Pingtung County, the youngest operating facility, comes up for review in 2025.
She has also said she would seek to ensure that the Fourth Nuclear Power Plant, also known as the Longmen plant, currently under construction in Gongliao District (貢寮), New Taipei City (新北市), doesn't become operational, pending whether the nation can increase other energy sources in time, such as through building renewable energy capacity and increasing efficiency at coal-fired power plants.
The government, as well as Chinese Nationalist Party (KMT) lawmakers, have rallied against Tsai's proposal, saying it would waste the hundreds of billions of NT dollars already spent on the project and dramatically cut the nation's reserve power ratio.
Tsai said such comments represented "a lack of willpower."
"We hope to increase the ratio of renewable energy to 12 percent. The Ministry of Economic Affairs itself has set a target of 8 percent. We think that adding just 4 more percent ... is feasible," she said.
Meanwhile, DPP lawmakers raised more questions about the safety of Taiwan's nuclear plants by pointing to incident reports obtained from the nuclear regulatory agency.
Documents from the Atomic Energy Council show there were 15 safety violations between 2009 and this year at the three operating plants. The Longmen plant, despite it being not operational, recorded 18 incidents
during the same period.
Comments will be moderated. Keep comments relevant to the article. Remarks containing abusive and obscene language, personal attacks of any kind or promotion will be removed and the user banned. Final decision will be at the discretion of the Taipei Times.