Waistlines of Taiwanese women plumpen: DOH
The number of women with unhealthily large waist sizes has increased in recent years, the Department of Health (DOH) said yesterday, encouraging women to keep their waist size below 80cm to minimize the risk of cardiovascular disease.
From 1993 to 1996, the proportion of women whose waistline was above 80cm was 20.2 percent, but during the period from 2005 to 2008 that number rose to 33.6 percent, according to statistics from the Bureau of Health Promotion, which were released to coincide with International Women's Day.
The nation's adult female population is becoming more at risk of developing cardiovascular disease and other illnesses that tend to affect those who are overweight or obese, bureau director-general Chiou Shu-ti (邱淑媞) said.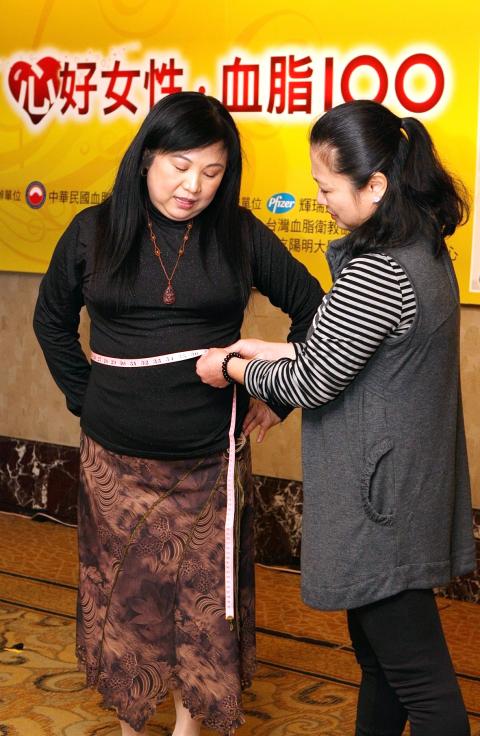 A woman has her waist measured at a Department of Health-organized event in Taipei to mark International Women's Day yesterday. The department advised women to keep their waistlines and blood sugar levels within a healthy range.
Photo: Hung Su-ching, Taipei Times
Chu Nian-feng (祝年豐), a professor at the National Defense Medical Center's School of Public Health, said that when a person's waistline is too large, the fat that is stored in the mid-section of the body disrupts their metabolism, causing the person's blood sugar and lipid levels to rise and increase the risk of developing cardiovascular disease and diabetes.
Chiou also advised women to try to keep their body mass index (BMI) at a healthy level between 18.5 and 24. BMI is calculated by taking a person's weight in kilograms and dividing that by the square of the person's height in meters.
The bureau's survey showed that about one in three women had a balanced diet that included vegetables every day, while 29 percent exercised at least three days a week and at least 20 minutes per workout.
The bureau director said that women who are trying to lose weight should eat food that is high in fiber and low in calories, as well as exercise at least 30 minutes daily.
Comments will be moderated. Keep comments relevant to the article. Remarks containing abusive and obscene language, personal attacks of any kind or promotion will be removed and the user banned. Final decision will be at the discretion of the Taipei Times.