FEATURE: Families call for fairer urban renewal law
The Lunar New Year is a time when families get together and go on family trips. However, some families will be staying home throughout the holidays — not to celebrate, but out of fear that their home might be torn down if they leave.
"We always leave at least one person at home because we're afraid our house might be demolished if we all leave at once," Peng Lung-san (彭龍三), owner of a small motorcycle repair shop near the intersection of Songshan Road and Zhongxiao E Road in Taipei, told the Taipei Times last week.
Peng's shop is located on the ground floor of one of the few remaining decades-old apartment complexes in the area, surrounded by high-rise luxury apartments, office buildings, hotels and department stores.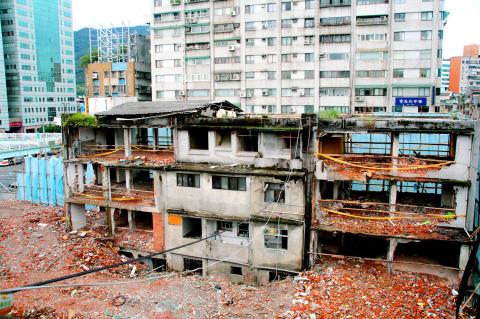 A lone apartment complex sandwiched by two buildings torn down in October is pictured in Taipei late last month. A family opposing an urban renewal project continues to live in the surviving unit.
Photo: Loa Iok-sin, Taipei Times
The old apartment complex has become a target of urban-renewal developers.
The deal sounded tempting at first: The developer would tear down the more than 30-year-old buildings and turn them into nice, modern apartments. Each of the original households would be entitled to a unit in the new apartment, with an elevated value.
The Urban Renewal Act (都市更新條例) stipulates that developers must provide a copy of the project to be read and signed by residents, hire at least three certified real-estate appraisers to assess their current value and estimate their future — after reconstruction — value, then have residents sign an agreement to allow developers to begin the project.
However, developers often staple the two documents together, giving people the impression that they are two copies of the same document, said Peng, who founded the Taiwan Association for Justice in Urban Renewal to unite "victims" of what he calls unjust urban renewal projects.
Peng discovered something was amiss when the process started.
FALLING VALUE
"In February 2005, real-estate appraisers estimated the value of my place at about NT$420,000 per ping [3.3m2] and that the value would go up to NT$600,000 per ping after reconstruction," Peng said. "However, when I bought the place in 1995, it cost me NT$800,000 per ping. How can the value go down when the area is rapidly developing and real-estate prices are skyrocketing?"
Peng turned down the offer, but it was no use, as most of his neighbors had agreed.
According to the law, urban renewal projects must have the approval of the owners of three-quarters of the total number of units or surface area.
Alternatively, the plan may be considered approved if one person who owns seven units in an apartment building agrees to the project even if the other three — each owning one unit — oppose it.
Peng is also upset about the fact that after the renewal project is completed, he would be getting back a unit that is slightly smaller than his current one.
"Basically, the developer calculates the total value of the property based on the estimated price, deducts the cost of reconstruction and allocates a housing unit based on post-renewal real estate value," he said.
Hence, for the 17 ping unit Peng has now, he would get a 15.6 ping unit in return.
Despite the many questions that Peng and a handful of other residents still have, the project was approved and a demolition permit for the complex issued by the Taipei City Government.
With the demolition permit, the developer can demolish the complex any time and ask for government assistance to remove residents who refuse to leave — by force if necessary.
"This is not fair," Peng said, questioning how one "cannot disagree with [the renewal project] once the majority of property owners have agreed."
"What kind of law is that? I thought the Constitution protects every citizen's right to property," he said.
During the interview, a woman surnamed Huang (黃) walked into the shop, asking: "What happened? What was that noise? Did anyone hear that?"
It was only some trucks passing by, people in the shop told her.
Huang, her husband and two children have lived in the apartment building next to Peng's for 30 years.
Just like Peng, her apartment unit has been included in a renewal project. Since most of Huang's neighbors have agreed to the project, Huang's apartment is the only building left of what used to be a line of connected apartments facing Zhongxiao E Road after a first-phase demolition that took place in October.
"I live in constant fear that the demolition squad will come to take down my house. Every time I hear noises that sound like a demolition machine, I come out to check," she said.
The first time she was contacted by developers about urban renewal, Huang said: "I was quite happy at the time, actually."
"We've been living in the apartment for 30 years. It's very old. Who wouldn't want to live in a new apartment?" she said. "However, renewal should be done in a fairer manner."
Huang Li-ling (黃麗玲), an assistant professor at National Taiwan University's Graduate Institute of Building and Planning, said that the increasing number of protests by residents opposing such projects has exposed the contradictions in the law governing urban renewal.
"The law clearly states that urban renewal should promote public interests and convenience, but in reality, it's the developers who gain the most," she said in a telephone interview.
"The law provides incentives for developers to create facilities to enhance public interests, but it's not mandatory," she said.
For instance, in South Korea, developers working on urban renewal are required to set aside 10 percent of the newly constructed space for social housing, she said.
"However, there's no such requirement in Taiwan," Huang Li-ling said.
While the law provides incentives for urban renewal developers that create green spaces, such as public parks, these parks usually end up being closed to the public after the projects are completed and developers have received the incentives.
"There's no law prohibiting developers from doing so," she said.
Hsu Shih-jung (徐世榮), chair of National Chengchi University's Department of Land Economics, said that according to the act, the three main objectives of urban renewal are renovation, reconstruction and maintenance.
"However, we've only seen renovation and reconstruction," Hsu said.
For example, a proposal for urban renewal for an area close to the main campus of National Taiwan University has developers considering flattening dozens of Japanese-style houses built during the colonial era as residence for faculty members, Hsu said.
HISTORICAL VALUE
"However, those houses were beautifully constructed and are historically significant," he said. "According to the 'maintenance' part of the law, why can't we just keep these houses and keep them well-maintained?"
As the objective of urban renewal is to benefit the public, Hsu called for increased participation by local residents in drawing up urban renewal plans — and in a language that people can understand since the law is considerably complicated — to avoid further disputes.
Hsu also pointed to the problem of urban renewal projects using government-owned land.
He said residents protest when the market value of their property is underestimated, but "no one protests when government-owned land is sold to developers at below-market value."
"These properties belong to everyone in the country. How can we allow this to happen?" he asked.
Comments will be moderated. Keep comments relevant to the article. Remarks containing abusive and obscene language, personal attacks of any kind or promotion will be removed and the user banned. Final decision will be at the discretion of the Taipei Times.