FEATURE: Seeking headhunter roots in Taiwan
GREATER CONFIDENCE One man's quest coincides with a longing among Taiwan's 500,000 Aborigines to know more about their cultural identity and origins
With his thick central Chinese accent, Chen Tangsan could easily be mistaken for any other resident of China's Henan Province, but he is in fact a descendant of Taiwanese headhunters — and proud of it.
More than 350 years after a distant ancestor left Taiwan and settled deep in China's interior, Chen returned to Taiwan, seeking his roots in the verdant hills that Aborigines still consider their own.
"I've finally found my ancestral home," the 43-year-old told reporters after his first trip to the Tsou tribe near the iconic Alishan.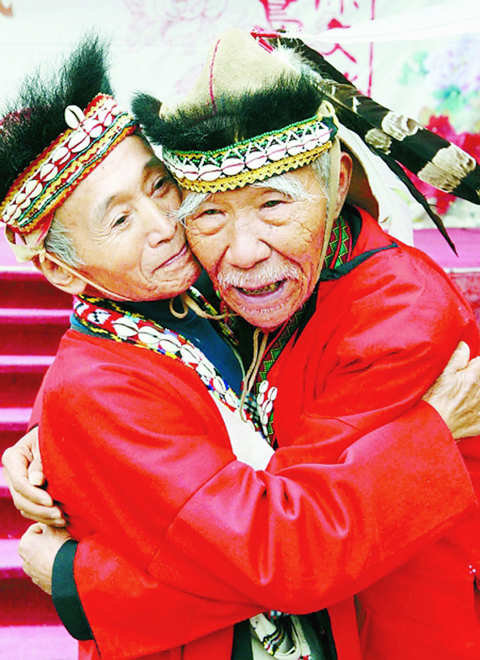 Chen Tangsan, right, a descendant of the Tsou tribe now living in China's Henan Province, hugs a tribesman at Alishan during a reunion ceremony on Jan. 7.
PHOTO: AFP
An ancient ceremony filled with symbolism greeted Chen at Alishan, when a priest slaughtered a pig in the presence of hundreds of people in a sign of gratitude for the return of a long-lost son.
Chen's quest coincides with a wider longing among Taiwan's half-million Aborigines, divided into 14 officially recognized tribes, to know more about their cultural identity.
But as the Aborigines, a suppressed minority for centuries, gain greater confidence and pride in their heritage, the younger generations are gradually losing touch with where they came from.
"A multiplicity of cultures is crucial to Taiwan," said Pasuya, a well-known writer who, like many other members of the Tsou tribe, uses only one name. "But if we don't do something, the language and culture of the Aborigines will soon vanish."
It is not clear when the Aborigines first inhabited Taiwan and where they came from, but anthropologists and linguists suggest their remote forefathers moved about 5,000 years ago.
They are Austronesians, people who in prehistoric times sailed to the furthest corners of the Pacific and settled down as far away as Easter Island, but apart from that details are scarce.
"It's a pity no written records were left to narrate the history of our ancestors," said Pasuya, who has written a book about Aboriginal literature.
The Aborigines only entered into the written record in the 16th century, when Han Chinese started crossing the Taiwan Strait, farming Taiwan's fertile western plains.
The Han immigration wave pushed most Aborigines, feared for their headhunting practices, into the mountainous center, but a few went in the other direction. One of them was Chen's ancestor.
Chen does not know his ancestor's name, but the rough outlines of his biography have seeped down through the generations as family lore.
It is clear the ancestor was caught up in China's dynastic struggles in the mid-17th century, fighting as a common soldier in an army opposing the young Qing Dynasty (1644-1911).
After the anti-Qing force was defeated in China, he settled there, and, perhaps as a punishment, he was never again able to return home to his family in Taiwan.
Exactly how many former soldiers met the same fate is not known, but a Chinese government survey indicated that in Chen's village alone 2,000 people claim to have Taiwanese Aboriginal ancestry.
Even though more than three centuries have passed and the Chen family has become as Henanese as any, it still honors practices with faint echoes of its Taiwanese origins.
"Ever since I was a boy, I've found that some of our family traditions have been different from those of some of our neighbors," Chen said.
When a member of the Chen family dies, the coffin is placed on a wooden board pointing in the direction of Taiwan.
"Feel at ease," the mourners sing. "Return, return to the other shore across the ocean, return to Alishan."
Chen remembers that the yearning tone of the ancient song set his imagination alight as a child, and as he grew older his curiosity remained.
"I was never able to stop thinking about it," he said. "I wanted to take a close look at the place my ancestors came from."
The culmination of Chen's long search for his family roots was the reunion in the shadow of Alishan.
But the encounter was also a demonstration of the gradual weakening of Aboriginal culture, since many of the young people that Chen met knew as little as he did of their common ancestral language.
"Official surveys show that few Aborigines below 20 can use their mother tongue to communicate with their own parents," Pasuya said. "During the early years of the Japanese rule [in Taiwan], the Aboriginal people were treated by the rulers as animals."
The result was a string of rebellions that left large numbers of Aborigines dead, and campaigns by Japan to impose its idea of civilization on the survivors.
The change did not alleviate the pressure on Aboriginal culture after Japan's defeat in World War II in 1945.
While in recent decades education has been extended to all members of the Aboriginal population, the language the children have learned is Mandarin, further eroding their cultural awareness.
The trend has slowed somewhat since the 1980s as more people in Taiwan have started adhering to a "Taiwan consciousness" rather than a "greater China consciousness."
This has spilled over into greater Aboriginal pride, reinforced by a growing role in certain industries, most visibly entertainment, with pop singer Chang Hui-mei, (A-mei, 張惠妹), a prominent representative.
Whether Chen's reunion with the Tsou tribe will strengthen its ties to China's small Aboriginal community remains to be seen. He hopes so.
"I swear I'll never allow ties with my brothers and sisters at Alishan to be cut off again," Chen said.
Comments will be moderated. Keep comments relevant to the article. Remarks containing abusive and obscene language, personal attacks of any kind or promotion will be removed and the user banned. Final decision will be at the discretion of the Taipei Times.