'Wish lock' phenomenon attracts youth to Fengyuan
Residents of Fengyuan (豐原), Taichung County, are making wishes by hanging padlocks on a wire mesh fence at a pedestrian overpass by the city's train station.
Train station director Lin Ching-shan (林景山) said that despite the fact that overpasses exist at many train stations around the country, to his knowledge, this phenomenon is unique to Fengyuan.
It all began about five years ago when someone observed a few padlocks hanging on the fence with wishes written on them in Chinese and an unidentified foreign language, he said. Before long, the padlocks were known as "wish locks."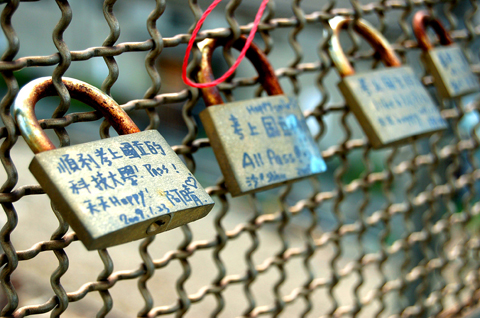 Padlocks expressing the wish to "pass university entrance exams" hang on a fence in Fengyuan, Taichung County, on May 30.
PHOTO: CHANG JUI-CHEN, TAIPEI TIMES
Lin said some people believe the trains generate a magnetic field when they pass under the overpass and the energy that accumulates in the locks will fulfill their wishes. Although authorities have cleared the fence on several occasions, new padlocks keep turning up, Lin said.
The wishes written on the padlocks include: "[I wish to] successfully pass university entrance exams," "I want happiness" and "[give me] eternal love."
Sometimes two padlocks are locked together or hung close to each other. These are known as "heart locks," and are normally hung by lovers.
One lock hung by someone looking for a partner had the wish "Be with me!" written on it. Other examples are "I want money" and "[Let's] go to National Taiwan University together. We want to move in together."
The overpass in Fengyuan has attracted students from all over Taiwan, who go to read the padlocks, developing into a youth tourist spot, Lin said.
Folklore specialist Chang Yi-ming (張益銘) said the phenomenon may be an imitation of youth subcultures developed from faith practices in other countries, adding that a magnetic field would imply that the place has a lot of energy.
Whether that energy is beneficial or not is for people to decide on their own, he said.
Comments will be moderated. Keep comments relevant to the article. Remarks containing abusive and obscene language, personal attacks of any kind or promotion will be removed and the user banned. Final decision will be at the discretion of the Taipei Times.