Buddhist master Sheng Yen passes away aged 79
FOUNDER FIGURE: The man named as one of the 50 most influential people in the history of Taiwan was a confidant of politicians, business leaders and celebrities
Buddhist Master Sheng Yen (聖嚴法師), founder of the Taipei-based Dharma Drum Mountain Culture and Education Foundation, died at 4pm yesterday at Dharma Drum Mountain in Taipei County's Jinshan Township's (金山). He was 79 years old.
On the foundation's Web site, an announcement said: "Though the Master's body passed today … Master Sheng Yen has not left us. His preachings touch our daily lives; at this time, what we need most is to calm our hearts and recite Buddha's name."
The foundation said Sheng Yen had been battling with chronic kidney ailments and had been on dialysis at National Taiwan University Hospital. After being diagnosed with urological cancer in December, Sheng Yen was hospitalized on Jan. 5.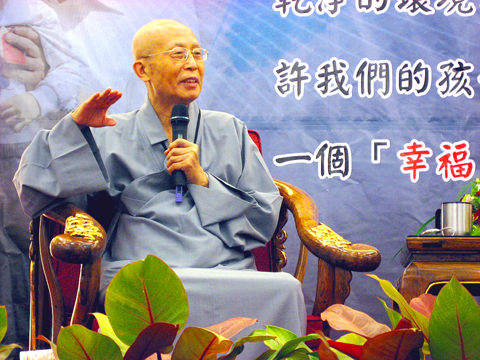 Buddhist Master Sheng Yen, pictured at an event in 2007, died yesterday at the age of 79 at the Dharma Drum Mountain complex in Taipei County.
PHOTO: CNA
The hospital said Sheng Yen voluntarily checked out of the hospital at around 3pm on Monday to return to his temple.
Although Sheng Yen had been advised by the hospital about the option of a kidney transplant, speaking of his illness in 2007, he said he declined the surgery because, "The kidney fails as a function of nature; there is no need to do unnecessary and extra procedures to [prevent it]."
Sheng Yen was named as one of the 50 most influential people in Taiwan's history by Common Wealth magazine in 1998 and advised politicians, business leaders and celebrities.
Born in 1930 in China's Suzhou Province, Sheng Yen was tonsured as a monk at the age of 13.
His religious career was interrupted for 10 years when he was drafted into the army during China's Civil War. He came to Taiwan in 1949 and became a monk again in 1959.
Sheng Yen, who received masters degree and a doctorate in Buddhist literature from Japan's Rissho University, began to preach to large crowds of followers in 1985 as the founder and the director of the Institute of Chinese Buddhism Study in Peitou (北投), Taipei.
He founded the Dharma Drum Mountain Culture and Education Foundation in 1989, emphasizing attention to techniques to command one's "mental ways" and "self-extrication."
The temple went through a 16-year construction process before being opened in 2005 and now has branches worldwide.
One of Sheng Yen's unfinished legacies is the Buddhist University, a project he announced in 1996 but has yet to receive sufficient funding to establish.
President Ma Ying-jeou (馬英九) paid a visit to Dharma Drum Mountain last night to pay tribute to Sheng Yen.
Comments will be moderated. Keep comments relevant to the article. Remarks containing abusive and obscene language, personal attacks of any kind or promotion will be removed and the user banned. Final decision will be at the discretion of the Taipei Times.