Research uncovers grisly truth about Lanyu skinks
MOTHERLY LOVE Parental care is extremely rare among reptiles, and although they are known to devour their offspring, Lanyu's lizards are not as bad as they sound
Long-tailed skinks on the nation's outlying islet of Lanyu (蘭嶼) have been observed to eat their offspring — the mother lizards will eat their own eggs as a response to the frequent invasions of predatory snakes, Huang Wen-san (黃文山), an associate researcher at the National Museum of Natural Science reported on Friday.
Researchers studying the lizards suspect that the filial cannibalism is related to the mothers' survival instincts, which direct them to strengthen themselves in defense against predators.
Huang — who has studied for more than a decade the behavior of the long-tailed skinks, or Mabuya longicaudata, and its enemy the Taiwan kukri snake, or Oligodon formosanus — first reported in 2006 the discovery of bizarre behavior among lizards on Lanyu. He documented that mother's protected their eggs before they hatch, which is unusual among lizards.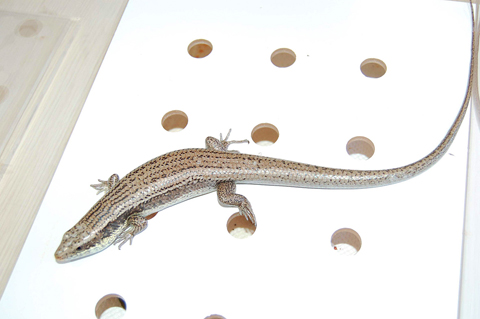 A long-tailed Lanyu skink is seen in a picture taken on Friday. Huang Wen-san, a herpetologist at the National Museum of Natural Science, has found that the lizard eats its own offspring.
PHOTO: SU MENG-CHUAN, TAIPEI
"Parental care is extremely rare among reptiles," said Huang, adding that even the long tailed skink in Taiwan proper does not behave likewise. Female lizards always leave the clutch once they complete egg-laying.
During subsequent observation, Huang said he found an even more peculiar behavior among the lizards — the mother lizards would occasionally devour the whole clutch of her eggs.
Huang, who started his study of the two species after being "fascinated" years ago by the snake's egg-foraging behavior, said he could not imagine at first why a species that tends to protect its offspring would engage in cannibalism.
Huang eventually concluded that filial cannibalism is similar to a "scorched earth policy."
Mother lizards will fight back to protect their eggs against a snake's intrusion, Huang reported. However, if the frequency of snake attacks exceeds a certain level, some mother lizards — especially pregnant ones — will sometimes consume all the eggs before they abandon the nest.
In a paper published on Aug. 27 in the journal Behavioral Ecology, Huang hypothesized that when the risk is too high to protect the eggs, the mothers try to save themselves by feeding on the eggs to strengthen themselves thus leaving no eggs for the snakes, so as to diminish their strength.
Comments will be moderated. Keep comments relevant to the article. Remarks containing abusive and obscene language, personal attacks of any kind or promotion will be removed and the user banned. Final decision will be at the discretion of the Taipei Times.