Obama to retain Taiwan policy
BOILERPLATE Barack Obama has not spoken about Taiwan's overtures to China, but he can be expected to welcome the recent talks as progress
Democratic Senator Barack Obama's election as the 44th US president is not expected to bring substantial near-term changes in US policy on Taiwan, but judging by what is known at this juncture, his approach is likely to be less volatile than the love-hate relationship that characterized the eight years under President George W. Bush.
In his comments on Taiwan, Obama has echoed the traditional views that have framed US policy toward the country since the US switched diplomatic recognition from Taipei to Beijing in 1979.
However, Obama is expected to appoint advisers in the mold of former president Bill Clinton's, who will likely espouse such policies as the "three noes" that Clinton declared during a visit to Shanghai, which virtually muzzled pro-independence Taiwanese.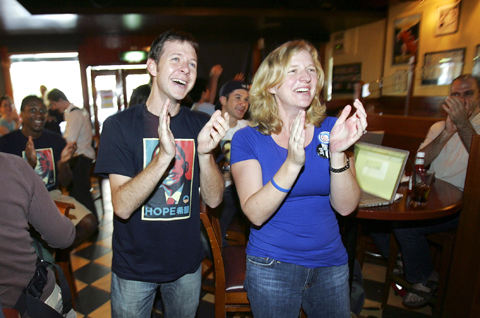 Members of Taiwan's expat community cheer in a pub in Taipei yesterday as TV coverage declares Barack Obama the next president of the US.
PHOTO: AP
Obama is unlikely to embrace the strident pro-Taiwan attitude Bush advocated in the early months of his presidency, when he approved the sale of a massive arms package to Taiwan and declared publicly that he would do "whatever it takes" to defend Taiwan against a Chinese military attack.
On the other hand, with the Chinese Nationalist Party (KMT) government of President Ma Ying-jeou (馬英九) moving toward accommodation with Beijing, there would be no cause for the bitterness in US-Taiwan relations that marked the last years of the Bush and Chen Shui-bian (陳水扁) presidencies.
In its most direct statement on relations with Taiwan, the Obama campaign in May used the same boilerplate US State Department rhetoric from recent decades.
Obama and vide presidential candidate Joseph Biden "recognize the importance of maintaining the 'one China' policy, as laid out in the three communiques, and they also underscore that the Taiwan Relations Act" remains relevant, the statement said.
The duo "will work to ensure that a military conflict across the Taiwan Strait never arises by maintaining good relations with China and Taiwan and by making clear that we expect them to resolve their differences peacefully and through dialogue," it said.
"While Barack Obama and Joe Biden oppose the use of force to resolve the issue, he [Obama] will act to ensure that Taiwan, a thriving democracy, is not coerced into accepting a change in its status against its will ... This means maintaining our military presence in the Asia-Pacific region, strengthening our alliances, and making clear to both Beijing and Taipei that a unilateral change in the status quo in the Taiwan Strait is unacceptable," the statement said.
While Obama, like every other policymaker in Washington, has felt constrained to pledge to provide Taiwan with the weapons it needs to defend itself under the TRA, he did not object when the Bush administration refused to sell Taiwan advanced F-16 fighter aircraft or diesel-electric submarines as part of the US$6.5 billion arms package approved last month.
Obama's Republican rival for the presidency, Senator John McCain, said that Bush should have included both systems, as well as Black Hawk helicopters, in the package.
While Obama has not spoken about the Ma government's peace overtures to China, as exemplified by Association for Relations Across the Taiwan Strait Chairman Chen Yunlin's (陳雲林) ongoing visit in Taipei, he can be expected to welcome the talks as a sign of relaxing cross-strait tensions.
But whether he finds fault with the potential effect of such talks on Taiwan's sovereignty is yet to be established.
In his few other statements on Taiwan, Obama has spoken favorably about the country.
In his response to the arms sales last month, he called the package "an important response to Taiwan's defense needs ... The sale helps to contribute to Taiwan's defense and the maintenance of a healthy balance in the Taiwan Strait."
Obama said he "strongly supports" the efforts of Ma and Chinese President Hu Jintao (胡錦濤) to reduce tensions.
Earlier, in a message congratulating Ma on his inauguration, Obama expressed the hope that Beijing would respond positively to Ma's efforts and that the easing of tensions would help to expand economic ties and "expand Taiwan's international space and cross-Strait security."
"I believe the US should strengthen channels of communication with officials of [the Taiwanese] government. We should continue to provide the arms necessary for Taiwan to deter possible aggression," he said.
Obama has not made a public statement about Taiwan's bid to gain observer status at the annual World Health Assembly in Geneva in May.
Comments will be moderated. Keep comments relevant to the article. Remarks containing abusive and obscene language, personal attacks of any kind or promotion will be removed and the user banned. Final decision will be at the discretion of the Taipei Times.