INTERVIEW: Chinese dissident urges caution on cross-strait ties
WORDS OF WARNING Wilson Chen said the Chinese Communist Party does not do favors for anyone, warning that it is trying to reel in Taiwan economically and politically
Chinese democracy activist turned economist Wilson Chen (陳破空) says the Chinese Communist Party (CCP) will try to gain a propaganda advantage from the planned visit to Taiwan by Association for Relations Across the Taiwan Strait (ARATS) Chairman Chen Yunlin (陳雲林).
"Beijing will tell the Chinese people that the visit is a victory for China's Taiwan policy of waving a military stick while dangling an economic carrot. Taiwanese people should protest the visit," the US-based academic said in an interview on cross-strait relations with the Liberty Times (the Taipei Times' sister newspaper) on Saturday.
"Rather than exaggerate the economic aspects of the visit, Taiwan's government should insist on talking about Taiwan's strengths — democracy and human rights. If the government acts in a cowardly manner, China will look down on Taiwan even more, believing that it can and will have the country under its control," he said.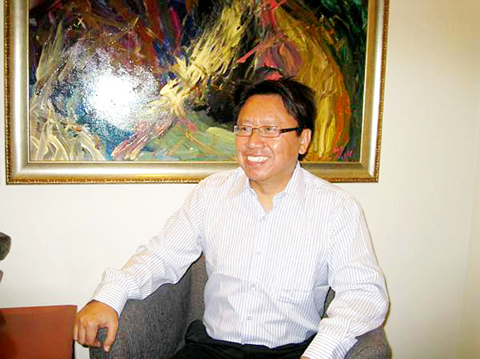 Chinese democracy activist turned academic Chen Pokong smiles during an interview in Taipei last Saturday.
PHOTO: TZOU JING-WEN, TAIPEI TIMES
"The CCP will view the visit as a huge success and use it to keep fooling the Chinese people. It will claim that the CCP regime is as strong as a rock, since it can force Taiwan to yield after regaining both Hong Kong and Macao and stabilizing Tibet," he said.
On the recent toxic milk scandal, "the flawed system behind China's toxic milk powder and counterfeit goods has harmed not only China itself but the whole world, including Taiwan," he said.
"The CCP government refuses to apologize, but the Chinese people cannot protest because they have always been deprived of their right to do so. As a democracy, Taiwan should stage a protest over the health and safety issue and demand an apology," Chen Pokong said.
"Taiwan's government is eager to boost its economy, and it is pinning its hopes on doing business with China. It expects that direct flights, Chinese tourists, preferential measures and setting up a relationship similar to that of the Mainland and Hong Kong Closer Economic Partnership Arrangement [CEPA] can remedy all its problems," he said.
"But when you ask for a favor, you may also be taken advantage of. The CCP regime does not do someone a favor easily, and when it does it does it for a purpose. The purpose this time is to try and bait and hook Taiwan, first economically and then politically," he said.
"Beijing is unlikely to grant Taipei's requests instantly, and will instead dangle them like a carrot in front of a donkey. For example, the number of Chinese tourists visiting Taiwan can be decided completely by the Chinese side," Chen said.
He said Taiwan had not depended on China for its economic takeoff in the 1970s.
"Today, China is important because of two factors. First, China is Asia's biggest market, and it keeps growing, so many countries want to do business with it. Second, China has seriously limited Taiwan's diplomatic space, causing it diplomatic difficulties while affecting its market as well. If Taiwan wants to develop economic and trade relations with China, those ties should be based on equality and dignity and be propelled by market forces. It is not necessarily appropriate for the government to take the lead," he said.
The inevitable result of relaxing restrictions on cross-strait business will be that Taiwanese capital will flow to China, and China's labor and products will flow to Taiwan, because Taiwan is a developed economy and China is a developing one, he said.
China has been doing its best to attract Taiwanse capital and this trend will not change unless the CCP makes a political effort to reverse it, but Taiwan would pay a considerable political price, he said.
"The new government [in Taiwan] has spoken and acted based to its stated intentions, but China has not brought any benefit to Taiwan's economy. Even Chinese tourist arrivals have been lower than expected, he said. "This is because China has been relaxing economic measures in a calculated way so as to keep Taiwan under control, so Taiwanese people should not be too hopeful."
"If the government finds that high-tech exports to China or an influx of Chinese labor are not good for Taiwan's economy, it should adopt a 'no haste, be patient' policy," he said.
"Taiwan's real strength lies not in its economy and trade, but in its democracy, freedom and human rights," he said. "In cross-strait relations Taiwan should take advantage of its strengths and avoid its shortcomings. If the government tries to compete with China in economy and trade, Taiwan will find itself in a passive position in which China holds the power to dominate the situation. The outcome will be that Taiwan would be swallowed up by China."
"Taiwan should insist on actively promoting democracy and human rights rather than avoiding the matter. President Ma Ying-jeou (馬英九) talked about the 1989 Tiananmen Square incident and the Tibet issue before the election, but since he took power Ma's administration has become weak and even said that Taiwan should not see itself as a beacon of freedom and democracy. This shows a lack of understanding of China and the CCP," Chen Pokong said.
"If the Ma administration knew the CCP better, it should have criticized Beijing for human rights abuses," he said, adding that "when the two sides began exchanges, Taiwan should have delivered a list of political prisoners and demanded that China release them."
"The government should stick to its position on the Tiananmen and Tibet issues because Taiwan's economy and safety rely on the democratization of China, otherwise Taiwan's future will come under the sway of tyranny," he said.
"Taiwan's government should focus on the country's long-term development and decide on strategies to counter China's autocratic regime. If the government thinks showing goodwill toward the Chinese regime will bring results, it should be aware that many others have tried the same thing, but China is still as oppressive as ever," he said.
"Taiwan should not fear negative consequences if it boldly declares its position. If Taiwan is overly cautious and cowardly, the CPP will look down upon it," Chen said.
"Under the influence of the US financial crisis, the Chinese economy might lose its critical leverage in foreign investment and trade. Its labor costs will gradually increase as its land resources decrease over time. The appreciation of the yuan will slow China's export momentum and this will be a big turning point for the country's economy," he said.
"With so many Chinese-made fake products spreading all over the world, China's reputation has been seriously damaged. The milk powder scandal has halted the production of dairy products in China. Therefore it is dangerous for the government to tie Taiwan's economy to China's or to regard Taiwan's economy as a part of cross-strait economy and look to China to solve its problems," he said.
"Data shows that Chinese banks are black holes, and outsiders do not know how many questionable accounts there are. China's real estate and stock market bubbles will eventually burst. If the world is experiencing a bubble economy, then the Chinese economy is the biggest bubble of all. Once the bubble bursts, any economies related to China will be hurt, so Taiwan needs to be very cautious," he said.
Publication Notes
Chen Pokong
• Born Chen Jinsong (陳勁松) in Sichuan Province. • Received a masters degree in public administration from Columbia University in New York City. • Currently a visiting scholar at Colombia. • Organized and participated in the 1989 student movement in Guangzhou; put into prison twice between 1989 and 1995; served nearly five years. • First person to provide the UN with evidence that the Chinese Communist Party had forced prisoners undergoing "reform through labor" to make products for export. • Author of "China's economy: prosperity under a shadow" (中國經濟:陰影下的繁榮).
Comments will be moderated. Keep comments relevant to the article. Remarks containing abusive and obscene language, personal attacks of any kind or promotion will be removed and the user banned. Final decision will be at the discretion of the Taipei Times.