FEATURE : Temple rituals mourn aborted fetuses
WANDERING GHOSTS As abortion becomes less taboo, temples are offering services to women who could have been mothers, but chose to abort instead
Thick incense smoke fills the gilded, elaborately carved temple. A 50-year-old woman kneels down and bows before a table piled high with plastic toys and baby bottles.
Clasping her hands in supplication, Lin Shu-wen utters a short prayer for the two abortions she had more than 20 years ago.
The retired history teacher is one of scores of women who have come to Chingshui Temple (清水祖師廟) in Taipei this month to make similar prayers. With abortion becoming less taboo, several dozen Buddhist and Taoist temples are offering a "baby souls mourning" service during ghost month, a time when people honor wandering ghosts in the hope they will be placated and cease to haunt the living.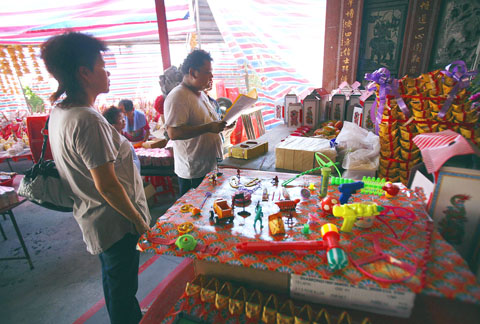 Standing in front of an alter covered with small toy offerings, a man and woman offer prayers at a temple for aborted fetuses on Wednesday in Taipei. With abortion becoming less taboo, several dozen Buddhist and Taoist temples are offering a "baby souls mourning" service during Ghost Month, a time when Taiwanese honor wandering ghosts in the hope they will be placated and cease to haunt the living.
PHOTO: AP
In offering the baby souls service, the temples — longtime opponents of abortion — are recognizing a reality they nonetheless regret: Abortion is on the rise.
Many ridicule the new ritual, seeing it as a backward superstition. Some respected monks condemn it for not reflecting official Buddhist doctrine.
But Lin said she had no hesitation about taking part in the ceremony, during which a red-robed Taoist priest rang a bell to summon baby spirits as she prayed for the redemption of her aborted fetuses.
The mother of two adult daughters, Lin said she had the abortions in her mid-20s because she feared the extra burden would short-circuit her budding career.
Now, she regrets the decision.
"I could have raised them," she said. "My mother sold fish in the market with her big tummy and yet she raised all her seven kids."
In Taiwan's Confucian society, abortions used to be frowned on, because they were seen as the outcome of loose or illicit sex.
That began to change in the 1970s, when the economy grew spectacularly and many working women wanted to limit their families to one or two children.
Growth in teenage sex also fueled abortions. By last year, gynecologists say, one fetus was aborted for every three births.
The law permits abortion, but those under 18 need parental consent, and that drives many of them to seek illegal clinics or abortion drugs to keep their pregnancies secret from parents, abortion rights activists say.
Religious groups were once at the forefront of the anti-abortion movement, railing against the legalization of the practice in 1985 and pushing unsuccessfully to roll back the law in the following decade.
Now, with the battle effectively lost, some temples are trying to spur soul-searching among women who have had abortions.
Chingshui Temple is a leading proponent of the new approach.
Elaborate "baby souls mourning" rituals are a chance to help unborn children be reincarnated, possibly into well-to-do families, provided the mothers pray hard enough, temple priest Chen Chun-kai says.
"We tell the women fetuses are complete with souls and must not be removed on a whim," Chen said. "In the old days, babies only died at birth or through natural deaths, they were not aborted."
Unlike the elderly, young women generally don't make regular temple visits. But the baby souls ritual is drawing a growing number, Chen said.
"When they ran into mishaps in their lives or careers, they began to wonder if the aborted babies were taking revenge," he said.
Some small temples are offering online mourning rituals for women who do not want to risk public exposure.
The "Baby Palace" set up by Taoist monk Chi Chin-cheng charges NT$2,000 to reincarnate aborted fetuses by e-mail.
This marriage of high technology and religious ritual is far from universally popular.
Tsai Wan-fen (蔡宛芬), secretary general of feminist group Taiwan Women's Link, says sex education needs to be stepped up, rather than practicing superstition.
Schools "still mainly teach students to avoid premarital sex, not addressing their sexual desires and the need for birth control," she said.
Comments will be moderated. Keep comments relevant to the article. Remarks containing abusive and obscene language, personal attacks of any kind or promotion will be removed and the user banned. Final decision will be at the discretion of the Taipei Times.