Po Sheng system still viable, MND says
SAFE AND SOUND? A `Defense News' report said China may have access to the cryptography techniques that would be used by Taiwan and the US in the event of war
The military's new air defense system was hurt somewhat by an intelligence leak to China, but its key technology was not compromised, a Ministry of National Defense (MND) official said yesterday.
The Po Sheng ("Broad Victory") system -- a sophisticated command, control and communications network that the government is purchasing from US defense contractor Lockheed Martin -- was one of the targets highlighted in an espionage affidavit filed earlier this month against a Pentagon analyst in a US court.
The analyst, Gregg Bergersen, was accused of providing classified information to Kuo Tai-sheng (郭台生), a dual US-Taiwanese national, identified in the affidavit as a Chinese agent.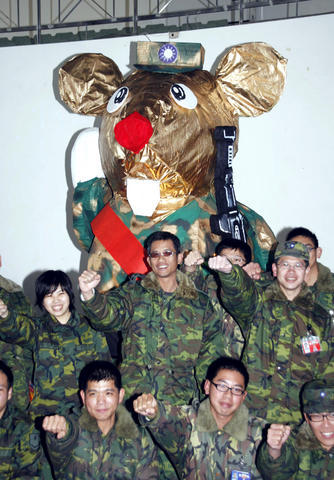 Soldiers pose with a lantern in the shape of a rat in Kinmen yesterday to mark the Lantern Festival.
PHOTO: CNA
intact
Speaking to reporters yesterday, ministry spokesman Yu Sy-tue (虞思祖) said the Po Sheng system was still intact because its key communications technology remained in Taiwanese hands.
"The US provides Taiwan with the system's infrastructure, but Taiwan still controls the key integral technology," he said.
"The damage was within our expectations," he said.
A Defense News report said ministry officials were particularly concerned that a program to modernize its C4ISR network might have been compromised.
C4ISR stands for command, control, communications, computers, intelligence, surveillance and reconnaissance, all considered crucial to winning any military confrontation.
The Defense News reported that "Bergersen managed negotiations on the Communications and Information Security Memorandum of Agreement, which allows the United States to release the Type 1 cryptography techniques that would be used for US-Taiwan communications during a war."
It added that "If true, there are concerns that China now has access to the crypto/keying material/algorithms that could allow Beijing to penetrate Taiwan and US networks."
knowledge
Yu acknowledged that Bergersen had knowledge of the Po Sheng system and said he met with Taiwan's defense ministry on that project, and on other issues, which he declined to specify.
He said that Kuo had never been in contact with the ministry.
The Chinese government has called the accusations of espionage in the Po Sheng affair groundless and accused the US of "Cold War thinking."
The Po Sheng system would be a critical element of Taiwan's defense in the event of an attack from China.
Additional reporting by staff writer
Comments will be moderated. Keep comments relevant to the article. Remarks containing abusive and obscene language, personal attacks of any kind or promotion will be removed and the user banned. Final decision will be at the discretion of the Taipei Times.