Large-engined bikes take to the nation's expressways
Motorcycles with engine capacities of more than 550cc will be allowed on the country's expressways from today, but will still be excluded from freeways, a Ministry of Transportation and Communications (MOTC) official said yesterday.
The official, from the Taiwan Area National Freeway Bureau, reminded motorcyclists riding on the 15 expressways that are connected to freeways to pay close attention to exit signs, in order to avoid ending up on a freeway.
Motorcyclists who are caught riding on freeways will be fined NT$3,000, the official said.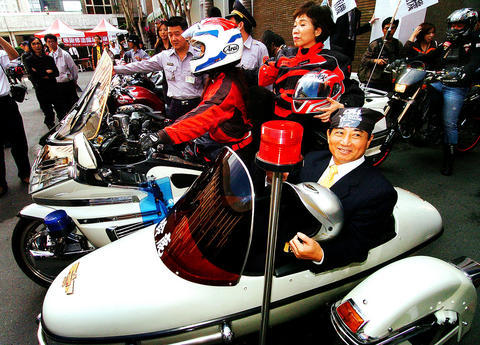 Legislative Speaker Wang Jin-pyng sits in the side-car of Democratic Progressive Party Legislator Wang Sing-nan's motorcycle at a press conference outside the legislature yesterday.
PHOTO: CHEN TSE-MING, TAIPEI TIMES
J-Motors Professional Group vice president Hsiao Yu-lin (蕭毓麟) said that the regulation change had boosted his company's sales of large-engined motorcycles by about 20 percent.
Meanwhile, a National Police Agency official said that during the early stages of the new road rules, police will focus on serious violations by motorcycle riders and only issue warnings for minor violations, as riders adjust to the new regulations.
The official advised motorcycle riders to wear full-face helmets when riding on expressways and called on drivers of cars to respect the bigger motorcycles on expressways, as they enjoy the same road rights as cars.
Democratic Progressive Party (DPP) caucus whip Wang Sing-nan (王幸男) held a press conference yesterday to celebrate the change.
Wang, who was joined by bike enthusiasts and DPP legislators Wang Shu-hui (王淑慧) and Hsiao Bi-khim (蕭美琴), arrived at the press conference on a large motorcycle also carrying Legislative Speaker Wang Jin-pyng (王金平).
Wang Sing-nan said the Tainan City Government and motorcycle manufacturers and organizations would host celebrations to mark the law change on Saturday.
Comments will be moderated. Keep comments relevant to the article. Remarks containing abusive and obscene language, personal attacks of any kind or promotion will be removed and the user banned. Final decision will be at the discretion of the Taipei Times.