Legislator takes legal action over pig feed additive
A Taiwan Solidarity Union (TSU) legislator yesterday filed a malfeasance suit against Department of Health (DOH) Minister Hou Sheng-mao (侯勝茂) and Bureau of Food Sanitation director Cheng Huei-wen (鄭慧文) after the recent uproar over the use of ractopamine in pigs.
Ractopamine, marketed under the brand name Paylean, is a feed additive that is used to increase weight gain, carcass leanness and feed efficiency in animals.
Representatives of local pig farmers' associations accompanied TSU Legislator Yin Ling-ying (尹伶瑛) when she filed the suit with the Taipei District Prosecutors' Office yesterday morning.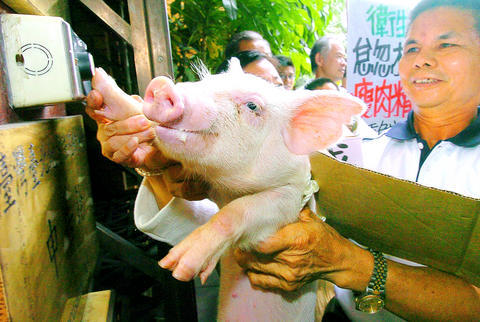 A farmer uses a pig to press the door bell at the Taipei District Court yesterday as pig farmers accompanied Taiwan Solidarity Union Legislator Yin Ling-ying to file a lawsuit against Department of Health Minister Hou Sheng-mao and Bureau of Food Sanitation Director Cheng Huei-wen for malfeasance in connection with the recent uproar over the use of ractopamine in pigs.
PHOTO: LIU HSIN-DE, TAIPEI TIMES
Yin said although the Council of Agriculture (COA) had banned the use of ractopamine in pigs last November, the bureau only began to examine pork for the additive in June.
She said the bureau had found certain batches of pork imported from the US contained traces of ractopamine.
Eaten by consumers
With a total of 7,400 tonnes of pork having been imported from the US between November and June, Yin said she suspected that more than 1,000 tonnes containing the banned substance had already been eaten by consumers.
She accused the DOH of jeopardizing consumers' health and said the officials had neglected their duties in addition to breaking the law.
The COA said in a statement on Wednesday that the ban on ractopamine would soon be lifted.
Ministry of Foreign Affairs deputy spokeswoman Yeh Fei-pi (葉菲比) said at a separate event yesterday that the government had not been under any pressure from the US to lift its ban on the veterinary drug.
Additional reporting by CNA
Comments will be moderated. Keep comments relevant to the article. Remarks containing abusive and obscene language, personal attacks of any kind or promotion will be removed and the user banned. Final decision will be at the discretion of the Taipei Times.