Hsieh ridicules KMT in Washington
BECOMING `NORMAL' The DPP `has to win' next year's presidential election if Taiwanese are to retain control of their destiny, Hsieh said at a gala fundraising event
Asserting that he is the only candidate capable of making Taiwan a "normal country," Democratic Progressive Party (DPP) presidential candidate Frank Hsieh (謝長廷) ridiculed the Chinese Nationalist Party's (KMT) candidate, Ma Ying-jeou (馬英九), for what he said was an attempt to make Taiwan part of China.
Hsieh was speaking at a gala fundraiser for Taiwanese-Americans after arriving in Washington for a four-day visit to explain his policies and positions on key US-Taiwan issues to US officials.
Some 1,000 people from around the country attended the dinner, paying up to US$100 for a seat.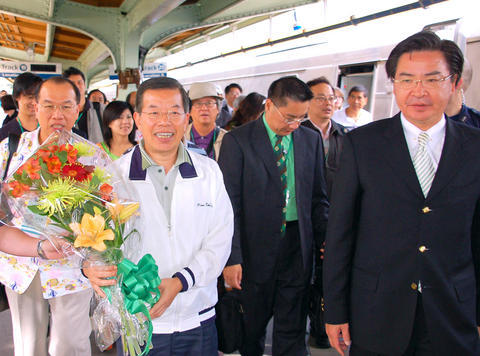 DPP presidential candidate Frank Hsieh, second left, is greeted upon his arrival in Washington yesterday by Taiwanese representative to the US Joseph Wu, right. Hsieh expects to speak with US officials about a range of issues.
PHOTO: CNA
Hsieh's 45-minute speech was warmly received by the audience. Using trenchant wit when talking about Ma and China, he insisted that the DPP "has to win" next year for the future of democracy and security in Taiwan.
"Taiwan is in control of its destiny," he said. "We want to control our own lives and [the direction of our] democracy."
Hsieh accused Ma of wanting to "go backward" by urging reconciliation with China.
Hsieh said that if Ma were to be elected president, the impact would be felt in Taiwan for "generations to come."
Hsieh's arrival in Washington's Union Station by train from New York City was marked by an ugly scuffle between two news cameramen, one of whom was handcuffed and detained briefly by police.
The incident occurred when cameramen were jostling to position themselves as Hsieh alighted from the train and headed for a limousine.
In the scramble, a cameraman from Hong Kong's Phoenix TV knocked over a camera from the Voice of America (VOA) accompanying former ETTV reporter Daphne Fan.
While both men were described as aggressive and unpleasant by eyewitnesses, it was not clear whether the violence was deliberate or not.
As tempers rose, the VOA cameraman angrily demanded that Phoenix pay for the camera, whereupon police intervened. The VOA cameramen was handcuffed and briefly detained. He was released after the Phoenix cameraman was ordered to leave the scene.
No charges were issued.
Hsieh was scheduled to address reporters at the National Press Club yesterday and will be feted at a congressional reception in the Capitol tomorrow.
Comments will be moderated. Keep comments relevant to the article. Remarks containing abusive and obscene language, personal attacks of any kind or promotion will be removed and the user banned. Final decision will be at the discretion of the Taipei Times.