INTERVIEW: Lei Mei-lin says she still bears a grudge
IDEALIST Lei Mei-lin's father was an adviser to Chiang Kai-shek, but fell foul of the dictator when he suggested that the KMT should embrace democracy
It was a Sunday morning when they came to take her father away. Lei Chen (雷震) told the government agents that he did not need their help, that he could walk out of the house alone.
Lei Mei-lin (雷美琳) was 21 when her father was arrested. She and her family were still asleep when a dozen agents stormed into the house. The family was not surprised because they had been under 24-hour surveillance for more than two years.
Lei Chen, arrested on Sept. 4, 1960, and charged with treason, was incarcerated for nearly two months before Lei Mei-lin could see him. The prison warden took pity on her and told Lei Chen to take a stroll near a window of his office before dinner so that his daughter could see him from the other side of the room.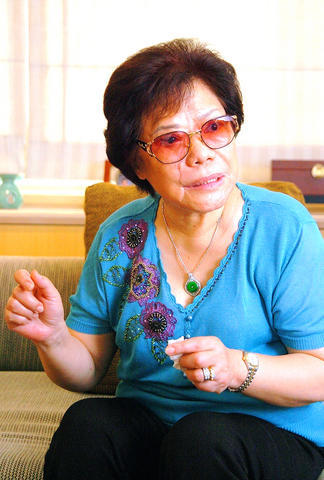 Lei Mei-lin, the eldest daughter of late democracy pioneer Lei Chen, gestures during an interview with the Taipei Times in Taipei yesterday. Lei Chen was imprisoned for 10 years by the Chinese Nationalist Party (KMT).
PHOTO: CHIEN JUNG-FONG, TAIPEI TIMES
"I remember my father was holding a feather fan and walking back and forth outside the window. He was only a foot away, and yet it looked as if he was as far away as the horizon," said Lei Mei-lin, 68, at her Taipei residence yesterday.
Unable to find a job after being blacklisted, she and her husband, Wesley Chin (金陵), emigrated to San Francisco in 1974 at the request of her father. Lei Chen died in 1979 of prostate cancer.
Not long after the arrest came the trial. Lei Mei-lin said she did not know what to say to her father but cried when she saw him again. The family was granted only three passes to attend the trial and took it in turns. Lei Mei-lin was outside when the court handed down the verdict.
Declassified documents show that six hours before the verdict was handed down, dictator Chiang Kai-shek (蔣介石) issued an order that Lei Chen's sentence should not be less than 10 years, and that it could not be changed on appeal.
"The trial was nothing but a show," Lei Mei-lin said. "He [Lei Chen] was a great man, but unfortunately he was born at the wrong time."
Lei Chen, a native of Zhejiang Province, came to Taiwan in 1949 with Chiang's Nationalist troops after they lost the civil war to Mao Zedong's (毛澤東) Communist Party.
Lei Chen, an adviser to Chiang, proposed that the Chinese Nationalist Party (KMT) should conduct democratic reforms in a bid to compete with the communists.
He founded the Free China Journal in Taipei in 1950 with the financial support of the KMT. In the beginning, it was a must-read for the armed forces.
However, as Lei Chen's pro-democracy stance became more apparent, his relationship with Chiang deteriorated. The journal was closed in 1960 following Lei Chen's arrest.
A few days before, Lei Chen's chauffeur was murdered in a staged car accident. The family later discovered that the chauffeur had been spying on Lei Chen for years in exchange for handsome financial reward.
Lei Chen had refused to seek political asylum at the US embassy, insisting he had done nothing wrong.
"He told me that he only bowed to the truth, never to vicious power," Lei Mei-lin said. "He often told me that he was a history-maker and that history would exonerate him."
During his 10 years in jail, Lei Chen wrote a 4-million-word memoir chronicling his life and thoughts on democracy. However, the memoir was confiscated, together with family correspondence.
Lei Chen refused to sign a statement to the effect that he would be "loyal to the party and country," saying he was no longer a KMT member.
Instead, Lei Chen continued to champion democracy after his release from jail. He called for the KMT to abandon its goal of retaking China and for the Republic of China to be renamed the Democratic State of Taiwan-China.
At this time, Lei Chen also worked to unite the elite behind the goal of forming an opposition party.
Chin attributed his father-in-law's liberalism to his having spent 10 years studying in Japan.
"[Lei Chen] was a Mainlander, but he fueled liberalism in Taiwan," he said.
Life was difficult for Lei Chen's family. When Lei Mei-lin was studying at Shih Hsin College (now Shih Hsin University), she once wrote in an exam that she thought her father was the greatest man in the world. An instructor publicly denounced her and called her "shameless," saying everyone knew Chiang was the greatest man in the world.
The instructor threatened to quit if the school refused to expel her. Luckily for Lei Mei-lin, the school, headed by liberal journalist and educator Cheng Sheh-wo (成舍我), opted to take the side of the student.
Lei Mei-lin and her family continued to be harassed by the authorities every time they returned from the US until the Democratic Progressive Party (DPP) came to power in 2000.
In February 2000, President Chen Shui-bian (陳水扁) ordered the Ministry of National Defense to recover Lei Chen's memoir and related government documents. Two volumes of books containing Lei Chen's diaries, letters and government documents related to his 10-year imprisonment were published in September 2002.
At the petition of the family, a fund was launched by Chen in March last year to offer scholarships to underprivileged students. A Web site devoted to Lei Chen's legacy was set up earlier this month on the occasion of his 110th birthday.
Despite the apologies offered by former KMT Chairman Ma Ying-jeou (馬英九), Lei Mei-lin said it was difficult for her not to hold any grudges.
"I don't think I'm a good Catholic because I can't forget what they did to my father and my family," she said.
She emphasized, however, that her resentment was against the Chiangs, not the KMT.
Although she is largely apolitical, Lei Mei-lin said she might have joined the DPP had it been formed earlier. The party had done a lot for her family, she said.
Looking ahead, Lei Mei-lin plans to focus on the educational fund set up in her father's name. A second fund based in California will be up and running next year. Lei Mei-lin said the fund would be managed for 15 to 20 years by her two sons and then declared a charity.
Comments will be moderated. Keep comments relevant to the article. Remarks containing abusive and obscene language, personal attacks of any kind or promotion will be removed and the user banned. Final decision will be at the discretion of the Taipei Times.