Premier finds inspiration in recognition of Sakiraya
RESPECTING IDENTITIES Su Tseng-chang connected the struggle of an Aboriginal group to be recognized to efforts to make Taiwan the country's official name
Premier Su Tseng-chang (蘇貞昌) yesterday linked moves to adopt "Taiwan" as the national title to official recognition of a new Aboriginal group.
The Sakiraya people yesterday became the nation's 13th officially recognized Aboriginal ethno-linguistic group.
Long wait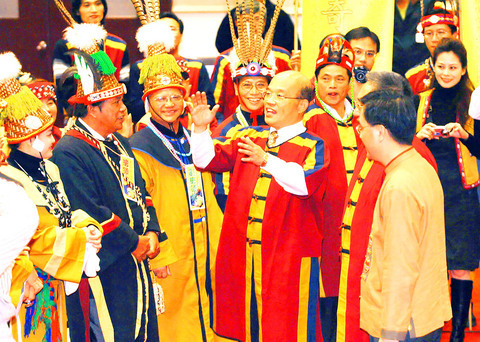 Premier Su Tseng-chang, third right, congratulates members of the Sakiraya people at a tea party held yesterday at the Executive Yuan to celebrate the Aboriginal group's official recognition.
PHOTO: CNA
"We learn from history books that the Sakiraya have existed since the 17th century. They hid themselves among the Amis people because of war," Su said.
"Today, they have finally got their name back, but we still need to work hard to have our name back for this country -- Taiwan," he said.
Su was speaking at a ceremony announcing the addition of the Sakiraya to the list of formal Aboriginal tribal designations.
Su suggested yesterday that Aboriginal languages could be maintained by including them in every day activities.
"We should value and respect the diversity of our society. The best way to maintain and promote a language is to use it," Su said.
He lauded the Sakiraya people's efforts to preserve their language and culture and to gain official recognition as a distinct people.
Administration goal
Cabinet Spokesman Cheng Wen-tsang (鄭文燦) later told reporters that the premier's remarks had affirmed one of the objectives of the Democratic Progressive Party administration.
According to the Council of Indigenous Peoples, there are between 5,000 and 10,000 Sakiraya living in Hualien, Taoyuan and Taipei counties and in Keelung.
Cheng encouraged the council and the Sakiraya people to continue to promote their identity, so that more people would learn about the group's language and culture.
Comments will be moderated. Keep comments relevant to the article. Remarks containing abusive and obscene language, personal attacks of any kind or promotion will be removed and the user banned. Final decision will be at the discretion of the Taipei Times.