Taipei official quits, sues for slander
SCANDALOUS CHARGES The head of the city's Bureau of Civil Affairs insisted he had done nothing wrong, and said he will sue a DPP legislator
Fighting allegations that he neglected his public duties and had an affair with his secretary, Ho Hung-jung (何鴻榮), chief of the Taipei City Bureau of Civil Affairs, turned in his resignation yesterday and filed a lawsuit against Democratic Progressive Party (DPP) Legislator Wang Shih-chien (王世堅) for slandering him.
Wang accused Ho on Tuesday of being absent from work earlier this month when Typhoon Khanun threatened the nation -- a time at which Ho would normally have been manning the city's disaster command center -- because he was on vacation with his secretary in Bali. The charges drew a firestorm of media attention and rocked the city government.
Accompanied by his wife and staff members, Ho announced his resignation yesterday morning, while stressing that he was only doing so in order to protect his family and the city government's reputations.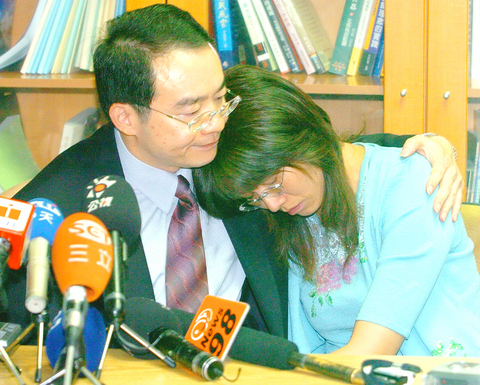 Ho Hung-jung hugs his wife after announcing that he will resign from his post as chief of the Taipei City Bureau of Civil Affairs during a press conference yesterday.
PHOTO: WANG MIN-WEI, TAIPEI TIMES
"I did nothing wrong," Ho said at a press conference yesterday. "But Wang's accusations have already hurt my family and affected the city government's reputation, so I decided to turn in my resignation."
Ho acknowledged that he did go to Bali with his secretary, surnamed Chang, but Ho denied that he and Chang stayed in the same room. He also said that his staff applied for leave for him.
Ho's wife Lin Wen-shu (林文淑), holding Ho's hand, burst into tears while defending her husband and blaming both Wang and the media for making groundless allegations about him.
"I trust my husband 100 percent. How can you ask him to prove something he never did? If people can just accuse anyone without proof, then there is no justice in society," she said.
The bureau's human resources department chief, Feng Ai-weng (馮艾雯), also defended Ho, saying that Ho followed standard procedure in asking for leave.
Ho filed a lawsuit against Wang for slandering him in the Taipei District Court in the afternoon. Wang filed a countersuit, saying that Ho had brought a false charge against him. The two encountered each other at the court at the same time, and Ho's wife angrily told Wang not to hurt her family with groundless accusations.
But Wang was unmoved.
"Apparently Ho is clueless about the mistakes he has made," Wang said. "Instead of eating crow and re-examining himself, he blames the disclosure of the matter on me." Wang said that he is not interested in, nor is he responsible for, Ho's personal life. His criticism against Ho is purely related to his performance in the public sphere, he said.
Wang said that he learned of the matter about 10 days ago but did not release the information until Tuesday. He never mentioned the name of Ho's secretary, but only questioned why Ho conducted a "business" trip with his secretary to a resort island at a time when he should have been overseeing the city's response to Typhoon Khanun.
Although Ho said he would resign from his post immediately after the rumor came out, the controversial issue spread to the Taipei City Council, with both pan-blue and pan-green city councilors questioning Taipei Mayor Ma Ying-jeou (馬英九) on the matter.
Democratic Progressive Party (DPP) councilor Hsu Chia-ching (徐佳青) and Liu Yao-ren (劉耀仁) demanded that Ma immediately investigate whether Ho violated any regulations in the process of asking for leave.
Chinese Nationalist Party (KMT) councilor Chin Li-fang (秦儷舫) asked Ma to pay more attention to internal problems in the city government.
"The city government lost an experienced talent because of this scandal. I think Mayor Ma should find out whether some kind of internal conflict in the city government is behind the accusation," she said.
Ma reiterated his support for Ho, insisting that Ho followed procedure when applying for leave.
"As to things in the private realm, I will leave him to solve those issues himself and respect his decision," Ma added.
Ho's resignation went into effect immediately yesterday. Deputy chief Chong Ze-liang (鍾則良) will take over as the acting chief of the bureau.
Additional reporting by Ko Shu-ling
Comments will be moderated. Keep comments relevant to the article. Remarks containing abusive and obscene language, personal attacks of any kind or promotion will be removed and the user banned. Final decision will be at the discretion of the Taipei Times.