Chinese mushrooms' safety questioned
FUNKY FUNGUS A DPP legislator said mushrooms from China are being clandestinely imported to Taiwan, and that they pose a health risk to consumers
Nearly 300 tonnes of dry oak mushrooms grown in China have been imported from a third country in the last three years, and health authorities should tackle the health risk, a legislator said yesterday. \nDemocratic Progressive Party Legislator Lai Ching-te (賴清德) yesterday released customs records of imported dried mushrooms from 2002 to this year, saying they were inconsistent with those of exporters. \nIn the last three years, customs documents show that the nation has imported 252 tonnes of dry mushrooms from Japan, but records there indicate only 15 tonnes were exported. Similarly, during this period of time, Taiwan imported 64 tonnes of the mushroom from South Korea, but export records there only account for 18 tonnes. \n"We suspect that Chinese oak mushrooms make up the gaps. Ironically, we don't see health authorities actively checking these goods, which are easily available on the market and might jeopardize consumers' health," Lai said. \nLai said lax regulations in China made the quality of Chinese agricultural products inferior to other countries. He also added that two years ago, Japan detected residues of toxic dichlorvos at levels 28 times higher than what is acceptable on produce imported from China. \nChina's food safety regulations are far lower than those of its neighbors. Farmers there are permitted to use preservatives such as formaldehyde. \nIn addition, Singapore and Hong Kong also reported exceedingly high levels of heavy metals and pesticides in mushrooms imported from China, Lai said. \nLai also said Chinese farmers often add sulfur dioxide or formaldehyde to keep mushrooms pleasing to the eye, but these chemicals pose a threat to human health. \nResponding to Lai's claims, officials at the Department of Health said regular examinations of imported items are carried out by the Bureau of Standards, Metrology and Inspection under the Ministry of Economic Affairs. \nAccording to Hsiao Tung-ming (蕭東銘), deputy director of the department's Bureau of Food Safety, in recent years, the government has not found levels of chemicals exceeding national standards in imported dry mushrooms. \n"Consumers should be confident of governmental practices in ensuring food safety," Hsiao told the Taipei Times. \nHsiao also said that if agricultural goods failed to meet the nation's food safety regulations, more comprehensive checks are conducted. \nIn related developments, local mushroom farmers who face competition from imported mushrooms urged the government to protect their livelihoods. \n"We are afraid that suspicious Chinese mushrooms coming into Taiwan can beat local products due to their unbelievably low prices," said Chen Tsung-ming (陳宗明), director-general of the Taiwan Mushroom Research and Development Association. \nAccording to Chen, the price of high quality Korean mushrooms declared at customs in Taiwan is only 13 percent of what it costs in South Korea. \nTaiwanese mushrooms cost NT$750 per kilogram, but Japanese mushrooms only cost NT$320 per kilogram.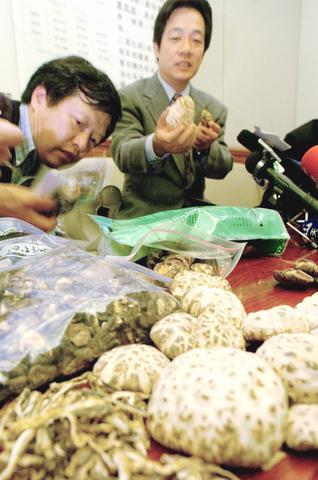 DPP Legislator Lai Ching-te, right, displays different kinds of mushrooms during a press conference held at the Legislative Yuan yesterday. He claimed that large amounts of dry oak mushrooms imported from China contain harmful substances, such as formaldehyde, and urged people to pay close attention to what they buy.
PHOTO: SEAN CHAO, TAIPEI TIMES
Comments will be moderated. Keep comments relevant to the article. Remarks containing abusive and obscene language, personal attacks of any kind or promotion will be removed and the user banned. Final decision will be at the discretion of the Taipei Times.