Tears of victory and vindication
STRUGGLE It's a familiar myth
Seven years ago, Chen Shih-hsin (陳詩欣) ran away from everything she knew and sold betel nuts in Taichung. Now, three years after returning to the sport with which she grew up, she is Taiwan's premier Olympic gold medalist. \nThe athletic career of the Women's Taekwondo Under 49kg champion is full of dramatic twists. \nThe 25-year-old was born into a taekwondo family. Her father, Chen Wei-hsiung (陳偉雄), ran a taekwondo training center in Shipai, near Beitou in Taipei, which meant that Chen learned to fight young. \nUnder her father's guidance Chen showed early potential. When she was 14, Chen trained for the 1992 Barcelona Olympics and played a crucial role in helping teammate Chen Yi-an (陳怡安) get a gold for what was then a demonstration sport. \nAt 15, Chen shocked the taekwondo world by coming first in her debut appearance at the Taekwondo World Cup in the Cayman Islands. \nBut then things fell apart. \nChen was 18 when she suddenly went missing from her taekwondo training center in Kaohsiung, apparently unable to deal with the harsh discipline that the training demanded. \nChen fled home and eked out a living in Taichung, becoming a roadside vendor of clothes and betel nuts. \n"I really wanted to go home when I was struggling out there," Chen told reporters. "A number of times, I gathered enough courage to go up to our front door, but I just couldn't go in. I knew my parents and my family were so disappointed in me. Dad especially -- I knew he was so downhearted about me leaving that he even wanted to give up taekwondo, which he'd been teaching for 30 years. \n"And I also knew that taekwondo gave spiritual support to Dad and me. For him, losing me was losing taekwondo, which meant that he'd lost everything," she said. "So many times I just wanted to see Dad when I walked past our house, but I just couldn't do it because I felt so guilty. \n"So I just hid in a corner, watching Dad all depressed, and I left in tears," she said. \nBut Chen's torment ended after hearing a line in a commercial which featured a son who was saddened about not being able to look after his parents in their old age. This convinced Chen to return home and apologize to her father. \nThus, on the day of her father's birthday, Chen made a promise to put on her "battle armor" once more. Back in the arena, Chen's attitude became doubly diligent and conscientious -- she knew she had three years to make up. \nWith her basic skills intact, she was quick to pick up strength and win a gold medal at the 2001 East Asian Games at Osaka, followed by a gold medal at Pusan in Korea the following year. \nSo, 12:30pm on Aug. 27, 2004, was not only the key moment for a country earning its first gold medal, but also a key moment for a young woman proving herself. \nChen has new plans: to enroll in a PhD in Sports Marketing at the University of California, Berkeley, or else to do a PhD in sports psychology at Beijing University.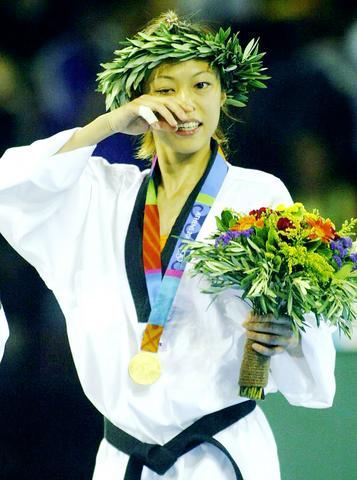 Taiwan's first-ever gold medalist, Chen Shih-hsin, weeps after receiving her medal, a wreath and a bouquet at the Olympic Games in Athens on Thursday. Chen triumphed in the Taekwondo Under 49kg division.
PHOTO: LIN CHENG-KUNG, TAIPEI TIMES
Comments will be moderated. Keep comments relevant to the article. Remarks containing abusive and obscene language, personal attacks of any kind or promotion will be removed and the user banned. Final decision will be at the discretion of the Taipei Times.