DAP-Taiwan is a space for community
COMING TOGETHER After realizing black people shared many similar challenges in Taiwan, a group was formed where they could meet and talk about their experiences
People of African descent are a common sight in Taiwan's Westernized media environment. Each weekend, young people dance in Taipei clubs to hip-hop music made famous by black artists, and last month fans across the country snapped up thousands of NT dollars-worth of Nike apparel just for the chance to see basketball legend Michael Jordan.
But what do Taiwanese know about the black people they live and work beside in Taiwan? That is a question Elissa Russell and Jaleea Price are trying to answer with the establishment of a new Taipei-based organization, DAP-Taiwan (Descendants of African Peoples in Taiwan).
The creation of DAP, which currently has 50-plus members and is still growing, seeks to bring people of African descent in Taipei together. Its founders want DAP to provide the newly-arrived and well-established black people in Taipei with a community in which they can find support and to educate local Taiwanese about what it means to be black.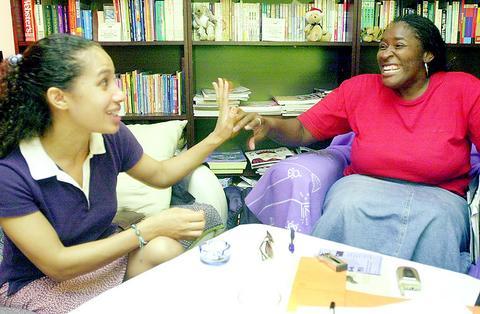 Jaleea Price, left, and Elissa Russel, right, founders of the black social group Descendants of African People Taiwan.
PHOTO: SEAN CHAO, TAIPEI TIMES
"We're hoping to build a sense of community, a place were people can relax -- where they can be themselves without the questions and the staring. A place where you don't have to explain something," Price told the Taipei Times last week.
"Also, a lot of [black people] are teachers, so a lot of us want to share and have our students experience black people from many different countries, who are so many shades of black and brown," she said.
"This is really a wonderful way for the Taiwanese community to learn from us."
Price is a black American woman who has lived in Taiwan for three years. Since coming, she's married and had a daughter here, and has long hoped to begin a social group in Taiwan for the black community. She was unable to get the idea off the ground, however, until she met another young black American with the same idea: Elissa Russell, an energetic woman who has taught English in Taiwan for two years.
Price and Russell came together to develop the idea for DAP in May when mutual friends told each of them of the other's interest in forming a black social group.
DAP has many functions, chief of which is establishing a way for black people in Taiwan to meet each other.
"For a long time, I had to look in the mirror every day if I wanted to see another black person," Russell said.
DAP also hopes to give black people in Taipei a chance to get away from curious eyes and questions, in a place where they can talk about their common experiences such as local stereotypes.
"It's not maliciousness necessarily, but it's just that we're constantly being gawked at," Price said, referring to the constant scrutiny blacks experience in Taiwan.
"Some days, it's kind of funny, but other days, you get the hint.
"Students want to know why the inside of my hand is white, and the other side is not white," she said. "They ask, `Teacher Elissa, why did you draw on your hand?' And I say, `I did not draw on my hand. I don't know what to tell you. Why is your palm pink?'"
Talking with DAP members, it becomes clear black people in Taiwan deal with constant comparisons to black icons and trends in the media.
"One of my first experiences in Taiwan was when a woman said to me, `I can't believe you're really black, can you do a dance for me? `I was like, it's too hot for this. Where am I? I can't deal with you now," Russell said.
Such experiences have led members such as Jerri Graham to emphasize the educational aspect of DAP.
"DAP will be a good way to remove some myths in Taiwan about black people, to help them learn that not all blacks are rap stars or singers," Graham said.
The stereotypes of black people here are more naive than in other parts of the world, Russell and Price said, precisely because of Taiwan's lack of exposure to other ethnicities.
"Comparing level of ignorance, I find [the questions] better here in Taiwan because there's nothing behind it besides plain lack of experience," Price said.
"The lack of inhibition they have here is childlike. When they ask you question, you're like, oh, that was so racist, but [the Taiwanese] don't understand. They don't have any preconceptions."
Other types of racism do exist, however, which DAP member Tamala Montgomery faced when looking for teaching work in Taiwan.
"I got phone calls where employers said not to come to interviews if you are black; a lot of ads specify not to apply if you're not white," Montgomery said, who currently works with the British Trade Council in Taipei.
Russell told of one racist experience while teaching at her school.
"A woman actually told my boss she hoped that I was paid less than even local teachers," Russell said.
Their common experiences give black people in Taiwan a fraternal bond with each other, regardless of ethnic background or nationality.
"Being in Taiwan, we all face the same challenges. There are no differences when we're together, because we have the same grievances," Russell said.
"The black community in Taiwan is really international. The majority of blacks here are American or Canadian, but there are also blacks Belize, Somalia, Jamaica, from all parts of Africa," Price said.
"In Taiwan, you get to learn about other people's culture and their experiences from the international black community. That's been really cool for me," she added.
"When Africans come to the States, they all have their own communities, sectors. They have their own cultures, their own clubs. In the States, we don't really come together. But here, everyone wants to hang out and share together," Russell said.
Besides nationality, other differences exist within the black community in Taiwan, such as the members' intended length of time here.
Price and Russell represent different generations of the black community, with Price connecting older members from age 30 and above who have been in Taiwan for years, while Russell is bringing in younger blacks who are in Taiwan to teach English.
The two hope that through the group, both generations of the black community will connect.
"We all came here with similar motivations of looking for something you can't find in [your home country]. The younger generation here is looking for the same thing," Russel said.
"Maybe they've found it or maybe they haven't, but hopefully the older generation will be able to tell us who to know or what steps to take if we're thinking about making Taiwan home."
The group is still in its infancy, having hosted a celebration at a Taipei restaurant called The Living Room last month and a July 4 gathering at Citizen Cain.
To learn more about DAP activities, check out their message board at http://groups.msn.com/daptaiwan.
Comments will be moderated. Keep comments relevant to the article. Remarks containing abusive and obscene language, personal attacks of any kind or promotion will be removed and the user banned. Final decision will be at the discretion of the Taipei Times.