Ma Ying-jeou hopes truth will out
REDEFINITION Taipei's mayor commemorated the massacre with high hopes for democracy -- and snipes at the Democratic Progressive Party for its 'populism'
On the Tiananmen massacre's 15th anniversary, Taipei Mayor Ma Ying-jeou (馬英九) yesterday said that he hoped that the tragedy will be redressed and the true story will be told someday. Ma said he believed that no ruler would want to carry for long the responsibility for a bloody crackdown on people seeking freedom and democracy. \nMa spoke at a forum held by the New Taiwanese Cultural Foundation and the United Daily News to commemorate the June 4, 1989, suppression of Chinese demonstrators in Beijing. \nMa noted that "China's Ministry of Foreign Affairs has redefined the Tiananmen movement as `the political disturbance that occurred at the turn of spring and summer in 1989' instead of `a counter-revolutionary rebellion,'" Ma said. "However, the Beijing authorities simply gave up stigmatizing the movement in order to dilute the fact of carnage." \n"In fact, Beijing neither faced up to the historical truth nor did they examine their responsibility in a real sense," Ma added. \nMa cited an article he published in yesterday's United Daily News in which he accused the Democratic Progressive Party (DPP) of manipulating populism in order to gain power. \nMa said democracy in China is like baby who died in infancy, while in Hong Kong democracy is like a child whose growth has been stunted. Relative to these cases, he said, democracy developed more healthily in Taiwan. \n"However, the controversies over the presidential election in Taiwan have impacted on Chinese intellectuals, who have great expectations for democracy," Ma said. \nHe said that although Taiwan has regular elections and its press freedom is more advanced than in China, the presidential election caused confrontation and hatred between people and hurt administrative neutrality. \n"I am disappointed but I will never despair, because I have confidence in the democratic and judiciary systems and believe that Taiwan has the ability to reflect" on its historical experience, Ma said. \nMa also urged China's people to join in efforts to facilitate cross-strait dialogue and to work for peace and democracy. \nMa said the fact that Beijing vetoed the people of Hong Kong's desire to vote for their chief executive has made Taiwanese who have opposed the "one China, two systems" policy more disillusioned and disappointed by China. \nMa called on China not to employ military force against Taiwan since wars only stir up the most negative side of people and cause unhealing wounds. \n"Although the DPP is a variable that destabilizes cross-strait security, it is also a partner who vies with us to develop democracy," Ma said. He said that continued debate with the ruling party will help Taiwan's democratic development, especially in the area of constitutional amendments. \nMa said that although China is trying to erase the memory of the Tiananmen massacre, the truth will be known one day. \n"China's recent policy of `peaceful rising' might not be necessarily respectable and desirable," Ma said.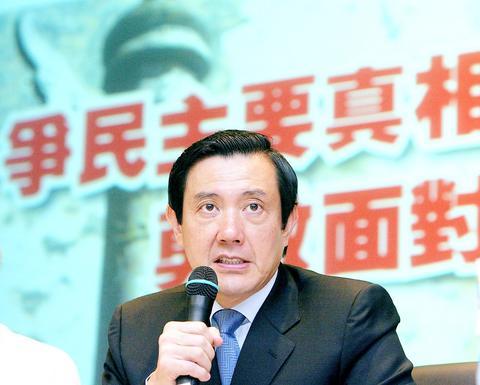 Taipei Mayor Ma Ying-jeou calls on people in Taiwan, China and Hong Kong to strive for democracy during a conference on the Tiananmen Square Massacre at the National Institute for Compilation and Translation yesterday.
PHOTO: CNA
Comments will be moderated. Keep comments relevant to the article. Remarks containing abusive and obscene language, personal attacks of any kind or promotion will be removed and the user banned. Final decision will be at the discretion of the Taipei Times.