Indigenous groups plan exchanges
WIDESPREAD COOPERATION The Maori and Taiwan's Aboriginal groups hope for exchanges spanning many areas, from culture to medical research to tourism
Thanks to a new agreement between representative governmental groups, the Maori of New Zealand and the indigenous peoples of Taiwan have officially opened the doors to cultural and informational exchange. \nDuring a ceremony yesterday, representatives from the New Zealand Commerce and Industry Office in Taipei (NZCIO) and the Taipei Economic and Cultural Office (TECO) in New Zealand signed an agreement to cooperate on indigenous issues on behalf of Taiwan's Council of Indigenous Peoples (CIP) and New Zealand's Ministry of Maori Development. \nAlthough there have been many informal cultural exchanges between the two countries, said CIP chairman Chen Chien-nien (陳建年), the impetus for an official agreement came with his trip to New Zealand last month following DNA researchers' discovery that the Maori and Taiwan's indigenous peoples are related. \n"There are many health, social and immigration issues that the indigenous people of Taiwan and the Maori share in common," said Charles Finney, the NZCIO director who signed the agreement. \nFinney noted there had been much interest from both sides in a formal relationship between the two groups to examine cultural, linguistic and even physical similarities. \nFor example, Finney said, the agreement will encourage medical research exchanges, possibly opening doors to greater understanding of genetic diseases that the two groups suffer from. \nThe agreement's stated purpose is to facilitate cultural exchanges and friendly relations between the ethnic groups. The agreement also calls for the establishment of direct contacts between academic, non-profit and tribal entities, and proposes at least one planning meeting between the two representative agencies each year to expand cultural contacts. \nThe CIP also announced yesterday the establishment of a "working holiday" agreement with New Zealand to allow 400 Aboriginal youths to go to New Zealand for year-long "working holidays." The youths will be allowed to work and/or study part-time while exploring New Zealand. This is the first such arrangement between Taiwan and another country, although New Zealand has similar working holiday agreements with eighteen other countries. Youths must be between 18 and 30 years of age to apply for the program. \nChen said the CIP also plans to set up artistic exchanges between the ethnic groups via the Internet. Through these exchanges, artists and artisans will be able to learn more about and purchase each other's work, he said. \nThe arrangement is the second international agreement of its kind made by the Council of Aboriginal Affairs. The first was a 1998 memorandum of understanding with Canada's indigenous people through the Canadian Trade Office in Taipei. \nNZCIO and TECO representatives also were optimistic about future business opportunities, saying that they hoped the agreement would encourage tourism between Taiwan and New Zealand.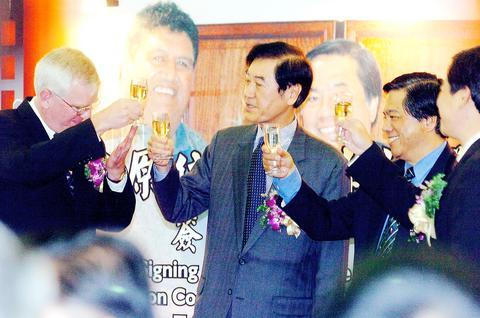 Minister of Foreign Affairs Mark Chen, center, and Director Charles Finney of the New Zealand Commerce and Industry Office in Taipei, left, exchange toasts yesterday after signing an agreement to cooperate on indigenous groups' issues.
PHOTO: GEORGE TSORNG, TAIPEI TIMES
Comments will be moderated. Keep comments relevant to the article. Remarks containing abusive and obscene language, personal attacks of any kind or promotion will be removed and the user banned. Final decision will be at the discretion of the Taipei Times.