Bolero restaurant has history on the menu
TASTE OF THE PAST Established in 1934, the restaurant reflects a more glamorous era, but has nothing to attract today's trendy young crowd
Near the intersection of Taipei's Yenping North Road and Minsheng West Road, Bolero restaurant is a reflection of the once-vibrant Tataocheng (大稻埕) area.
Bolero enjoys a huge reputation; when Taipei residents are asked about the restaurant, most have heard of it and some remember it as a matchmaking hub.
But like the character Norma Desmond in Sunset Boulevard, Bolero and Tataocheng's heydays have passed.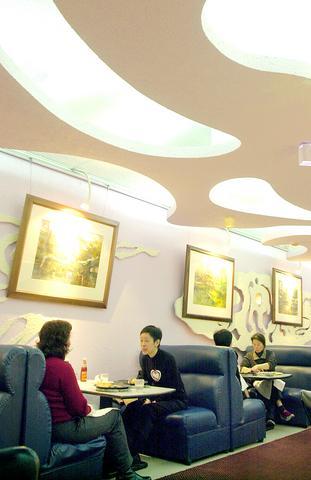 Diners can experience the glamor of a bygone era at the famous Bolero restaurant, which was established in 1934.
PHOTO: CHIANG YING-YING, TAIPEI TIMES
The Bolero restaurant opened in 1934, and it was the top western-style diner in the 1950s and 1960s. But no one would recommend it as a top-class place to go anymore, although the restaurant still does good business.
"Twenty-five years ago, Bolero was still the leading restaurant in Taipei, doing even better than five-star hotels. There was no competition," restaurant manager Liao Tsung-chi (廖聰麒), who has worked there since 1967, said proudly.
"Bolero was not a restaurant for ordinary folks because of the prices, and people who came were always well-dressed and talked in low voices. Restaurants in major hotels would also send their people to us to learn about the business," he said.
Liao said that the restaurant used to host top businessmen, such as Formosa Plastics Group chairman Wang Yung-ching (王永慶).
"He doesn't come here anymore since it's difficult for a famous person to show up in a public place and not be recognized and bothered by others. But his third wife still dines here every now and then," Liao said.
Shipping tycoon Chang Yung-fa (張榮發) and Lin Yuan Group (霖園企業) head Tsai Wan-lin (蔡萬霖) also used to be Bolero patrons.
Even the so-called tang wai ("outside the party," 黨外) members liked to go there.
Liao said that Huang Hsin-chieh (黃信介) used to dine there when he was just a junior member of the tang wai, long before he became chairman of Democratic Progressive Party.
"But of course these days young people have other choices, and the restaurant has become more a place for reminiscing," Liao said.
Indeed, with its slightly weathered exterior, plain white-and-blue billboard and unstylish blue sofa, Bolero has no visible glam to attract the young anymore.
Liao said that the restaurant now mostly hosts regular customers, and these customers often bring their relations.
"Now whenever I go to the restaurant, it's more for a taste of the past," said Yiu Chi-cheng (游志誠), a Bolero patron of 30 years.
Originally there was only one Bolero, but founder Liao Shui-lai (廖水來) later split the restaurant into two for his two sons. The two Boleros are only a few meters away from each other on the same side of the street.
"But both Boleros are well-known restaurants and popular matchmaking places," Yiu said.
And it is not just the restaurant that has a long history, its employees do too. Liao has worked there for more than 30 years, and 25-year-old waiter Lin Po-chi (林博志) has worked there for 10 years.
"Business is not as good as before with the economy slowing in recent years," Lin said.
Liao said that his experience in the restaurant proved to him the validity of the Taiwanese proverb, "Wealth can last no more than three generations."
"Sometimes I would see that certain customers or their descendents stop coming because they cannot afford to dine here any-more," Liao said.
Buildings similar to the one Bolero occupies are everywhere in the area of Tihua Street, made famous for its candies, snacks and food for the Lunar New Year holidays.
Most buildings are only three or four floors high, and the color of red bricks has faded, the white walls grayed.
Yet many buildings are also adorned with delicate engravings that cannot be seen on more modern constructions.
Tihua Street and Yenping North Road are a part of Tataocheng, a huge area along Tamshui River to the northwest of Taipei Main Station.
Tataocheng used to be Taipei's economic center before Japan's defeat in World War II, but now it is considered part of old Taipei.
Many famous local entrepre-neurs based their businesses in that area. Both Straits Exchange Foundation Chairman Koo Chen-fu's (辜振甫) father, Koo Hsien-jung (辜顯榮), and Shinkong (新光) Group founder Wu Ho-shih (吳火獅) were respected tea merchants, while China Development chairwoman Diana Chen's (陳敏薰) family was in the textile business in the area.
"Tataocheng is a noble part of the past," said Tu Nien-ru (杜念魯), a 30-year-old Taipei resident. "But then again, Tihua Street is probably the only place in Taipei that can allow people to celebrate the Lunar New Year properly with its New Year goodies.
"The glory may be gone, but the area is a cultural treasure," Tu said.
"When you walk around that area, you do get the feeling of a rich tradition," he said.
Comments will be moderated. Keep comments relevant to the article. Remarks containing abusive and obscene language, personal attacks of any kind or promotion will be removed and the user banned. Final decision will be at the discretion of the Taipei Times.