Central area unveils new SARS center
`CENTRAL' CONTROL The mayor of Taichung took issue with aspects of the central government center, but begrugedly attended its christening
A command center was put into commission yesterday by the Taichung City Government to integrate medical resources in the central part of the country to best prevent large-scale SARS infections from happening in the region.
The Executive Yuan's anti-SARS campaign leader Lee Ming-liang (李明亮), who presided over the induction ceremony, said the central region has done so far the best in the prevention of SARS but that it still has a chance of being hit hard by the disease.
"We will try to prevent the area surrounding Taichung from falling victim to SARS. The disease might spread to the region from Kaohsiung or Taipei," Lee said.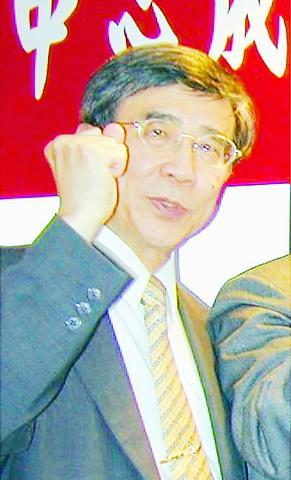 PHOTO: XU XIA-LIAN, TAIPEI TIMES
"Even if the worst happens, we now have the faculty to handle it," he said.
The command center has power to control distribution of medical resources in the central region, which includes five municipalities and counties.
The head of the center is China Medical College Chairman Tsai Chang-hai (蔡長海), who was selected for the position for his active participation in the prevention of SARS in the city over the past two months.
A hospital affiliated with the China Medical College reported the first SARS-related death in the county.
Taichung Mayor Jason Hu (胡志強), who was reported to be unhappy about certain arrangements for the command center, initially did not plan to attend the ceremony, but did make an appearance.
Hu stressed that the command center might have come a little late.
"But as people say, it is better late than never. The command center's activation means that the central government does take prevention against SARS as a war. A war needs dividing the country into different war zones. Each war zone has its own commander," Hu said.
DPP Legislator Chien Chao-tong (簡肇棟), one of the lawmakers at the ceremony, said the center is expected to keep the central region out of harm's way, but that it was unfortunate that medical resources in the region had not been put to full use.
"Some hospitals have not held SARS drills for the purpose of saving medical resources," Chien said.
In days to come, the country's attention might be on whether the central region will remain one of the safest and cleanest places in the country or will suffer from a heavy strike from the contagion, as some government officials are predicting.
Comments will be moderated. Keep comments relevant to the article. Remarks containing abusive and obscene language, personal attacks of any kind or promotion will be removed and the user banned. Final decision will be at the discretion of the Taipei Times.