Hospital officials freed on bail
DISCIPLINE One former and one current official at Hoping Hospital were released on bail as Taipei City stood by its decision to punish three doctors at the hospital
Former Taipei Municipal Hoping Hospital superintendent Wu Kang-wen (吳康文) was released on NT$2 million bail yesterday and head of the hospital's department of infection, Lin Jung-ti (林榮第), was released on bail of NT$1 million. \nWu and Lin were summoned by Taipei Chief Prosecutor Chen Tai-wei (陳大偉) yesterday over allegations of covering up a SARS outbreak in the hospital last month. \nWu was removed from his post earlier this month and Lin was fined NT$90,000 by the Taipei City Bureau of Health for delaying the reporting of possible SARS cases. \nThe Taipei City Government said it stands by its decision to fine three Hoping Hospital doctors, Lin, Chang Yu-tai (張裕泰) and Hsin Kuo-hui (辛國輝). \n"According to the Communicable Disease Prevention Law (傳染病防治法) Article 29, a doctor must report patients suspected of carrying a statutory communicable diseases to the health authority within 24 hours," said Chen Ching-hsiu (陳清秀), director-general of the Law and Regulation Commission. \n"The delayed report sheets we have are clearly signed by the doctors." \nAccording to Chen, all three doctors were a day late in reporting. \nChang claims he signed all three report sheets on behalf of his colleagues. \n"If what Chang says about him signing for others is true then we may be looking at a case of forgery, which would entail a more serious consequence," Chen said. \nChen also said that a doctor should not just report cases to other administrative departments within the hospital or ask colleagues to handle them but should ensure they are reported to the authorities as soon as possible. \nChen said that a doctor who broke the law could be fined between NT$90,000 to NT$450,000. \n"Unless the doctors can provide concrete evidence of their innocence, our decision to fine them will stand," Chen said. \nAll three doctors were invited to offer evidence against the allegations two days ago but, according to the Taipei City Government, could not offer any written proof to collaborate their stories. \n"The doctors should report any suspected cases," said Wu Wen-hao (吳文豪), newly installed deputy director of the health bureau. Wu is also the deputy superintendent of Taipei Municipal Chung Hsiao Hospital. \n"Many doctors simply do not understand the law. They should be more careful, and should not sign documents if they are not directly responsible," Wu said. \nChang will hold a press conference today to offer his side of the story.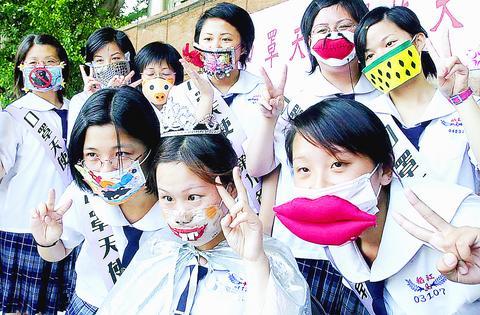 Students of the Tao Chiang Senior High School of Nursing and Home Economics sport unusual masks yesterday as part of a competition to see who could develop the most creative mask.
PHOTO: SEAN CHAO, TAIPEI TIMES
Comments will be moderated. Keep comments relevant to the article. Remarks containing abusive and obscene language, personal attacks of any kind or promotion will be removed and the user banned. Final decision will be at the discretion of the Taipei Times.