Poet speaks on the import of `Taiwan'
Lee Min-yung, a poet and social critic shared his ideas with `Taipei Times' reporter Chang Yun-Ping on how to enhance the visibility of Taiwanese literature in the international arena and how Taiwanese can build a Taiwan-centered identity
Taipei Times: In recent years, more and more Chinese writers have won international recognition in one form or another, such as Gao Xingjian (高行健), who brought a lot of global attention to Chinese literature by winning the Nobel Prize for Literature for his novel Soul Mountain. How do you see Taiwanese literature developing in this regard?
Lee Min-yung (李敏勇): There are two dynamics involved with this issue. One is Taiwan's nationhood, and the other the degree of international exposure.
We all know that Taiwan's national conditions have always been dealt with under a "one China" or "China-centered" model, which is like a magnetic force, replacing Taiwan's own idiosyncrasies. To change this, we have to let the world understand the differences between Taiwan and China with regard to national conditions -- that within the Han-language spectrum, Taiwan is also influenced by other language groups such as Min-nan, Hakka and many different Aboriginal languages.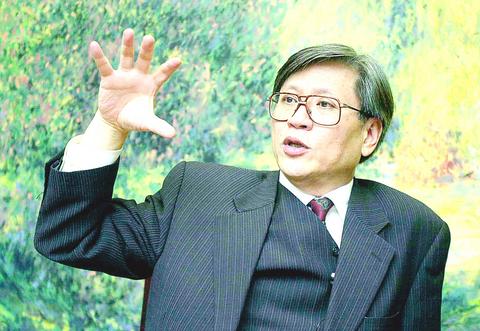 Lee Min-yung discusses the reasons Taiwanese literature should not identify only with its Chinese traditions, but also embrace the heart of Aboriginal cultures and recognize the period of Japanese occupation, when most of the literature was not even written in the Chinese language.
PHOTO: CHIANG YING-YING,TAIPEI TIMES
The world's understanding of China after World War II largely depends on contemporary Chinese literature, which is full of works related to issues such as the Great Cultural Revolution (文化大革命), and the Tiananmen Square Incident (天安門事件).
As a result of this, Taiwan has been marginalized in relation to China. Taiwanese literature becomes a subdivision of Chinese literature, and is considered "unsubstantial."
To change this, Taiwan has to seek an appropriate identity to be in touch with the world, and Taiwanese writers, who penned Taiwan's history and culture, could present genuine Taiwan voices to the world.
TT: What constitutes Taiwanese literature?
Lee: Taiwanese literature is delineated by political changeovers from the migrations of native Taiwanese to early Spanish and Dutch colonization to Chinese immigrants of the Ming (明) and Qing (清) Dynasties from China's southeast provinces to Japanese colonization from 1895 to 1945 to the KMT government.
Contemporary Taiwanese literature in the past century has been influenced greatly by Japanese colonization. Quite a lot of literary works were produced at that time. This was the start of most modern Taiwanese literature, different from five-word or seven-word poetic compositions by early Chinese settlers from the Ming and Qing Dynasties.
The literary creations, including poetry, theater, and novels of this age were not even written in the Chinese language. They were written in Japanese and portrayed Taiwan's social development and westernization under Japan's rule.
The second stage of contemporary Taiwanese literature started when the KMT took over Taiwan, and put an end to the production of Japanese-language literature and reversed to the Chinese language again. Taiwanese writers of this stage depicted the history of Taiwan under KMT rule.
TT: How should Taiwanese literature position itself to shape its individuality?
Lee: It's a pity that after World War II when the KMT government fled to Taiwan that the characteristics of the literature of Taiwan were altered due to the internal political situation and cultural development policy. This was a leading factor in Taiwan's loss of individuality with respect to China.
The KMT government ruled Taiwan based on Chinese ideology. However, the administration should have worked to develop Taiwan's island culture.
Before we could let the world know about our own literature, we have to make it a distinct and independent subject, rather than a subdivision of Chinese literature.
The individuality of Taiwanese literature is typified by a mix of Aboriginal culture, Chinese poetry and verses made by the early immigrants from Ming and Qing Dynasties, the Japanese literary works of the 50-year Japanese colonial rule and works produced during the KMT era.
TT: The Ministry of Education (MOE) had recently changed one of the literature teaching guidelines in the elementary school from "local literature" to "Taiwanese literature." What do you think of the change of the subject's name?
Lee: Such a move has its complexity. Actually the literature of Taiwan also has its local literature. Back in 1977, there was a social debate on local literature. The way the KMT government put the teaching of Taiwanese literature under the heading "local literature" had dwarfed the literature of Taiwan to simply a subset of Chinese literature.
They were worried about further division between Taiwan and China.
It's natural that American literature, Japanese literature, and Chinese literature are recognized because of their clear national image. The creation of the literature of Taiwan has a historical dimension that is different from Chinese literature. There is no doubt that it is a positive move to call literature about Taiwan society "Taiwanese literature."
TT: Foreign language plays an important role in the dissemination of Taiwanese literature in the world. Do you think we are doing enough to translate our own literary works?
Lee: It is certainly important to expand our international attention through media by translating our works into various languages. But promoting material which is specific to Taiwan is far more important than the translation process.
We have to ensure that the nation's identity is clearly depicted, and the distinctiveness of Taiwan's historical conditions is addressed through our years of struggle and hard work in pursuit of a nation and opposition to authoritarianism.
It is no used to translate our works into English if the works only depict Taiwan as a part of China. Why would the world want to pay attention to the literature of Taiwan if it is no different than Chinese literature?
Another aspect is whether the literature itself is rich in artistic value. Great literature must have the values that speak for thousands and touch the heart of readers.
What embodies the voices of Taiwan people? Doest the world want to know the feelings of the people on this island and what they pursue? That depends on whether our writers could vividly portray out sorrow, happiness, disappointment and joy through their creations and let the world know the true spirit of Taiwan.
I believe these feelings must be very true to Taiwan, and are not the same as the Chinese writers' experiences during the Great Cultural Revolution or the Tiananmen Square Incident, when they sought a democratic China.
TT: Is the government, including MOE and the Council of Cultural Affairs, doing enough to push for the Taiwan-oriented education?
Lee: Though Taiwan had completed a political changeover after the DPP took power, Taiwan still lacks a new national goal under the framework of the ROC Constitution. Without a new national goal, we wouldn't have anything under which to frame cultural development and education.
There are still too much conflict in and struggle over our national identity. Though the government's Ministry of Cultural Affairs is giving financial support for Taiwan-oriented civil society, there is still not enough influence to build a Taiwan national identity.
I don't think the government's efforts would have enough influence to grant the international community the ability to know the difference between China and Taiwan.
The government hasn't yet formed a strong consensus to push for Taiwan-centered activities. The whole government mechanism still works under a "China-identity" framework. I have reservations about government's cultural establishment policy.
TT: Several of Taiwan's universities are establishing graduate schools of Taiwanese literature study such as National Cheng Kung University in Tainan, National Tsinghua University in Hsinchu and the National Taiwan University. What do you think of the trend?
Lee: It's an attitude and lifestyle. If people don't really care about literature in their daily life, literature or cultural study will never reflect the souls of the people and ultimately be accepted by the public.
Taiwanese society is composed of immigrants. Economic activities become a crucial part of the social activity, while arts and cultural movement is hardly the focus of daily life.
Also see story:

Comments will be moderated. Keep comments relevant to the article. Remarks containing abusive and obscene language, personal attacks of any kind or promotion will be removed and the user banned. Final decision will be at the discretion of the Taipei Times.