Nursing staff blast PFP's `impossible'labelling proposal
LANGUAGE BARRIER The PFP call follows two deaths linked to inability to read English drug labels, but nursing leaders blamed low wages and long hours
Nursing experts described yesterday PFP legislators' proposal to label all drug bottles in Chinese to prevent medical blunders as "impossible."
"Labeling all drug bottles in Chinese will only create more confusion and medical errors," said Tsay Shiow-luan (蔡秀鑾), an associate professor from National Taipei College of Nursing (NTCN).
Tsay's remarks came at the inaugrual Southeast Asia International Conference of Health and Nursing held at NTCN.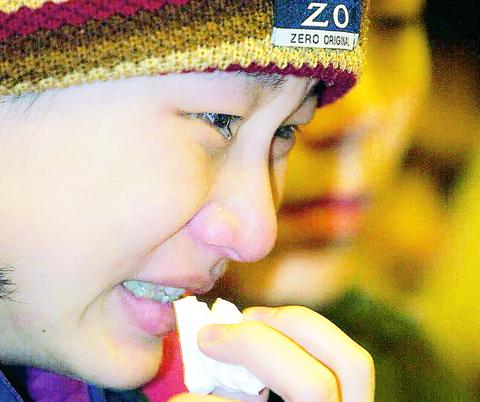 A mother bursts into tears yesterday at a press conference at the Legislative Yuan yesterday. Her child is one of the seven babies mistakenly injected with the muscle relaxant Atracurium at a hospital. One of the babies died shortly after receiving the injection.
PHOTO: SEAN CHAO, TAIPEI TIMES
Three PFP legislators proposed on Thursday to amend the Pharmaceutical Affairs Law (藥事法) to have all drug bottles labelled in Chinese.
The proposal follows two hospital deaths linked to staff being unable to read the English on vaccine and drug containers.
"The most effective way to prevent similar situations is to develop nurses' capacity to do research and solve problems on their own," said Tsay.
Tsay said, as new drugs come out all the time, it is impossible to translate all drug names into Chinese.
Kao Yu-hsiu (高毓秀), director of NTCN's research and development center, said it is important for nursing students to develop English skills.
According to Tsay, nursing students are all required to recognize drugs by their English names.
Tsay added that it is very unfair to apportion the entire blame on the nurse at the center of the recent Peicheng Hospital tragedy where a newborn baby died after being administered the wrong drug.
She stressed that to improve medical quality, it is essential to ease nurses' workloads and increase their salaries.
Parents of the dead baby, as well as the relatives of six others who also recieved the wrong drug but survived, filed a lawsuit against two of the Taipei hospital's nurses for negligent injuries yesterday morning.
Relatives also demanded the hospital pay NT$3 million to the parents of each baby.
They said that if the hospital fails to carry out their request, they would consider filing another lawsuit against the hospital's director, Hsu Mu-chan (徐木泉).
The hospital and the parents held a third round of negotiations last night.
Comments will be moderated. Keep comments relevant to the article. Remarks containing abusive and obscene language, personal attacks of any kind or promotion will be removed and the user banned. Final decision will be at the discretion of the Taipei Times.