`Betel-nut beauties' bare their anger over new rules
INDUSTRY BACKLASH The women who staff betel-nut stands say moves by the Taoyuan County government to restrict what they wear expose double standards
While "betel nut beauties" in Taoyuan County continue to protest against a new policy prohibiting the exposure of their breasts, bellies and buttocks, police in Hsinchu City have launched a crackdown on those who attract business by wearing skimpy clothes at their betel-nut stands, local media reported yesterday.
Due to fierce competition, many betel-nut-stand operators have employed young women to sell their products in bikinis or thongs.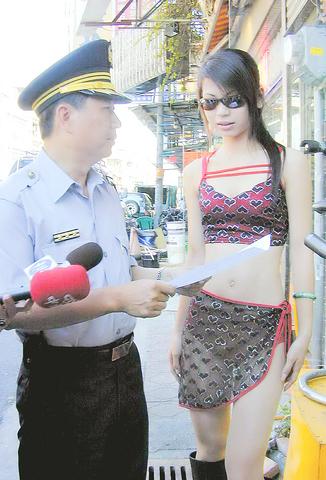 A Taoyuan police officer yesterday visits a Taoyuan County betel-nut stand to spread word of the government's ``three nos'' policy, which prohibits the exposure of betel nut beauties' breasts, bellies and buttocks.
PHOTO: LEE HSIN-HUNG, TAIPEI TIMES
In response, the Taoyuan County Government announced on Monday a "three nos" policy which prohibits the exposure of betel-nut beauties' breasts, bellies and buttocks.
The government's plan, however, triggered a backlash from the betel-nut industry.
One Taoyuan betel-nut beauty, nicknamed Hsiao Ju (小茹), said she doesn't know why the county government is dictating what she wears.
"I have a beautiful body, and I also love to show my pretty clothes to the customers. What's wrong with that?" Hsiao Ju was quoted by a Chinese-language newspaper as saying yesterday.
The Collective of Sex Workers and Supporters protested the regulations in front of the Taoyuan County Hall yesterday morning. Members of the group showed their navels to the cameras, shouting slogans such as "My belly button is guaranteed harmless and it's very cute" and "My body, my job, my own business."
Collective chairwoman Wang Fang-ping (王芳萍) said the government has a double-standard when it comes to betel-nut beauties.
"All the automobile exhibitions or computer shows have hired young women who dress sexy to attract business. No one has any objection to that," Wang said.
"Even popular entertainers such as A-Mei [阿妹] and CoCo Lee [李玟] show their navels on stage," she added. "Not only have the media never criticized them, but they have praised these entertainers for leading the trend."
However, Deputy County Commissioner Liao Cheng-ching (廖正井) said yesterday that as much as 90 percent of parents in Taoyuan support the "three nos" policy and that the county government will be firm on enforcing the regulations.
Liao also took the murder of a betel-nut-stand operator as an example, saying that the operator was killed by a teenager because he tried to stop the boy from touching a betel-nut beauty's buttocks.
"How can showing butts be OK?" Liao asked.
"[The women] should definitely cover the front of their bodies," Liao said, adding, however, that it's all right for them to show their backs.
In Hsinchu City, police have launched a crackdown on the betel-nut industry in response to the "three nos."
According to the Hsinchu City Police Department, authorities arrested more than 480 betel-nut beauties and their employers between January and last month for violating the Teenagers' Welfare Law (少年福利法), the Social Order Maintenance Law (社會秩序維護法), the Road Traffic Management and Punishment Law (道路交通管理處罰條例), the Business Registration Law (商業登記法) and other regulations.
Comments will be moderated. Keep comments relevant to the article. Remarks containing abusive and obscene language, personal attacks of any kind or promotion will be removed and the user banned. Final decision will be at the discretion of the Taipei Times.