Chen pledges to help Kavalan tribe
ABORIGINAL AWARENESS The president says the government has researched the origins of the Kavalan tribe and will assist the group in its bid for recognition
President Chen Shui-bian (陳水扁) said the government will assist the Kavalan tribe (口葛 瑪蘭族) in gaining official recognition as the 11th Aboriginal tribe in Taiwan.
"This Kavalan renaissance repre-sents the resurgence of ethnic consciousness and cultural awareness," Chen said as he attended the tribe's Harvest Festival in Hualien County yesterday afternoon.
The president noted that the Cabinet-level Council of Indigenous Peoples (原住民族委員會) has researched the tribe's pedigree, language and social system in a bid to carry out the Kavalan people's wish to restore their dignity.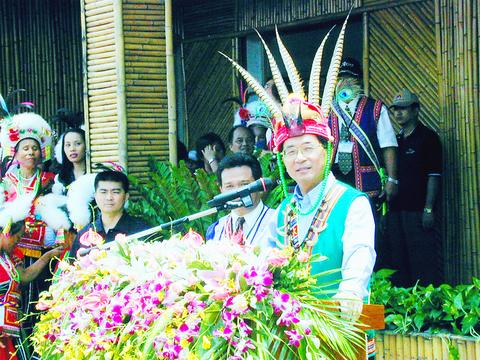 President Chen Shui-bian, dressed in traditional tribal attire, speaks during his visit to Yuli township, Hualien County, yesterday.
PHOTO: HUA MENG-CHING, TAIPEI TIMES
Chen said the Kavalan's Harvest Festival symbolizes the concerted efforts of the grassroots and the government, both of which have worked to protect Taiwan's traditional culture.
"I believe the nation's rich culture of multiethnic groups will put Taiwan in the international spotlight and make it a role model for other countries to follow," Chen said.
Council Chairman Chen Chien-nien (陳建年) said the Kavalan used to be incorrectly categorized as part of the Amis' (阿美族) tribal system, and that the government is now working to bring back the tribe's name.
The majority of the 1,000-strong Kavalan now reside in Hualien and Taitung counties.
The 10 recognized Aboriginal tribes in Taiwan are the Atayal (泰雅), Saisiyat (賽夏), Bunun (布農), Tsou (鄒), Paiwan (排灣), Rukai (魯凱), Puyuma (卑南), Amis, Tao (雅美) and Thao (邵).
The Amis is the largest group, accounting for more than one-third of the nation's indigenous population.
Comments will be moderated. Keep comments relevant to the article. Remarks containing abusive and obscene language, personal attacks of any kind or promotion will be removed and the user banned. Final decision will be at the discretion of the Taipei Times.