Spain women's coach in shock after sacking
The coach of Spain's FIFA Women's World Cup-winning team was fired on Tuesday, less than three weeks after the victory celebration that led to the suspension of the country's soccer federation president for kissing a player.
The Royal Spanish Football Federation offered no immediate explanation for the dismissal and mostly praised Jorge Vilda, saying he was "key to the notable growth of women's soccer" and thanking him for leading the national women's team to their first World Cup title and to No. 2 in the FIFA rankings.
Vilda was among those who at first applauded federation president Luis Rubiales when he refused to resign, despite facing widespread criticism for kissing player Jenni Hermoso on the lips without her consent during the on-field victory celebrations in Sydney last month.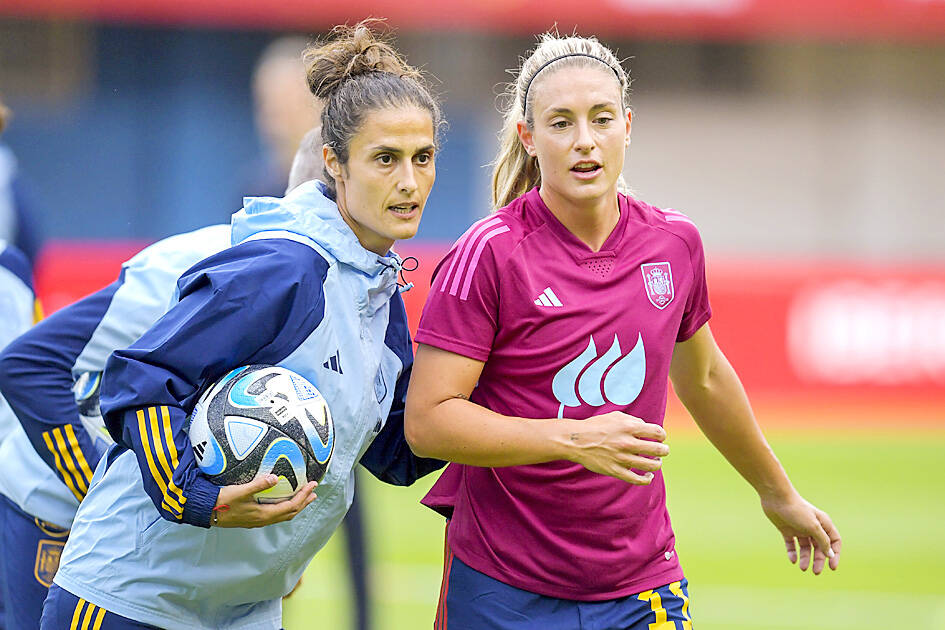 Spain assistant coach Montse Tome, left, takes part in a training session in Madrid on June 29. Tome has been named coach of the national squad.
Photo: EPA-EFE
One of Vilda's assistant coaches, Montse Tome, was appointed to replace him. Tome is the first woman to hold the job.
Vilda said he was caught by surprise by the federation's decision and described his dismissal as "unfair."
Rubiales had announced in the federation's emergency general assembly after the World Cup that Vilda would have his contract renewed.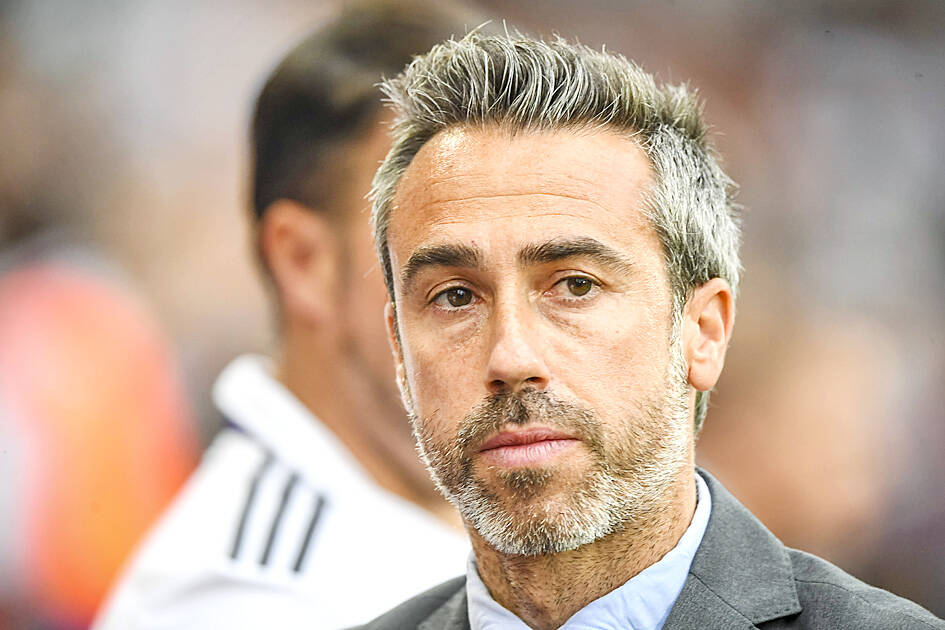 Then-Spain coach Jorge Vilda looks on during their UEFA Women's Euro Group B match against Germany in London on July 12 last year.
Photo: EPA-EFE
"The explanation they gave me was that there were some structural changes," Vilda told Spanish radio network SER. "After everything I've achieved, after having given my 100 percent, my conscience is clear. I don't understand the firing, I didn't think I deserved it."
Vilda said he expected Rubiales to resign during the general assembly, adding that he did not applaud in support of Rubiales or his conduct.
"I would never applaud anything that goes against the fight for equality," Vilda said. "I didn't know very well what was going to happen in that assembly. The president was praising my work and announcing my renewal, I applauded that. When 150 people applaud, it's hard to be the only one who doesn't."
Vilda eventually said that Rubiales' behavior was improper. Luis de la Fuente, coach of the men's national team, also initially applauded Rubiales for a diatribe against what Rubiales called "false feminists."
De la Fuente later apologized and said his applause was an "inexcusable" human error.
Rubiales, who also grabbed his crotch in a lewd victory gesture after the World Cup final, has been provisionally suspended by FIFA and faces a Spanish government case against him for the conduct that prompted a storm of criticism and led to widespread calls for his resignation. He has pledged to prove his innocence and return to full control of the federation.
Vilda had been at the helm of the women's team since 2015. Less than a year ago, some players rebelled against him in a crisis that put his job in jeopardy.
Fifteen players stepped away from the national team, citing their mental health, and demanded a more professional environment. Only three returned to the squad that won the World Cup.
The players who left signed a letter complaining about Vilda and the conditions for the national team.
Vilda was heavily backed by Rubiales when the players rebelled.
The 41-year-old Tome is a former player who made a few appearances with the national team. She joined Vilda's staff in 2018 after coaching some of Spain's youth squads.
There was no immediate reaction from the squad. Many players had called for significant changes in the team's structure. It was not clear whether the players who rebelled under Vilda would seek to return.
Comments will be moderated. Keep comments relevant to the article. Remarks containing abusive and obscene language, personal attacks of any kind or promotion will be removed and the user banned. Final decision will be at the discretion of the Taipei Times.