MLB eyes fresh look with younger fans
Ronald Acuna Jr topped off a Barbiecore 'fit with a jeweled chain of his own likeness. Adley Rutschman leaned more "Kenergy" in a leafy gold ensemble. Although there were some flashy standouts, many of the suits were safe and serious at the MLB's red carpet show on Tuesday.
The event came hours before the All-Star Game and featured baseball's top players strutting through Seattle's famous Pike Place Market with their spouses, kids and moms in tow, and giving their best looks to the hundreds of adoring fans gathered.
Yet what was really on display was MLB's quest for the crown of cool.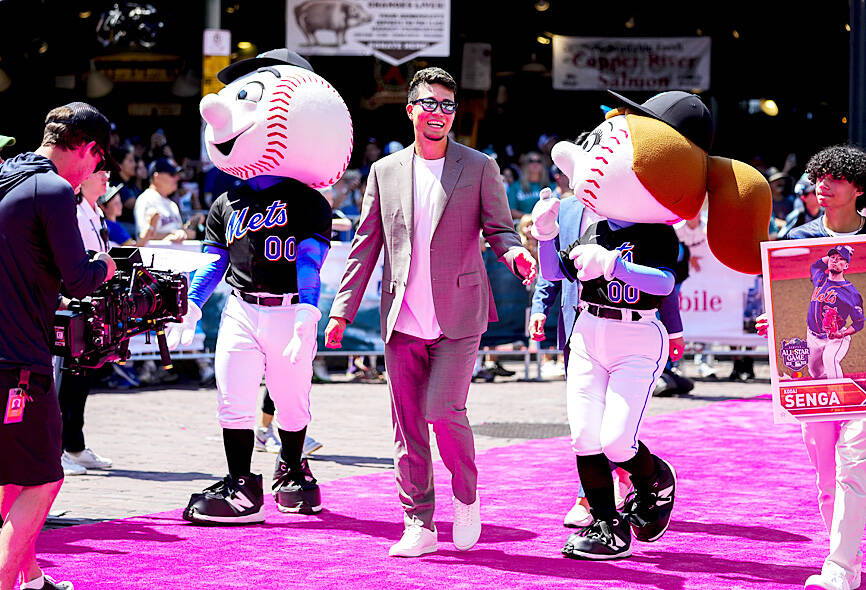 The New York Mets' Kodai Senga is flanked by Mr Met and Mrs Met during the baseball All-Star Game red carpet show in Seattle on Tuesday.
Photo: AP
The fan-friendly event is as much an homage to baseball's iconic place in street style — from the game's signature caps and jerseys to the classic tees — as it is an indication that MLB is increasingly staking its claim on fashion as an entry to new audiences and pop culture reverence.
"MLB gave me a stylist for this game," said Taiwanese-American Corbin Carroll, a 22-year-old Seattle native turned Arizona Diamondbacks' breakout rookie. "The outfit's kind of cool. Definitely, it's not something I would pick out for myself, but I'm kind of excited to show that off."
Like a good many Gen Zer — which includes those born in the late 1990s and early 2000s — Carroll called his off-duty style as more casual than high fashion: "Athleisure, not too many logos, plain, a nice good fit."
On the red carpet — which was actually a hot magenta pink — Carroll stuck with neutral colors, wearing a white blazer, black shirt and tan pants, styled with Nikes, sunglasses and a mullet.
It is no coincidence that the MLB is tapping the young, mixed-race player as a style ambassador for its All-Star Red Carpet Show.
The league has for years suffered from the same audience problem. There is a perception that baseball is so steeped in US tradition that it might be a stodgy game targeted to old-timers — namely, white fans — who still track scores by hand in the stands.
"Sometimes perception becomes reality, but it's just never been accurate. Look at the young people — they've always been here," MLB chief revenue officer Noah Garden said. "We always want to attract younger fans. It's the foundation of any business."
The MLB has been trying to liven up its image for years, watching with wonder as the NBA's cultural dominance grew alongside the basketball stars who have been cemented as style kings among celebrity athletes, along with their sneakers, suits and streetwear.
Not since the Seattle Mariners' own Hall of Famer Ken Griffey Jr — with his signature and very '90s backwards baseball cap — has there truly been an MLB player seen as a cross-cultural superstar who could make a splash with just his outfits, said Brandon Brown, a New York University sports management professor.
"He [was in] a bunch of different mediums to speak to a multitude of audiences," Brown said. "MLB is probably still looking for their next superstar in modern culture."
Today, baseball officials are keen to encourage their players to shine in the same way, too, knowing the ticket to loyal fans can be found off the field — perhaps at a much-hyped red carpet show built to pop on social media.
Even so, the MLB might still have its work cut out for it as several All-Star players acknowledged that they were less than fluent in fashion ahead of Tuesday's show.
The Houston Astros' Kyle Tucker and Los Angeles Dodgers' Clayton Kershaw were among the many ballplayers sporting the safest of suits and who said they were not big into fashion.
"It's not my forte," Kershaw said.
Carroll also flashed a shy smile describing his first time working with a stylist and first time doing any red carpet event.
"I might be more nervous for that than the game," he said.
Comments will be moderated. Keep comments relevant to the article. Remarks containing abusive and obscene language, personal attacks of any kind or promotion will be removed and the user banned. Final decision will be at the discretion of the Taipei Times.