Taiwan advance after disqualification
PONY PROTEST: Gueishan Elementary School are headed to the US, while another team from Taoyuan in a separate competition are protesting their own sanctioning
A baseball team from Gueishan Elementary School in Taoyuan on Friday was named as the Asia-Pacific region's representative at this year's Little League Baseball (LLB) World Series in the US after a South Korean team were stripped of their championship over player eligibility rules.
Although the Taiwanese team were defeated 2-1 by South Seoul in the regional championship tournament in the South Korean capital last week, team officials lodged a protest with the LLB organization, raising questions about their opponents' roster during the game.
After an investigation, South Seoul's win was forfeited because some of their players were ineligible to compete, the Little League International Tournament Committee said in a statement.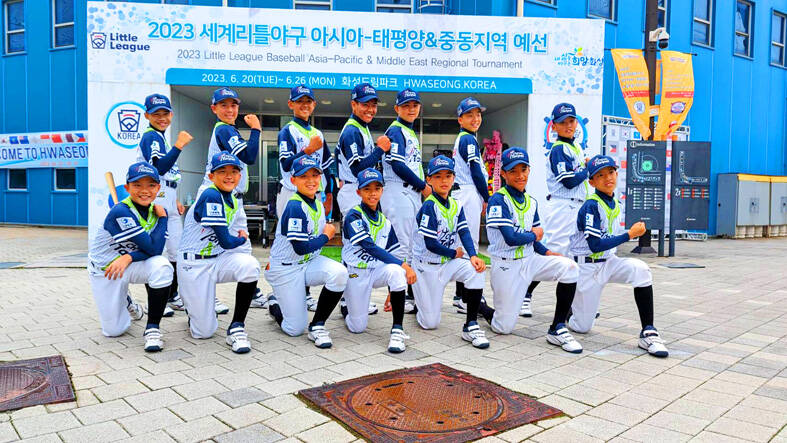 Gueishan Elementary School's baseball team, who represented Taiwan in the Asia-Pacific qualifying tournament for this year's Little League Baseball World Series, pose for a photograph during the tournament in Seoul last month.
Photo: CNA
The South Korean team had two players from a team who had been eliminated in that country's national tournament, the committee said.
As a result, the Gueishan team "has been declared the champions of the Asia-Pacific Region and will be eligible to participate in the Little League Baseball World Series upon review of all eligibility requirements," it said.
The LLB World Series is an annual baseball tournament for children aged 10 to 12. This year's tournament is to be played from Aug. 16 to 27 in Williamsport, Pennsylvania. Taiwan are scheduled to play Canada in their fist game on Aug. 17.
Meanwhile, the head coach of another Taoyuan team, Chiang Kuei-kuan, yesterday said that he had filed an appeal with US-based Pony Baseball and Softball after his team were stripped of the Asia-Pacific Zone Tournament championship the previous day.
This means the team, made up primarily of players from Hsinming Junior High School, would not represent Taiwan at this year's Pony League World Series in Washington, Pennsylvania.
Chiang said the organizers of the Asia-Pacific regional tournament informed him of the decision on Friday, which they said was based on irregularities concerning the bats used by his players during the championship game against a Japanese team earlier in the day in Fukushima Prefecture.
The bats used by his players all conformed to the rules of the organization and had been inspected before and after each game in the tournament, Chiang said.
The Pony World Series, an annual baseball tournament for players aged 13 and 14, is to be played from Aug. 11 to 16.
Comments will be moderated. Keep comments relevant to the article. Remarks containing abusive and obscene language, personal attacks of any kind or promotion will be removed and the user banned. Final decision will be at the discretion of the Taipei Times.