China's Liang and Li receive lifetime snooker bans
Chinese pair Liang Wenbo and Li Hang on Tuesday received lifetime bans from snooker for match-fixing after a "heart-breaking" corruption scandal rocked the sport.
In total, 10 Chinese players were handed bans of varying lengths by the World Professional Billiards and Snooker Association (WPBSA).
Lu Ning, Zhao Xintong, Yan Bingtao, Chen Zifan, Zhang Jiankang, Bai Langning, Zhao Jianbo and Chang Bingyu were the other players suspended.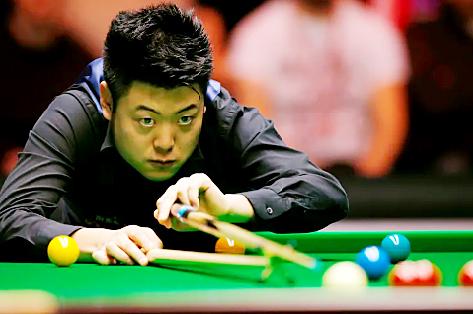 Liang Wenbo is a former finalist in the UK Championship, one of the biggest events on the snooker calendar.
File Photo: Reuters
Yan, the 2021 Masters champion, has been banned until December 2027 after his initial seven-and-a-half-year suspension was reduced following his early admissions and guilty plea.
Former UK Championship winner Zhao Xintong is to serve a 20-month suspension, reduced from two-and-a-half years after his early admissions and guilty plea, that ends in September 2024.
The charges included manipulating games, approaching players to cheat, betting on snooker and fixing a match.
"It has been heart-breaking to see some young, talented players fall foul of the WPBSA conduct regulations through pressure exerted by two senior players [Liang and Li]," WPBSA chairman Jason Ferguson said.
"This behavior has been recognized as wholly unacceptable by the imposition of two lifetime bans from participating in recognized snooker in any way," Ferguson said. "This outcome must be taken as a lesson to those who think they can avoid detection. If any player is involved in fixing a snooker match, they will be caught and will face severe penalties."
World No. 72 Liang, who won the 2016 English Open, and world No. 71 Li must also pay £43,000 (US$53,613) in costs.
The International Betting Integrity Association became aware of wrongdoing in August last year and a detailed investigation was carried out by the WPBSA Integrity Unit and Sportradar.
Liang was found to have "fixed or been a party to fix five snooker matches" between July 24 and Sept. 28 last year.
The panel determined that the 36-year-old "solicited, induced, enticed, persuaded, encouraged or facilitated players to fix nine matches" between July 24 and Dec. 13 last year.
Liang was accused of behaving "in conduct that was corrupt by threatening another player and making him delete his messages on his phone."
He was also found to have threatened another player to seek to persuade him not to assist the WPBSA inquiry.
Li has been found to be in breach of the regulations as he fixed or was a party to fix five snooker matches between July 24 and Sept. 29 last year.
The WPBSA also found he "solicited, induced, enticed, persuaded, encouraged or facilitated" players to fix seven matches between July 24 and Dec. 13 last year.
Comments will be moderated. Keep comments relevant to the article. Remarks containing abusive and obscene language, personal attacks of any kind or promotion will be removed and the user banned. Final decision will be at the discretion of the Taipei Times.