FIFA strips event from Indonesia
ISRAEL PROTESTS: Disappointed soccer fans said that the loss of the under-20 event would affect young players and lamented the blind mixing of political issues
Indonesian fans reacted with anger and dismay yesterday after the nation on Wednesday was stripped of hosting rights for the FIFA Under-20 World Cup only eight weeks before the start of the tournament amid political turmoil regarding Israel's participation.
FIFA said that Indonesia was removed from staging the 24-team tournament scheduled to start on May 20 "due to the current circumstances," without specifying details.
The decision followed a meeting in Doha between Indonesian soccer federation president Erick Thohir and FIFA president Gianni Infantino.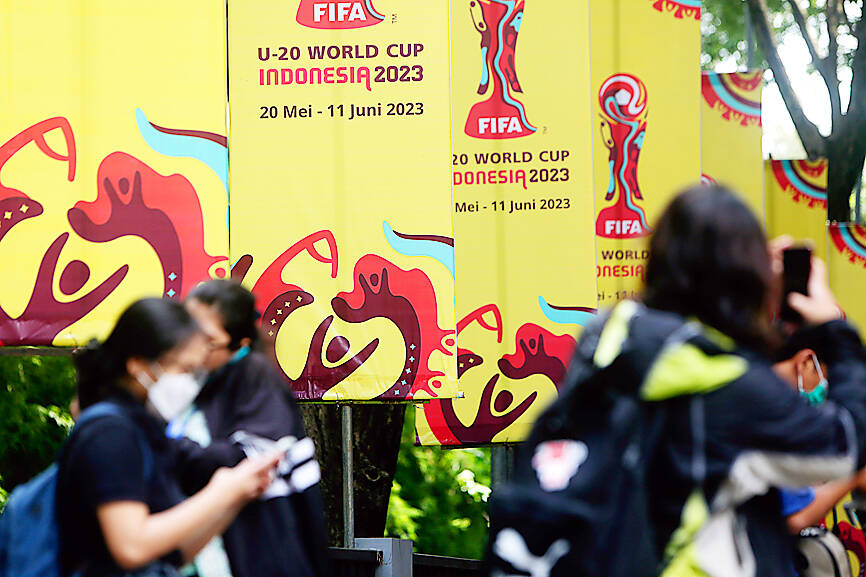 People stand near FIFA Under-20 World Cup banners at a sports facility in Jakarta yesterday.
Photo: EPA-EFE
Israel qualified in June last year for their first Under-20 World Cup, but the country's participation in the official draw for tournament groups, scheduled to be held today in Bali, Indonesia, provoked political opposition this month.
Indonesia does not have formal diplomatic relations with Israel and publicly supports Palestine.
It is unclear who could now host the tournament, which was scheduled to be played in six stadiums in Indonesia.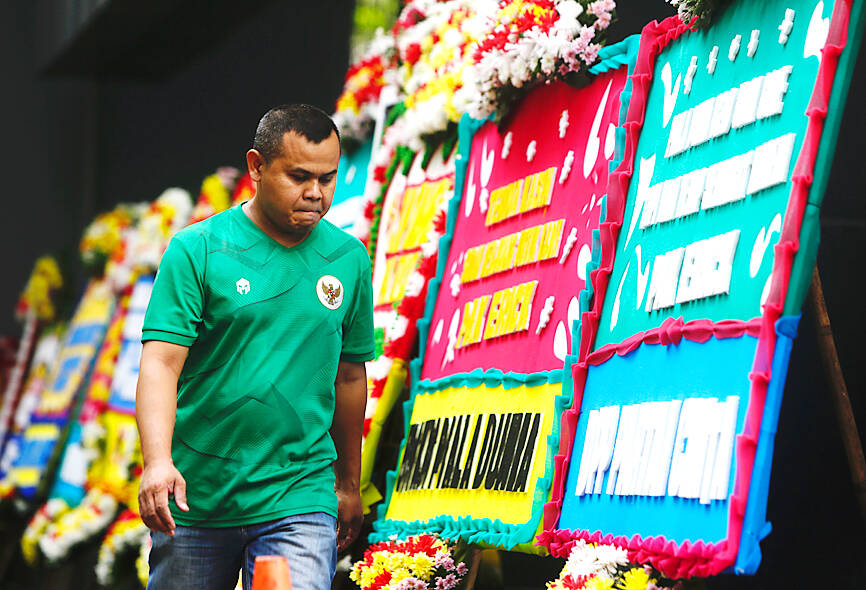 A man walks past wreaths placed by soccer supporters at a sports facility in Jakarta yesterday as a sign of mourning following FIFA's decision to strip the nation of its hosting rights to the Under-20 World Cup.
Photo: EPA-EFE
Argentina, whose team did not qualify for the tournament, is reportedly interested in hosting.
"A new host will be announced as soon as possible, with the dates of the tournament currently remaining unchanged," FIFA said.
In Indonesia yesterday, players, fans and pundits reacted with anger and sadness.
The move by FIFA came after two governors in Indonesia advocated barring Israel from the competition.
Some of the archipelago nation's soccer prodigies took to social media with fury and heartbreak after losing the chance to play at what FIFA bills as the "tournament of tomorrow's superstars."
"Energy, time, sweat, and even blood we have put in, but in a moment failed because of political reasons. Here's our big dream that you've destroyed," 19-year-old striker Rabbani Tasnim wrote.
An Indonesian soccer federation video showed players with heads bowed and their coach in tears after receiving the news late on Wednesday that FIFA would seek a new host.
"We, the players, are now affected, not just us, but all footballers," 18-year-old striker Hokky Caraka said.
The Instagram page of Central Java Governor Ganjar Pranowo — one of the leading candidates in next year's presidential election — was filled with negative comments after he opposed Israel's participation.
Bali's governor had also joined the chorus against Israel and about 100 people protested in Jakarta this month, demanding the team be kept out.
There was popular support for the tournament that the country was handed in 2019, with many viewing it as a source of national pride.
Jakarta pledged to guarantee Israel's participation despite its stance on Palestine, yet opposing voices became too loud for FIFA.
"This is truly a very painful incident for the Indonesian people. Those who made the noise and made us fail ... must be held accountable," said Akmal Marhali, an expert at watchdog group Save Our Soccer.
Indonesian officials said that losing the tournament could cost the country hundreds of millions of dollars.
FIFA threatened further sanctions and could exclude Indonesia from qualifiers for the 2026 FIFA World Cup, which are scheduled to begin in October.
However, for Indonesia's soccer fans, it was the loss of their first ever major tournament that hurt the most.
"I am very disappointed because it has been my dream to watch Indonesia hosting a global football event," said 40-year-old supporter Jarnawi, who like many Indonesians goes by one name.
"We are talking about youths who want to play soccer. They do not have any more interests," pundit Justin Lhaksana said. "Why is this issue blindly mixed with political games?"
Comments will be moderated. Keep comments relevant to the article. Remarks containing abusive and obscene language, personal attacks of any kind or promotion will be removed and the user banned. Final decision will be at the discretion of the Taipei Times.